There may be no place in the world as unique as Madagascar. With its distinctive culture and biodiversity, Madagascar should be on everyone's bucket list. But because of economic and infrastructural constraints, it can be intimidating to plan a trip to Madagascar.
Having spent a month sailing the coast of Madagascar, Nosy Be shone out as a very special place, one that's worth visiting, even when there are particular challenges.
Follow this 7-day Nosy Be itinerary to enable you to enjoy the best that Madagascar offers with relatively little hassle.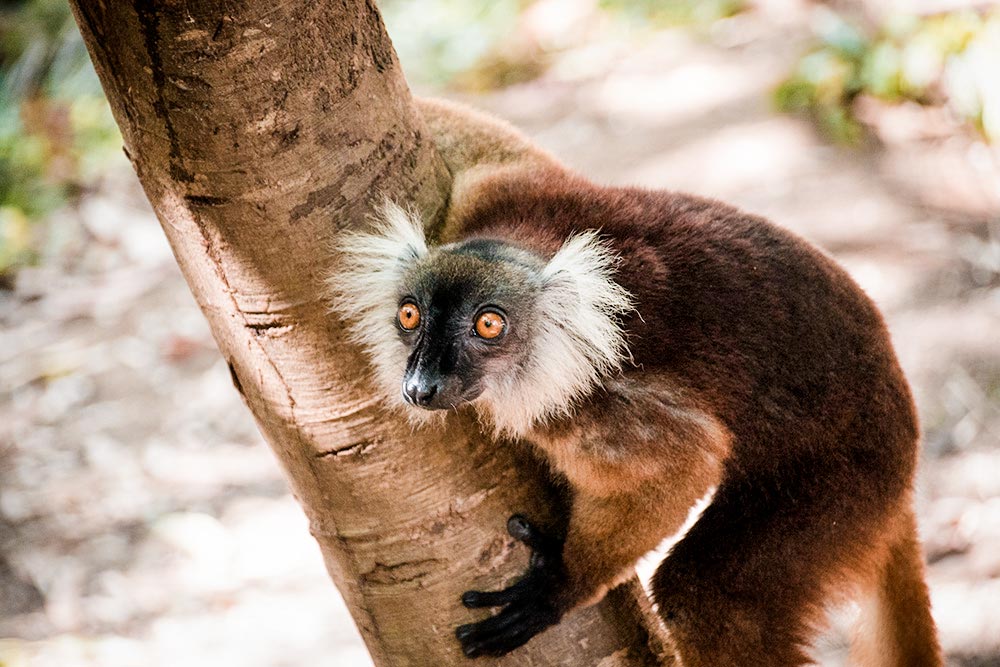 ---
Why You Should Visit Nosy Be
One of the biggest pain points for Madagascar travel is domestic travel within the country. There are flights available from the capital airport of Antananarivo, but any other travel method is going to be really difficult. The roads are generally in poor condition, subject to being washed out by frequent rains – especially in the monsoon season – and busses are slow and unreliable.
The capital itself is easy to get to, but one of the wonders of visiting Madagascar is the ocean, and Antananarivo is far from the water.
The busiest tourist area in Madagascar is Nosy Be, a small collection of islands off the northwest coast. Busy, though, is a relative term. Madagascar has roughly 1/100th the number of tourist visits every year compared to Thailand, which is a similar size. Tourists will not overwhelm you in Madagascar.
Nosy Be is ideal because it has an international airport, with flight service directly to Europe. Because it's a small cluster of islands, boat transport is the best way to get around and is easy and efficient. There's a lot to see, but one week is a perfect vacation.
---
7 Day Nosy Be Itinerary
---
DAY 1 NOSY BE | Hell-Ville
The capital city of Nosy Be, Hell-Ville, was named after the French Admiral de Hell. France still has a lot of influence here, as Nosy Be has a European ex-pat population and French is an official language of Madagascar alongside Malagasy.
The Hell-Ville market is a fascinating place to walk among the locals and shop. Here you can buy woven products or locally made snacks, like dried baby bananas or roasted salted peanuts. You can also look around at some more unusual offerings, like zebu meat or Malagasy tiger shrimp.
Most transportation around Hell-Ville is by tuk-tuk, which is a very inexpensive way to travel around. Or you can walk. Take the main road, Independence Boulevard, down to the waterfront. This will be full of boats transporting cargo and people between islands, and it's a fascinating look at the local life in Nosy Be.
A cultural site to visit near Hell-Ville is the Mahatsingo Sacred Tree. The queen of Nosy Be planted this banyan tree over 200 years ago and has grown to a vast system of roots that you can walk through. The locals still honor the tree, so if you choose to visit, be prepared to cover up and behave respectfully.
---
DAY 2 NOSY BE | Whale Sharks and Green Turtles
Between September and December, whale sharks migrate to the waters off Madagascar to feed. Swimming with the whale sharks is an amazing experience. Because of the lack of tourism in the area, the whale sharks are generally left alone and are better able to maintain natural behavior, as opposed to places where the tourism companies chase or feed the whale sharks.
A small boat with a crew of two – a captain and a spotter – will take you out into the deep waters of the Mozambique Channel and find the whale sharks for you. This fish – the largest bonefish in the world – comes to feed on small plankton in the waters, so the spotter will look for signs of the plankton. Once spotted and they position the boat right, you can slip into the water and enjoy a few moments with these giant creatures.
Pick a company that follows the regulations for the comfort of the animal – there is a maximum number of tourists allowed in the water at a time, and a maximum number of boats around each whale shark. There are companies that do not follow these rules, but if you choose a company that respects the animals and helps the locals learn to value them for their tourism dollars instead of poaching, it's better for everyone.
After the whale sharks, your boat might swing by Sakatia Island, where Green Turtles come to feed. This is a protected area for the turtles, and they are used to humans quietly visiting.
---
DAY 3 NOSY BE | Lokobe Park
It's an adventure just to get to Lokobe Park! Hire a guide to take you, which is the best option for someone to organize the transport and the tour. There are no roads to reach this community, so you have to take a boat, such as a traditional dugout canoe that runs at approximately six human power – aka you get to paddle!
Lokobe Park has two major attractions: a market full of local crafts, and a small trail system that takes you around to visit the wildlife.
The local crafts are all made traditionally by the villagers and include carved lemurs, embroidered linens, and ylang-ylang oils.
In the village, you'll pick up one of the local men who guides you through the woods. This is where you'll find lemurs and chameleons, plus a few other rare animals. The local men are used to finding even the tiniest animals in the wild and know where to look.
Afterward, the locals will serve lunch for you on the beach. You'll need your energy to paddle back!
---
DAY 4 NOSY BE | Beach Day
The islands of Nosy Be are laced with beautiful beaches, many of which are nearly empty. There are some beaches to visit on Nosy Be, such as Andilana on the northwest side. Or, you can book a day trip to explore a more remote island.
Thirty-five miles from Hell-Ville, the Nosy Iranja islands are two of the most popular islands for tourists to visit. These islands are perfect for spending a day stretched out in the sun or wading in beautiful waters. At low tide, a sand bar appears between the two islands, and there are trees to provide shade if needed.
Or, you could feel like a real castaway on Ambariobe, a deserted island just six miles from Hell-Ville's wharf.
---
DAY 5 NOSY BE | Hike Komba Island
For those interested in stretching their legs and getting a beautiful view, Nosy Komba is a perfect day trip. The island is a short boat ride away from Hell-Ville, and you can hire a local guide in the village at the park office.
Just like a Lokobe, there will be local women selling crafts in the village, but the main attraction is just after the stalls. Your guide might bring bananas with him, not for a mid-hike snack, but for a furry native; lemurs. These wild lemurs are cared for by the local guides, who will offer the lemurs banana chunks. The lemurs might climb onto you, and if you are lucky, you might see some baby lemurs.
The guides are experts at spotting other creatures as well. Chameleons, geckos, and plenty of interesting wildlife abound.
The hike to the top takes about three hours, and there's a small shack at the top-selling drinks, including lemon juice – like American lemonade, but less sweet. The shack is only a bonus, though. The real treat is the view from the top!
---
DAY 6 NOSY BE | Snorkeling or Diving
Now it's time to get underwater again. Instead of being in the open ocean or the seagrass beds of Sakatia, book a tour to explore Nosy Be's coral reefs. The waters are clearest between April and August, but it's worth diving any time of year.
There are plenty of dive shops that can book a scuba or snorkel trip and take you out to the reefs. Nosy Tanikely is one of the most popular destinations, but there are plenty of others too, including sites with manta ray cleaning stations or huge schools of juvenile barracuda.
---
DAY 7 NOSY BE | Island Tour & Sunset at Mont Passot
Use your last day on Nosy Be to go out with glamour. Start by hiring a driver to take you around the island. You can stop and visit local villages or photograph the hauntingly beautiful ylang-ylang orchards. Your driver can take you on a circumnavigation of the entire island, and it's a great way to see what life is like for locals.
End the day at Mont Passot. If you arrive early enough, take a hike through the trails. The mountain is in the heart of a volcanic region, and there are many crater lakes to see. Keep an eye out for wild orchids, and native birds, and be especially careful near the lakes, as some of them are inhabited by Nile crocodiles.
Get to the top of Mont Passot by sunset. The top houses an observation deck where you can watch the sun descend, and the skies in Madagascar are stunningly clear. There are plaques around the deck with historical notes and maps to explain the view. This is your chance to see the crater lakes from above.
---
Nosy Be: Travel Essentials
---
Is Nosy Be safe?
Nosy Be is a tourist- and expat-friendly island. Visitors should take general precautions to not bring valuables and keep a close eye on personal belongings.
---
Best time of year to visit Nosy Be
Madagascar has a tropical climate, and the temperature does not deviate much throughout the year. There is a wet and dry season. Monsoon season starts in November and ends in April. Most days during the monsoon season are rainy. The dry season – April through November – is marked by less rain and slightly cooler nights.
Underwater visibility is best during the dry season, and whale sharks are most plentiful from September through December.
---
Final Thoughts on Nosy Be
Madagascar is one of the most unique places in the world. It's ideal for travelers who enjoy trips that are off the beaten path and come with a few challenges. But the reward is so worth it. The hikes, people, and native animals are unlike any other place on earth. Whilst this is just a 7-day Nosy Be itinerary, you could quite happily spend longer on this Malagasy island.
Useful links for your Nosy Be trip
Ready to get planning and check these links for visiting Nosy Be.
---
PLEASE PIN IT FOR LATER!