This fabulous all-around 4 day Lake District itinerary in Hawkshead, Borrowdale, and Grasmere will give you idyllic nature, fun glamping, British culture, and daring outdoor adventures.
With 3 full days and 2 half days in the Cumbrian Fells, we managed to pack in some miles and would be a top road trip for any first-timer to the Lake District. Are you ready to explore?
Disclosure: This post contains affiliate links, which means I may receive a small commission if you click a link and purchase something that I've recommended. It comes at no cost to you. Thank you for your support.
---
About the Lake District England
---
Where is the Lake District?
The Lake District is located in Cumbria, in the northwest of England, which sits between Carlisle to the north and Manchester to the south.
The most northern town in the Lake District is Keswick which sits below the Northern Fells featuring Skiddaw and Blencathra.
Kendal is considered the southern gateway to the Lake District and is only 9 miles from Windermere. The Southern Fells include Scafell Pike, the highest peak in England, and the Coniston Fells.
---
What is the Lake District famous for?
The Lake District is a truly unique British landscape that has evolved over 500 million years with volcanic activity and glacial formations. The undulating hills, rocky crags, and beautiful bodies of water will take your breath away making the Lake District a must-see on your travels in England.
As well as the plentiful lakes, majestic mountains and green spaces, the Lake District is famous for its association with the creatives such as William Wordsworth, Beatrix Potter and John Ruskin.
---
Is the Lake District worth it?
It's a big YES from me. The Lake District is one of the most beautiful places in the UK with the best walks, the best local food and friendly northern folk (I'm biased as I am one of them!).
---
Day 1 in Windermere & Hawkhead | 4 Day Lake District Itinerary
---
Stroll around Windermere
Windermere Lake is the largest natural lake in both the Lake District and England. It is 10.5 miles long, one mile wide, and is understandably a hub for sailing, paddle-boarding, and windsurfing. There's also a steamboat and car ferry that can take you to various spots around the lake.
Windermere is one of the more touristy places in the Lake District making it super busy in peak periods so if you are looking to immerse yourself in nature away from crowds, this is not for you.
Day 1 on our 4 day Lake District road trip was a short one but we still wanted to stretch our legs, fill our lungs with fresh air and find somewhere to stave off the hunger pangs.
Jump out at Windermere Lake Viewpoint car park to walk along the shore past the Watersports Centre then take a left up towards Windermere.
---
Stay at YHA Hawkshead
Head to YHA Hawkshead located next to the privately-owned Esthwaite water and a few minutes' drive from the village of Hawkshead. We booked into the bell tents, a comfortable futon glamping experience with a BBQ firepit, and waking up to nature was the perfect start to our Lake District itinerary – 4 days of pure bliss!
TOP TIP | Remember to pack your eco-friendly camping gear to ensure you leave no trace and travel in a planet-friendly way!
> Read my review of glamping at YHA Hawkshead
> Book direct with YHA Hawkshead for the best prices and availability
---
Day 2 in Hawkshead & Borrowdale | 4 Day Lake District Itinerary
---
Walk to Claife Viewing Station & Windermere West Shore
Claife Viewing Station is the perfect place to take in a panoramic view of Windermere. Designed by John Carr, it was originally built in the 1790s, with featured windows tinted with coloured glass to recreate the landscape in different seasons no matter when they visited. Light green glass allowed them to see how the scenery looked in spring, for example, with dark blue being reminiscent of moonlight and light blue giving the illusion of winter.
Directions to Windermere West Shore: Park up at National Trust Ash Landing Car Park (free for NT Members, remember to take your card to scan) and follow the signs to Claife Viewing Station. Go up the steep steps to find the ruined building.
Once you have experienced the beautiful vista, walk through the arch of Claife Station and walk up the steep path wandering through the ferns. Once you reach the top, head down through the coppice towards High Blind How and take a right towards the Windermere West Shore.
---
Take a wild swim on Windermere West Shore
The Lake District is a wonderful place to go wild swimming and there is an abundance of secret bodies of water to take a dip in. Windermere's West Shore is a busier spot though and popular with families and daytrippers with their picnics and paddleboards.
A wild swim is the best way to end a walk and get invigorated for the afternoon walk. To warm up, stop off at Joey's Cafe in Claife Viewing Station for a coffee and an amazing selection of cakes with vegan and gluten-free options that will make your mouth water!
Directions: From Windermere West Shore, walk to the tarmac road and walk right towards Claife Station then onto Ash Landing Car Park.
---
Walk to Beatrix Potter's Hill Top Farmhouse
Beatrix Potter grew up in London where her middle-class Victorian upbringing left her in solitude creating art and observing nature. They spent many family holidays away in Scotland and the Lakes, and in 1896, when Beatrix was 30, the Potters stayed in Near Sawrey. She fell in love, writing that 'It is as nearly perfect a little place as I have ever lived in.'
From the royalties of The Tale of Peter Rabbit, in 1905, Beatrix Potter bought Hill Top, a working farm, with its farmhouse, farm buildings, and orchard.
In 1913, Beatrix married William Heelis, a local solicitor, and lived in nearby Castle Cottage but kept Hill Top as her place where she felt comfortable. Everything in the house meant something to her. She has paintings, books, and pictures of her as the chair at the Herdwick Breeders' Association.
It's lovely to see scenes that appear in Beatrix's books from her garden, her house, and the landscape around her. Beatrix Potter was so passionate about the Lake District, the land that inspired her works, that she often used the profits to buy more farms and land under threat of development.
When Beatrix died in December 1943 she left 4,000 acres of land to the National Trust, including 15 farms, cottages, flocks of Herdwick sheep, and some areas of outstanding beauty. She left a truly important legacy in the Lake District National Park.
Today, Hill Top is owned and managed by the National Trust. Beatrix Potter's farmhouse retreat is a popular attraction in the Lake District.
How to reach Hill Top: Head along the B5285 for 1.4km, past the Cuckoo Brow Inn towards Near Sawrey. We walked and left our car in Ash Landing Car Park, there were some paths that ran alongside the road. If travelling by car, there is another National Trust car park by Hill Top.
---
Stay at YHA Borrowdale
Head off to YHA Borrowdale located at Rosthwaite along the River Derwent. We booked into an iconic Airstream trailer which was super cool and a touch of luxury nestled into the forest. It's a perfect location for exploring the southern fells of the Lake District. I loved the vibe in this hostel, and, that's not just because I was in an Airstream!
> Read my review of glamping at YHA Borrowdale
> Book direct with YHA Borrowdale for the best prices and availability.
---
Day 3 in Borrowdale & Grasmere | 4 Day Lake District Itinerary
---
Walk with alpacas at Linghom Estate
Who needs Peru when you have alpacas and llamas in the Lake District? Alpacaly Ever After is a social enterprise that rehomes and cares for these super cute creatures affectionately known as 'The Woolly Army'. You can book to meet and walk with alpacas or trek with llamas which all goes to caring for the animals in the sanctuary.
The guide for the day tells you all about the individual characters as well as alpacas in general. My mischievous and adorable alpaca was called Charlie, and apparently, his regular chorus of humming sounds signified he was a happy chappy!
Lingholm Estate on the shores of Derwentwater is stunning, you can even stay there. As the sun was shining it seemed rude not to enjoy a tasty cappuccino with jam & cream scones at the Lingholm Kitchens.
Directions to Linghom Estate: From YHA Borrowdale, it takes about 25 minutes along the B5289 via Brandelhow. If you are coming through Keswick, drive to Portinscale and turn left into the estate.
---
Walk up to Castle Crag via Millican's Cave
Castle Crag is a steep-sided, pine-clustered hill in the North-Western fells of the Lake District and is rewarded with incredible views over Derwentwater, one of the best viewpoints in the Lake District.

The noble Castle Crag is the only Wainwright below 1,000 feet (300 m) which he describes as "so magnificently independent, so ruggedly individual, so aggressively unashamed of its lack of inches."
Castle Crag was given to the National Trust as a memorial after the First World War by the family of 2nd Lieutenant John Hamer. The memorial is dedicated to the memory of Hamer and 'the men of Borrowdale' who lost their lives in the war, and whose names are listed on the stone tablet.
We started the walk from Rosthwaite, through the farmland. Expect a steep incline with a final scramble up the slate summit. Our loop took us back via the River Derwent and Millican Dalton Cave. This route takes approx 2-2.5 hours. Alternative starting points are Grange and Seatoller.
Parking at Rosthwaite for Castle Crag walk: We were heading up from the village of Rosthwaite. The Pay & Display car park was full but you can pay Scafell Hotel to use their parking for the day.
=>> For a more challenging hike with jaw-dropping views of Derwentwater, try the Wainwright fells of Cat Bells and High Spy – honestly, it's one of the best walks in the Lake District!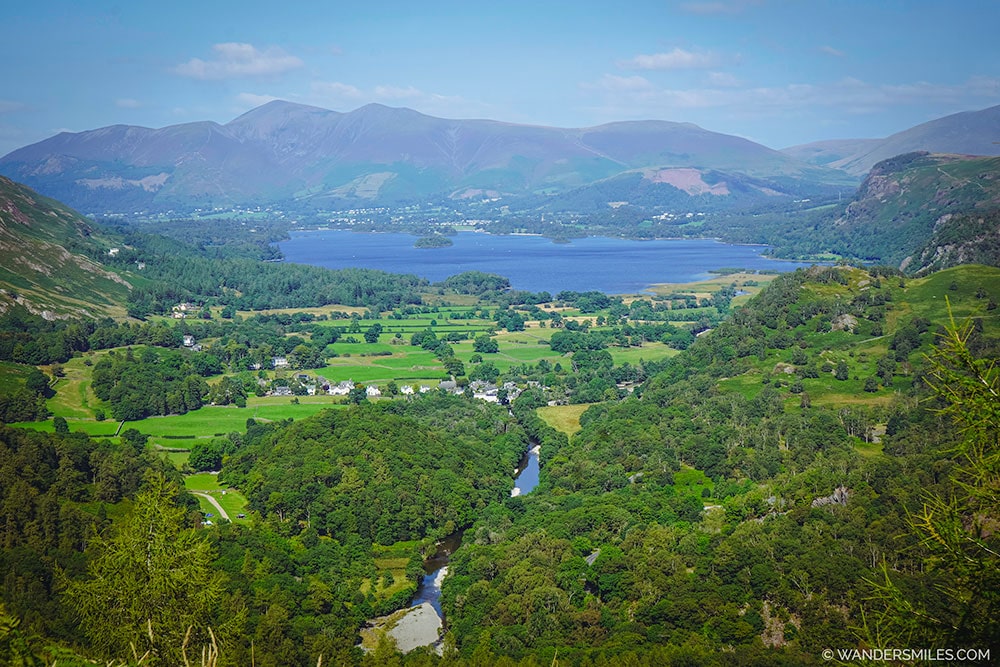 ---
Stay at YHA Grasmere Butharlyp Howe
Head off to YHA Grasmere Butharlyp Howe located in the heart of Grasmere near all the tasty eateries, quality shops and a gallery of local art. So whether you want to amble around the shops or use it as a base for outdoor adventures, it's a fab place.
We booked into the landpods for 2 nights for a truly wonderful eco-friendly accommodation in the Lake District. They are like elevated camping with solar lighting and you can peel back the roof to stare at the stars. Oh, and did I mention, that they have a scurry of red squirrels on their grounds?
> Read my review of glamping at YHA Grasmere Butharlyp Howe
> Book direct with YHA for the best prices and availability
---
Day 4 in Grasmere | 4 Day Lake District Itinerary
---
Meander around the village of Grasmere
Grasmere is one of the prettiest villages in the Lake District. It is famous for the much-loved poet, William Wordsworth, a Cumbrian who was born in Cockermouth and moved back to the Lake District to Dove Cottage in Grasmere in 1799 after university and proclaimed that it is 'the loveliest spot that man hath found'.
With such notoriety, Grasmere is a popular destination for tourists and has flourished with lovely shops, inspiring galleries, and places to eat and stay.
---
Visit Wordsworth's Grave at St Oswald's Church
St. Oswald's Church, on the banks of River Rothay, is a medieval church, named after a 7th-century Christian King of Northumberland. It is still an active Anglican parish church and is most famous for being the place of rest for the great poet William Wordsworth and his family including his sister Dorothy Wordsworth.
Behind St. Oswald Church is Wordsworth Daffodil Garden which was opened in 2003. The public has participated in the garden by way of the sponsorship of benches, inscribed paving stones, shrubs, and daffodils, and the funds are donated to local charities. It's a wonderful idea as Wordsworth was so inspired by the sight of daffodils that he wrote about such happiness in one of his most famous poems, "I Wandered Lonely As A Cloud".
---
Devour Sarah Nelson's Grasmere Gingerbread
Victorian cook Sarah Nelson invented Grasmere Gingerbread in 1854 and baked her spicy-sweet chewy biscuity-gingerbread inside her compact Church Cottage home. You will be served lots of ginger-themed foodstuffs by the team in Victorian-inspired dressmaking for a more authentic experience.
Do you need directions? Absolutely not, there are two signs to look out for! If you have been looking at Wordsworth's graves and Daffodil garden, you will notice a huge queue through St Oswald's Churchyard. If you wondered why just inhale deeply and your mouth will start watering with the smell of gingerbread. Join that queue whatever you do, it's delicious.
---
Visit Wordsworth's Dove Cottage
William Wordsworth lived in the humble home of Dove Cottage on the edge of Grasmere from 1799 to 1808 and it is now open as a museum, orchard, and garden which Wordsworth described as 'the loveliest spot man hath ever found'
Wordsworth and his sister Dorothy Mae Wordsworth wrote poignant journals of their time there allowing the curators to bring the space to life. You can just imagine him writing his romantic odes and lyrical ballads in tranquil surroundings.
To visit Dove Cottage, book ahead to be guaranteed your time.
---
Get creative (and eat cake) in Heaton Cooper Studio
As an art lover, I am always up for appreciating local artists. One of the galleries in Grasmere is Heaton Cooper Studio, where the work of the Heaton Cooper family is exhibited spanning over four generations. In 1938, landscape painter, William Heaton Cooper built his home and gallery in Grasmere but the artistic tradition started with his father, Alfred. Today, Heaton Cooper Studio is still a lovely space selling its paintings and prints.
There is a specialist art shop selling everything an artist, kids, and adults, would need including a fabulous selection of books.
Mathilde's cafe is named after Mathilde Marie Valentinsen, the Norweigan country girl who fell in love and married Alfred in September 1894. There is definitely a Scandinavian influence in this contemporary cafe along with the best cake selection I have seen in a long time. Get ready to drool!
---
Walk to Rydal Caves
Rydal Cave is a man-made cavern located between Grasmere and Ambleside on the slopes of Loughrigg Fell above Rydal Water. Initially called Loughrigg Quarry, the slate extraction began in the 19th century for roofing tiles and is now disused.
It takes about 30 minutes to reach Rydal Caves from White Moss Common, cross the bridge, wander through White Moss woodlands then walk up through the ferns to the caves. This is an easy walk but you are still treated to enchanting views along the way.
Rydal Caves are free for the public to enter and there are a number of stepping stones through the shallow water to the back of the cavern. Once you leave the caves, head down to Rydal Water which is a perfect place for a wild swim if you bring your gear.
Parking for Rydal Water: We parked in the White Moss car park on the A591. However, I would recommend NOT to use the White Moss car park owned by Lowther Estates as it scans your number plate on entering. I paid £6 for 3 hours at the machine but did not buy my ticket for 10 minutes after my car plate was scanned. I landed a £60 fine and there are many more horror stories online. Be very careful with this!
An alternative car park is Pelter Bridge Car Park.
There are signs on the route to walk to Grasmere or Ambleside so try and build in the extra time to be able to leave your car elsewhere.
Bus service 555 runs between Kendal and Grasmere stopping at Rydal Church
---
Day 5 in Grasmere | 4 Day Lake District Itinerary
---
Hire a boat in Grasmere
Mornings on the water are a dreamy way to get started and Faeryland Grasmere is only a short walk from the village where you can drink specialist tea and hire boats for an hour. It's a romantic way to start the day… or just lots of fun if you are single!
This cute spot is a sweet little haven with an original Romany Vardo on the shore, still in its original state. They blend some tantalising flavours of loose tea that are grown and produced under Ethical Tea Partnership which you can buy online too.
---
Walk around Loughrigg Tarn
Loughrigg Tarn is a small natural lake located at the foot of Loughrigg Fell, south of Grasmere, and is one of the great low-level Lakeland walks. Alfred Wainwright wrote that Loughrigg Tarn is "one of the most secluded of tarns", rarely being visible from the fells.
To walk around Loughrigg Tarn, there are a number of possible routes you can take. Either by starting at Ambleside, Skelwith Bridge, or Rydal Water.
As we were on a time schedule to catch a train, we cheated and did the 2.75km Loughrigg Tarn loop starting at Tarn Foot Farm. There are a few spaces for parking at the road junction, then walk up to the Tarn Foot houses. Bear right and at a fork stay left and go through a gate. Then simply follow the road around the tarn admiring the astonishing backdrop of the Langdale Pikes.
Loughrigg Tarn was a favoured place of William Wordsworth who described it as being similar to "Diana's Looking-glass… round, clear and bright as heaven," after Lake Nemi, the mirror of Diana, in Rome's Alban hills.
We had planned to take a wild swim in Loughrigg Tarn, however, there was a National Trust notice advising that Blue-Green Algae has been identified there which put us off a little. It can cause skin irritation for us humans but it can produce toxins that can kill pets. I saw a guy swimming in a wet suit but in the absence of the gear, I had a paddle and had no reaction.
As we visited in September, there was a blanket of water lily leaves floating on Loughrigg Tarn. I'm sure this is a real picture when they are in bloom.
Parking for Loughrigg Tarn: Turn off the A593, along Ellers Brow to the parking area below Tarn Foot Farm.
---
More Lake District Inspiration
If you're looking for more Lake District inspiration, I'd recommend exploring Buttermere around the lake and hiking the northern fells. Why not do a 5 or 6 day Lake District trip?
Or you could head over the border and check out the outdoor adventures in Scotland.
Useful links for your Lake District trip
Ready to get planning your 4 days Lake District road trip? Here are some useful links to get you started!
Tourist Info for the Lake District
Transport + Tours for the Lake District
Gear for the Lake District
Travel Insurance
---
PIN FOR LATER – 4 DAY LAKE DISTRICT ITINERARY