Planning a trip to Krakow? The city, steeped with history and tourist attractions, will keep you busy but it's worth exploring the Polish countryside and medieval towns with these amazing day trips from Krakow.
Find your excursion beyond Krakow and choose from this wonderful list organised by distance from Krakow to make planning a doddle!
---
Disclosure: This post contains affiliate links, which means I may receive a small commission if you click a link and purchase something that I've recommended. It comes at no cost to you. Thank you for your support.
---
EXPLORE DAY TRIPS FROM KRAKOW
---
ŁAGIEWNIKI | 8KM FROM KRAKOW
A visit to the Divine Mercy Sanctuary in Łagiewniki will fill a morning nicely. In the early 20th Century, the Catholic mystic Faustina Kowalska lived here when it was just a monastery. She helped to institute the Divine Mercy devotion, and a large basilica was built to honour this in 2002.
For those who are not religious and do not intend to attend Mass at the monastery or visit St Faustina's tomb (a pilgrim was miraculously healed after praying there in 1981), they may visit her former cell to see how the nuns live or take a leisurely stroll among the sculptures in the garden. If you are lucky, you might have the place to yourself if there are no pilgrim groups, just as I did.
---
WIELICZKA SALT MINE | 14KM FROM KRAKOW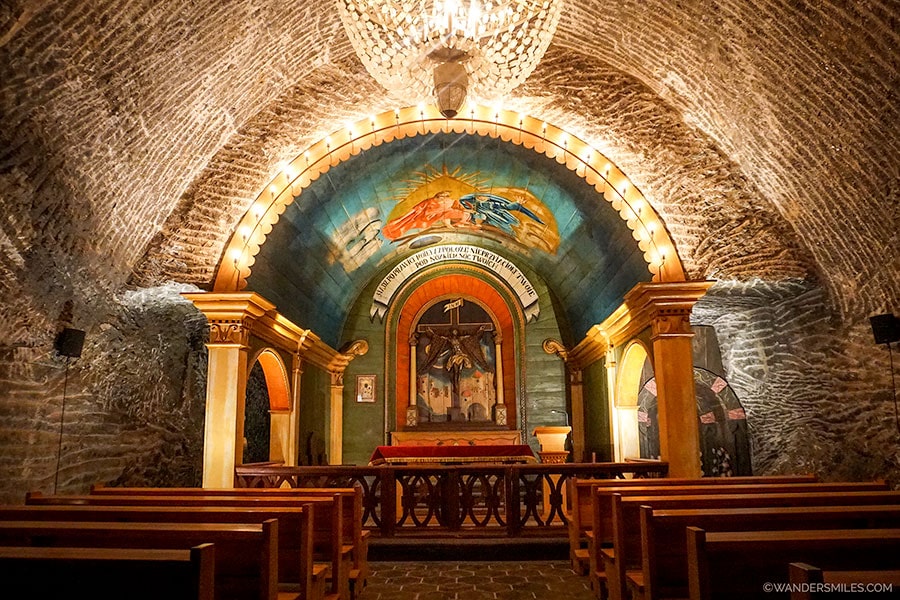 The Wieliczka Salt Mine is a UNESCO World Heritage site one of the world's oldest operating salt mines excavating table salt from the 13th century until 2007.
Wieliczka Salt Mine reaches down 327m and extends in horizontal levels for over 287km, however, the public can only go down the top 135m involving almost 800 steps and over 2 km of winding corridors. The tour takes you around the different chambers, salt lakes, and the St Kinga chapel where you will be aghast at the detailed salt statues carved by the miners.
If you fancy staying longer than a day trip from Krakow, you can stay at the mine's health spa. The therapeutic microclimate of salt excavations is a winning formula for your mental and physical well-being.
---
AUSCHWITZ-BIRKENAU | 69KM FROM KRAKOW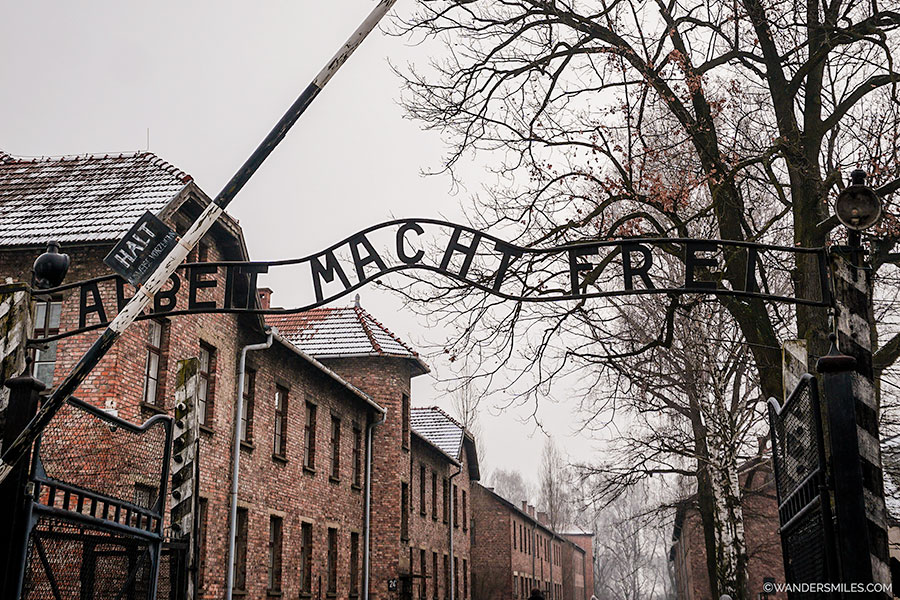 Be prepared for an emotional day trip from Krakow to Auschwitz-Birkenau. The tour takes you around the two sites of Auschwitz I and Auschwitz II (Birkenau). The first site is brick buildings housing living quarters, torture rooms, medical testing, and, of course, gas chambers. You're taken on a short bus ride to Birkenau where the trains came in for selection and those chosen to stay and work lived in stable-style barracks. There are 4 huge crematoriums at Birkenau where the death occurred on a mass scale.
Following the liberation, some of the survivors went back to Auschwitz-Birkenau and agreed that it should be turned into a museum to tell the world what atrocities happened there, this opened in 1947 to the public. Whatever your reasons for visiting Auschwitz-Birkenau, it is important to learn about the genocide that took place. Visiting the museum of the largest Nazi German concentration and death camp will leave a lasting memory etched in your mind.
---
LANCKORONA | 36KM FROM KRAKOW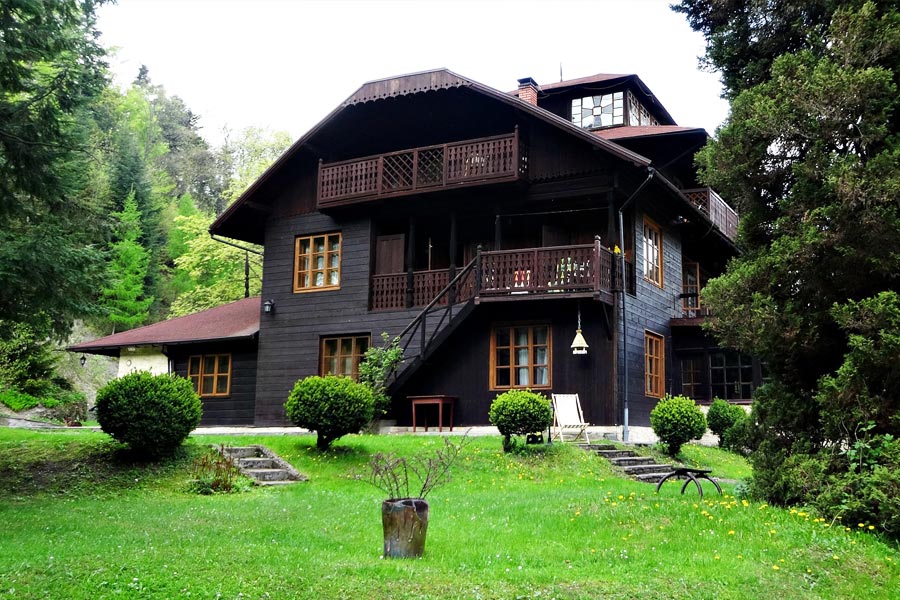 One of the greatest things about Lanckorona – is that it's small and compact. You can park your car and explore this charming village on foot.

Interestingly, Lanckorona acquired city rights quite early, in 1366, but lost it in 1934 and to this day has only the status of a village.

Around the main square, you will find lookalike houses from XIX century with extended roofs – that the result of the old law that the property line finishes with the roofline. One of the houses has an interesting regional museum which is worth the visit. Others have tiny coffee shops and ice cream parrels and shops with souvenirs – different kinds of angels because Lanckorona is known in Poland as City of Angels.

So if you are looking for a one-day trip outside Krakow, where it will be nice, nice, and delicious, Lanckorona will hit the spot.
---
ZALIPIE | 74KM FROM KRAKOW
The beautiful Zalipie is a perfect day trip destination from Krakow and best to approach it by car. The place is also called 'the painted village of Poland' and attracts visitors from abroad as well.
At the beginning of the 20th century, a local artist started to paint floral patterns on her house. This building is nowadays the museum. Following her lead, other villagers decorated their houses, fences, and other surfaces with colourful plant motives too, and they even held a yearly festival to paint their homes.
Although there are several newer and not painted buildings in the village, the older houses and stables are full of stunning paintings, and it's definitely worth visiting.
---
DUNAJEC RIVER GORGE | 76KM FROM KRAKOW
Dunajec River Gorge forms a border river between Southern Poland and Slovakia and runs through the Pieniny Mountains making the drive an attractive part of the trip. The best time to visit Dunajec Gorge is from June to September although it is open throughout the year.
One of the best ways to enjoy Dunajec River Gorge is to go sunbathing on 15km (2-3 hours) ride on a traditional Polish wooden raft with scenic views of the dense forest and mountain tops.
Rafting, kayaking, canoeing, and hiking can also be done by thrill-seeking tourists. Kayaking downstream the river is suitable for novice adventurers. Takes between 2 to 3 hours and is available from April to October.
Visitors can also go walking and cycling along the riverside. I suggest booking your tour operator online to enjoy a smooth journey and skip the ticket line. Kroscienko and Dunaicem are two nearby towns for accommodation should you wish to stay on longer.
To see some ancient artworks I will suggest stopping at Niedzica Castle. A daring guest is always welcome to stay here overnight.
---
KATOWICE | 80KM FROM KRAKOW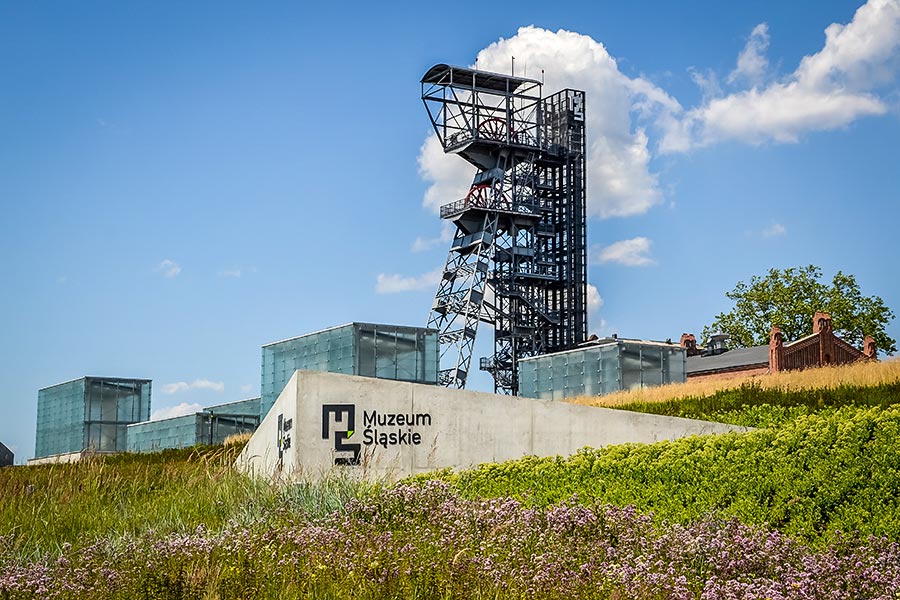 Katowice is one of the most underrated cities in Poland. As the centre of the mining region, the city has been always known as the industrial capital of Poland and due to the major changes in the last few years, this is one of the most interesting places to visit in Poland.
Many of the attractions are located in the centre and can be easily seen during the day. Don't miss Spodek – the famous arena that looks like a giant UFO. The nearby Silesian Museum, located in the former coal mine, is worth a visit too – it's modern, interactive, and gives you a great overview of this unique region. Be sure to go up to the mining tower too to see the panorama of the city. If you have time you should visit Nikiszowiec – the prettiest residential area of Katowice.
---
TARNOW | 93KM FROM KRAKOW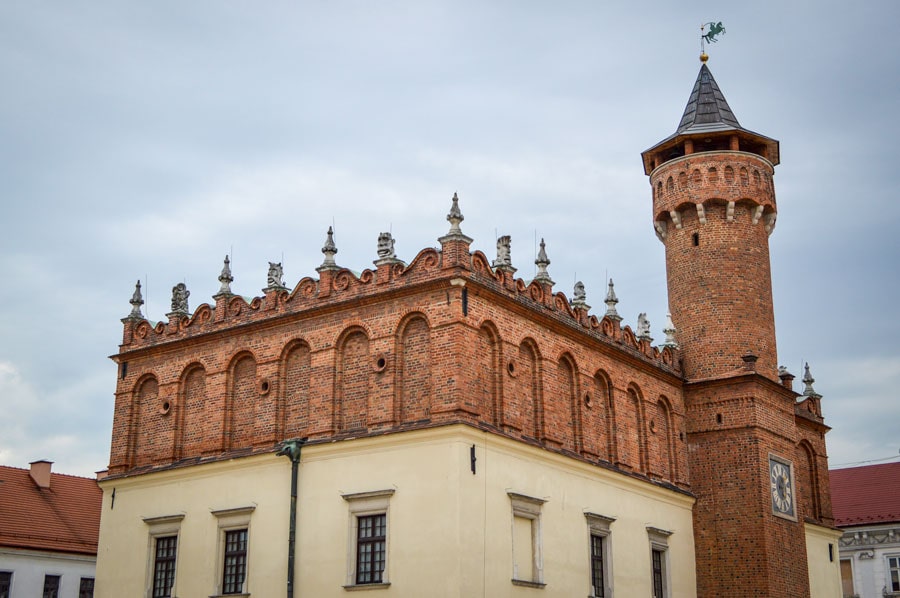 As a city in southeastern Poland, Tarnow is a mid-size city east of Krakow. Reached easily by car, Tarnow is a city well worth visiting. Tarnow has a main square that has a museum describing its rich history.
Historically, the city is known for being among the first occupied cities during World War 2 and having the first transport of prisoners to Auschwitz from its' train station. Today, Tarnow still has remnants throughout the city reminding visitors of the war.
Visitors can walk the main thoroughfare, Ulica Walowa, which leads down from the hill all the way to the city's tallest basilica and down to the train station. Tarnow's Old Town in the city's main square is a great place to sit down and have a traditional Polish beer. A few sites to visit in Tarnow include the Dunajec River where you can visit a castle or take a raft down the river. Saint Martin's Peak up on a hill is a popular spot that overlooks the entire city and region and has spectacular views, especially in the evening.
---
ZAKOPANE | 110KM FROM KRAKOW
Take a day trip from Krakow to the town of Zakopane located in the extreme south of Poland, on the border with Slovakia where you can enjoy a refreshing breath or air and relax in the beautiful nature. Whilst Zakopane is mostly used as a base for visitors interested in hiking or winter sports activities such as skiing and snowboarding, the town is far from lackluster.
The main street of Zakopane, Krupówk, is lined with local Polish restaurants, shops, carnival rides, and performers. Zakopane is also the home to Oscypek, a type of cheese made with sheep milk exclusively in the Tatra Mountains region of Poland. Don't forget to give that a try when you are in Zakopane!
If you want to take to the Tatra mountains at your leisure, there is a cable car from Zakopane Kuźnice to Kasprowy Wierch every day. Best to get there early to avoid the queues, especially in high season. A funicular railway also operates from Zakopane to Gubałówka taking 3.5 minutes to get to the height of 1122 m giving you a tremendous panorama vista of Zakopane and the Tatra Mountains.
Another way to take in the tremendous mountain views is from the geothermal pool in Aqua Park Zakopane. The park offers adventure tubes, a wild-river ride, hydro massage, hot tubs, saunas & waterfalls.
HOW TO TAKE A DAY TRIP FROM KRAKOW TO ZAKOPANE
---
TATRA NATIONAL PARK | 110KM FROM KRAKOW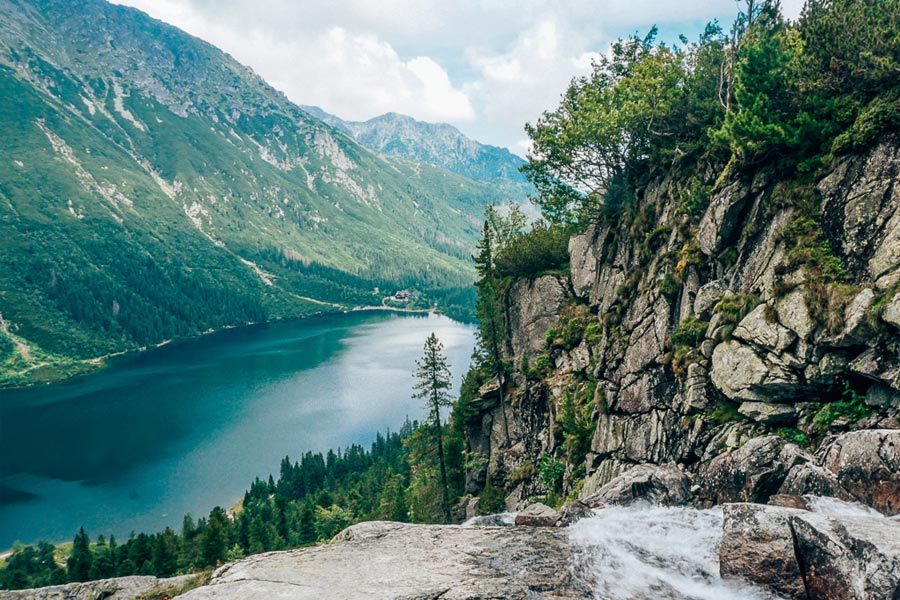 One of the most underrated destinations in Poland is the Tatra National Park, it's only a 2-hour journey from Krakow. It's the perfect place if you love hiking, nature and beautiful scenery. Known as the "Mini-Alps", Tatra National Park borders the Slovakian Tatra National Park, both of which were listed as UNESCO biosphere reserves in 1993.
In the Tatra National Park, there is over 270km of marked hiking trails that vary in difficulty. One of the most popular hikes in the summer is Morskie Oko, which is the largest lake in the Tatra Mountains, and the hike one way takes around 2 hours. There's a lovely chalet at the base of the lake that serves amazing Polish food for lunch or alternatively you can bring food.
If you are feeling ambitious hike to Czarny Staw Lake which takes about an hour round trip from Morskie Oko. This lake feeds into Morskie Oko and has stunning views from above. Visiting the Tatra National Park was a highlight of my time in Poland and I urge you to visit!
HOW TO TAKE A DAY TRIP FROM KRAKOW TO TATRA NATIONAL PARK
HOW TO GET TO ZAKOPANE: For details on how to arrive by car, train and bus, see above 'How to take a day trip from Krakow to Zakopane'
Once in Zakopane, you can take a 20-minute bus ride to the entrance of Tatra National Park.
ENTRANCE FEE: Small fee to enter Tatra National Park, children under 7 years go free.
ORGANISED TOUR: Click to book a day trip from Krakow to Tatra National Park
---
GORLICE | 125KM FROM KRAKOW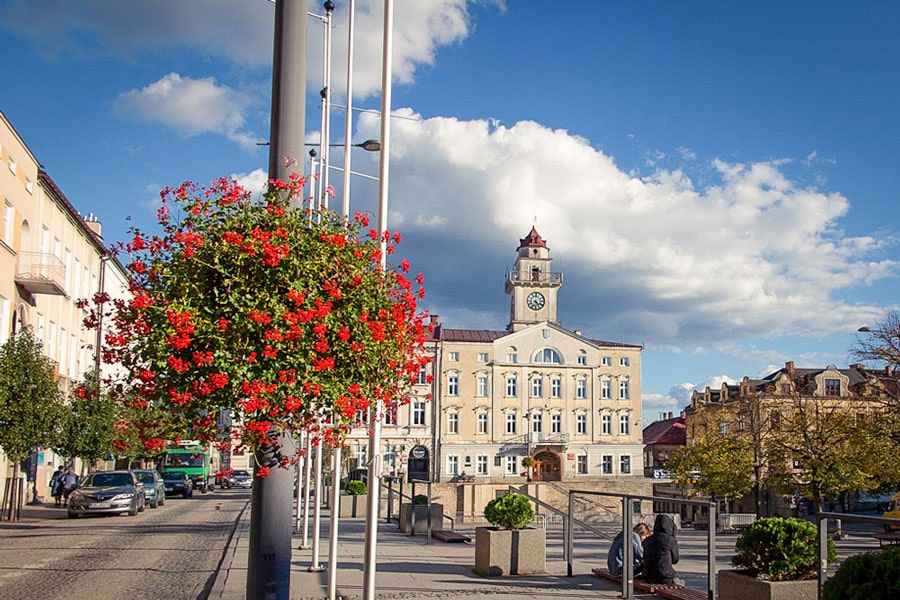 Gorlice, a lovely town in the Southeast of Poland, is where a few significant events in European history took place. The so-called "Battle of Gorlice" was one of the deciding battles of the First World War.
Gorlice is also famous for its many inventions. Crude oil has leaked from the soil for centuries and locals found a way to get it out of the ground and use it. First oil mines were built right here. The kerosene lamp was invented in the city too.
Gorlice is otherwise a charming town with fine gastronomy and a few great cafés. The main square is picturesque and you can climb the City Hall tower for great views of it.
Amazing nature lies all around and offers great opportunities for discovering the region of the Beskid Hills. Apart from forests and meadows, many cute villages surround Gorlice and offer more sights to see.
---
RZESZÓW | 168KM FROM KRAKOW
Rzeszow, the capital of the Podkarpackie Province in southeastern Poland, is one of the best day trip destinations from Krakow that is rarely visited by tourists, which adds to the charm of this city.

Its main square may be smaller than Warsaw's of Krakow's but it has a lot to offer in terms of the local vibe. It is here you will probably see true Polish culture as the square is frequented by more locals than tourists. It is also here that you can try the local brew at Stary Browar Rzeszowski and some delicious traditional Polish food at Wesele.

At the Rzeszow Underground Tourist Route one get a glimpse of the city's history. A walk through the Aleja Pod Kasztanami, The Chestnut Trees Avenue, is an exploration of the grandeur of Polish architecture with its historic villas. If you ever have the chance to stay until nightfall, then be sure to check out the Rainbow Bridge.
---
OSTRAVA, CZECHIA | 170KM FROM KRAKOW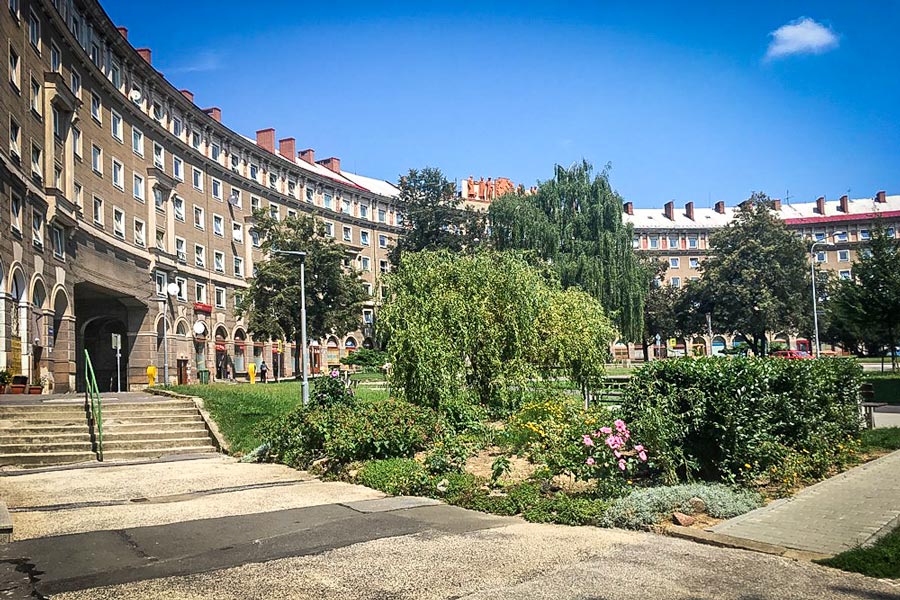 Ostrava may not seem like an obvious day trip from Krakow since it's across the border, but it's only a two-hour drive away. Once a rather depressing coal mining town, Ostrava has recently reclaimed this industrial heritage and created some unique tourist attractions. The most impressive is Dolni Vitkovice, an abandoned steelworks complex transformed into a conference centre and museum.

Another interesting area to walk around is Poruba, which was built in the 1950s by the Communist government. It was built to be social housing for workers, but in an ornate style, as palaces for the common people. And back in the city centre, be sure to take the elevator to the top of the Town Hall clock tower for epic views! Ostrava is not as vegan-friendly as most Polish cities, but its sole vegan restaurant, Black Kale, is a good place to stop for lunch.
---
WROCLAW | 270KM FROM KRAKOW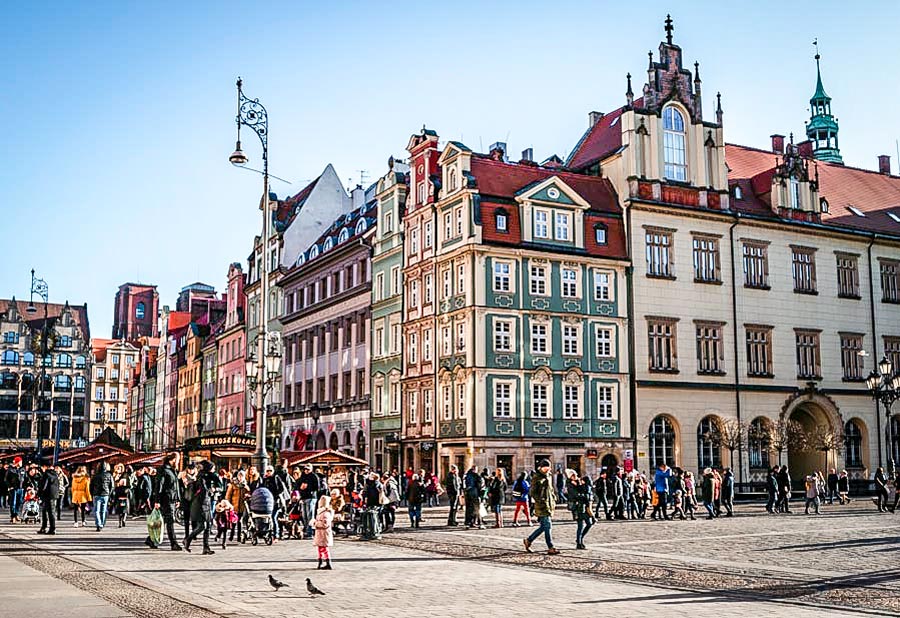 Venture for a long day trip from Krakow to the beautiful and whimsical Wroclaw. Situated 3.5 hours by train west of Krakow, Wroclaw is a long but worthwhile day trip. Wroclaw is known for its impressive Market Square and Gothic Old Town Hall, featuring an ornate astronomical clock.
The Old Town of Wroclaw is remarkable. The architecture is beautiful and there are adorable dwarf statues scattered all over the city. Spend your day discovering the various things to do in Wroclaw including meandering the Old Town, seeing the old-timey lamplighters on Cathedral Island, and even visiting a UNESCO World Heritage Site, Centennial Hall.
PIN FOR LATER!