Rye is an attractive medieval town with history, myths, and secrets waiting to be discovered around every corner. The pretty streets are full of curiosity shops, pubs to snuggle up in, and fine dining restaurants. Start planning your itinerary for 2 days in Rye with the help of this guide.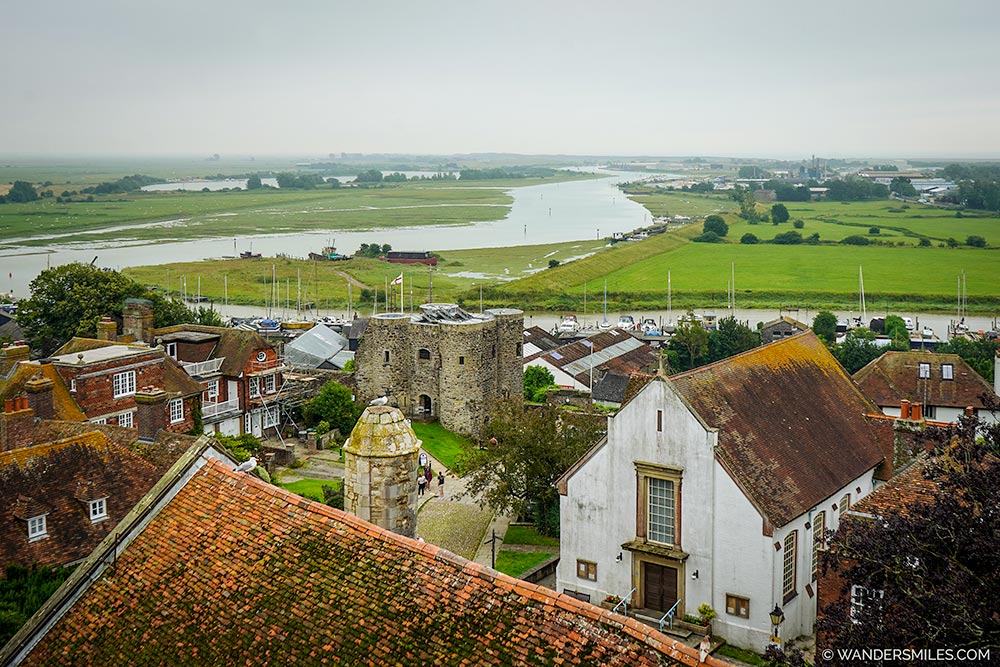 ---
Disclosure: This post contains affiliate links, which means I may receive a small commission if you click a link and purchase something that I've recommended. It comes at no cost to you. Thank you for your support.
---
How to spend 2 days in Rye
---
360 view from St Mary's Church Belfry Tower
St Mary's Church has watched over the Parish of Rye for over 900 years. It is an iconic part of the skyline and offers stunning views of the town and countryside.
The current 'new' building was constructed in the 12th century, and it is exciting to see beautiful ancient artefacts such as bright and bold stained glass and the clock which was installed in 1561 and is still keeping good time.
The highlight of any visit to St Mary's is the Belfry Tower. For a small fee (entry to the church itself is free) visitors can scale the tower and enjoy the best views in Rye.
Climbing the tower is exhilarating! Narrow corridors, steep ladder stairs, and gloomy corners open out onto a panoramic rooftop.
---
Discover Rye Castle
Rye Castle Museum has two permanent exhibits, both are well worth a perusal.
The Ypres Tower, named after an owner of French descent, is one of the most historic buildings in Rye. It was constructed in 1249 and its main purpose was to defend the town against attack from enemies across the sea. The Tower has also been a fort, a home, a mortuary, a jail and a court of law.
As a museum, Ypres Tower is atmospheric and packed full of interesting displays of armour, medieval weaponry, smuggling equipment and local pottery.
The prison section of the tower is chilling (and is surprisingly loved by children!) See the cells where murderers were chained up and executed prisoners were displayed, then get some fresh air on the balcony overlooking a harbour that was once the centre of British commerce.
The East Street Museum was built in 1999 to house more of Rye Castle's vast historic collection.
---
Visit Rye Heritage Centre
The 'Story of Rye' model town has clever sound and lighting effects which bring to life 700 years of Rye's history and local tales. It is a fun and unique display that can be found in a 19th-century sail house on the Quayside.
Each show lasts 20 minutes and will whet your appetite for more on a Guided Walk or Audio Tour of Rye, both of which can be booked in the Heritage Centre.
Kids and the young at heart shouldn't miss the Old Pier Penny Arcade. Enjoy a joyful collection of old-fashioned amusement arcade machines.
---
Wander down Mermaid Street
Mermaid Street is simply lovely! The pretty houses, lush greenery, and cobbled streets are the epitome of English charm.
This delightful lane has been voted as one of the most 'Instagrammable' streets in the U.K. but we just love the Disney-like, fairy tale quality.
There is history here too, especially at the 12th-century 'Mermaid Inn'. Stay the night where medieval sailors drank strong ale and the 18th-century smugglers 'The Hawkhurst Gang' got up to no good.
Mermaid Street is also a great spot to grab delicious food and drink, try the homemade sausage rolls at The Mermaid Street Café, or a pint of craft beer at The Old Borough Arms.
Lovers of antiques will adore exploring the shelves full of treasure at quaint shops such as The Confit Pot and then recovering with the traditional hospitality of Jeake's House.
---
Enjoy local ale in Rye's Micropub
The Rye Waterworks was the first Micropub in South-East Sussex and in 2020 won a coveted CAMRA Pub of the Year Award.
The Waterworks was a labour of love needing lots of time and effort to turn a Grade II listed old Pump House into a cosy and quirky, family-run pub.
Sup craft ales, local ciders, and small-batch gin while munching happily on tasty Scotch Eggs and Pork Pies.
Well-behaved dogs and children are welcome, and the pub is particularly lovely in winter when the huge fireplace is roaring.
---
Visit Lamb House
At the top of Mermaid Street, you will find Lamb House, a Grade II listed 18th-century building with literary connections.
Owned by The National Trust, Lamb House is beautifully preserved and has fascinating exhibits about famous writers such as E.F Benson and Henry James who have lived there.
Lamb House, re-named Mallard House, is the star of Benson's popular book series Mapp and Lucia. It also features in Joan Aiken's The Haunting of Lamb House, a collection of novellas about the previous residents.
The gardens of the house are gorgeous. Smell the scents of roses and feast your eyes on the spring blooms while sitting peacefully by the pond which teams with wildlife. It is the perfect oasis from the increasingly busy streets of Rye. Well, unless you spy the wandering ghost that loves the gardens too!
---
Go birdwatching at Rye Nature Reserve
Rye Harbour Nature Reserve is one of the biggest and most important sites for wildlife in England. The wetland and coastal landscapes are the breath-taking habitats of over 4,300 species of animals and plants. Watch these characterful creatures from bird hides and the shores of pebbly beaches.
For 700 years Rye Harbour has seen the threat of invasion and the installation of revolutionary sea defences. It is now challenged by rising sea levels. These trials and tribulations are related in detail at the Discovery Centre by descriptive panels, enthusiastic volunteers, and short videos. The cake and coffee are good too!
---
Explore WWII Pillboxes
Rye Harbour, the Nature Reserve, and the River Rother were all potential points of invasion during WW2, and the network of pillboxes, and concrete bunkers to hide snipers brandishing machine guns, are evidence of the allied plan of defence and retaliation.
These relics of a bloody war are incongruous with the peace and beauty of the area, but visitors interested in modern history and military strategy will take pleasure in exploring the area where the pillboxes are hidden.
---
Visit Camber Sands Beach
Camber Sands is one of the few Sussex beaches with actual sand as much of the coast is edged with shingle or pebble shores.
Camber is loved by tourists and locals alike for the soft golden stretches of flat sand and rolling dunes. The most popular part of the beach in the west is where the River Rother meets the sea and provides perfect conditions for epic sandcastles. That said, Camber is remarkably unspoiled and solitude can easily be found.
Kite and windsurfers are a frequent sight on the waves thanks to the fresh breeze that often blows and there are plenty of shells and pretty rocks to be collected.
---
Head to Rye on the 1066 Country Walk
If you're a keen hiker, then taking on the 31 miles of the 1066 Country Walk will make a grand day out (or two days, which was enough for us). It is a flat, low route through the countryside that was once the background for the Norman Conquest.
The walk starts at Pevensey Castle and passes the 1066 Battlefield and medieval Winchelsea before finishing triumphantly in Rye. You will see rolling green hills, pretty villages, ancient churches, and windmills.
On your journey seek out the ten wooden sculptures inspired by the Bayeaux Tapestry and created by a local artist. Amongst others, King Harold and King William stand guard near Battle Abbey, and the animals portrayed in the tapestry can be found at Great Park Farm.
All that walking will leave you hungry! Places to eat along the 1066 Walk have the answer with mouth-watering menus featuring 1066-themed puddings. A fantastic idea!
---
Where to eat and drink in Rye
You will be spoiled for choice but there really is only so much you can eat on 2 days in Rye. Here are the venues where we managed to fill our boots!
---
Eat and drink in Rye's historic centre
The Globe Inn Marsh is a short walk over the River Rother and is a fine example of the maritime heritage in Rye. The clapperboard inn was originally built in 1839 and now is a quirky gastropub-style restaurant with a creative cocktail and mouth-watering menus using sourced produce – try the mussels, they are delicious! The beer gardens are a popular hangout in the sunshine so get there early!
The Ship Inn near Rye's Heritage Centre dates back to 1592. Originally built as a warehouse to store contraband seized from smugglers, the olde worlde style adds to the pub's charm. We enjoyed the outdoor seating sipping on the fine wine and drooling at the food served at the neighbouring tables. Their happy faces put The Ship Inn on my must-visit restaurant next time I'm in Rye.
The Mermaid Inn dates back to 1156 and was rebuilt in 1420. Many original features are still visible and would be well-worth booking dinner (or a room) there to experience the infamous ye olde pub. We popped in for a simple lunch and a fresh fish finger sandwich was a delight.
---
Eat and drink in Rye's Harbour
Bosun's Bite located on Rye Harbour opposite RNLI is quite literally the best Crab Roll I've ever had! The menu is small as it mostly serves the catch of the day so you are guaranteed a fresh dish. It's always a good sign when a place is very busy with customers queuing out the door so we took ours away with us and I'm delighted to say that the packaging was biodegradable – extra points from me!
William The Conqueror is a dog-friendly pub featured in the Good Pub Guide and offers an international menu of fresh, home-cooked food. We had a happy couple of hours breathing in the sea air and sampling the craft beers in the spacious outdoor space.
---
Best places to stay in Rye
Rye is a wonderful place for a weekend trip in England and you won't be disappointed with the choice of accommodation. Rye has many quaint places to stay from hosted B&Bs, self-catering cottages, and quirky boutique hotels. Choose your deals from Booking.com or Tripadvisor.
---
Best self-catered cottage in Rye
I stayed in Knot's Cottage centrally located opposite the micropub. The accommodation is a compact traditional cottage with 3 bedrooms, well-designed decor, and fabulous communication from the hosts.
>>> BOOK AT KNOT'S COTTAGE >>>
---
Best traditional hotel in Rye
The award-winning Jeakes House was built as a wool store in 1689 and every inch of the bedrooms, bar and dining room will take you back to days gone by. This quintessential residence is located on the infamous Mermaid Street.
>>> BOOK JEAKES HOUSE >>> READ REVIEWS
---
Best eco-friendly B&B in Rye
Hayden's B&B is a 5-star hotel located near St Mary's Church. This 'green' hotel buys local organic and Fairtrade produce, recycling, compostable takeaway boxes, energy-efficient lights, organic cleaning materials, and more!
>>> BOOK HAYDEN'S B&B >>> READ REVIEWS
Useful links for your Rye trip
Ready to get planning and check these links for a weekend in Rye.
Transport
Travel Insurance
Get 5% off your travel insurance with HeyMondo. Benefit from 24-hour medical assistance, 365 days a year with single, multi-trip, and long-stay insurance, cover for Covid-19 and non-refundable expenses. The handy app makes this a simple process! They give a little back too by contributing to 'Doctors Without Borders'.

SafetyWing for Digital Nomads. Benefit from 24/7 assistance, comprehensive and medical cover including Covid-19. Buy insurance whilst you are travelling, with the option of global health insurance.
---
PIN FOR PLANNING 2 DAYS IN RYE