The ancient rock-cut structures are an important part of India's religious and architectural heritage. With over 1500 examples across the country dedicated to Buddhism, Jainism, and Hinduism showering with symbolism, here is a selection of 15 incredible cave temples in India.
---
Disclosure: This post contains affiliate links, which means I may receive a small commission if you click a link and purchase something that I've recommended. It comes at no cost to you. Thank you for your support.
CAVE TEMPLES IN INDIA
---
Badami Cave Temples | Karnataka
---
When you speak of incredible cave temples in India, you can't mention the famous Badami Cave temples in northern Karnataka (South India). Located in the town of Badami in the Bagalkot district, they are an important cultural and religious symbol for the Hindu and Jain communities.
History and architecture of Badami Caves
Kirtivarman I, the successor of Chalukya ruler Pulakeshin I, and his brother Mangalesha constructed the cave temples in the late 6th and early 7th centuries. There are four cave temples in the Badami caves complex – three of them devoted to Hinduism and one devoted to Jainism.
Getting to the caves requires climbing quite a few steps. So wheelchair access is not possible. Made from red sandstone, the rock-cut cave temples exhibit impressive Chalukyan Dravida architecture.
How to reach Badami Caves
You can get to the site both by car and train. The nearest cities that have road and rail connectivity to the Badami are Belgaum and Hubli. The cave temples are situated 143 km away from Belgaum and 106 km away from Hubli.
The reason why I personally love these cave temples and find them worth a visit is that their "rock cave appearance" looks like a miniature Petra from Jordan.

Explored by Vaibhav Mehta from The Wandering Vegetable
---
Ramalingeshwara Temple | Bangalore
---
Bengaluru, the Silicon Valley of India, can really tire you with its traffic jams. Amidst all that chaos there are few spots where one can meditate and find peace. Find your quiet sanctuary at Ramalingeshwara Cave temple located in Hulimavu town of Bangalore.
History and architecture of Ramalingeshwara Temple
The cave existed for 2000 years but the temple inside it is 400 to 500 years old. Legend around this temple is that a sage meditating in Nandi Hills (61km from Bangalore) directed Mariappa Swamiji, the managing trustee of the temple, to find another sage like him meditating in a cave in Bengaluru.
His extensive search led him to the Ramalingeshwara Cave temple where he found Sri Ramanand Swami meditating in this cave. 12 years after the cave was discovered the sage attained Jeeva Samadhi.
The temple is dedicated to Lord Shiva and records mention that in 1850 idols of Gods and Goddesses were placed in the temple.
How to reach Ramalingeshwara Cave Temple
The temple is 47 km from Kempegowda International Airport. You can take a private car or public transport to reach the temple.
I loved the peaceful aura inside Ramalingeshwara cave, one of the lesser-known cave temples in India.

Explored by Indrani Ghose from iShare These
---
Mahabalipuram Temple | Tamil Nadu
---
Mahabalipuram is 60 km south of Chennai. It is right on the East Coast Road en route to Pondicherry.
History and architecture of Mahabalipuram
The cave temples of Mahabalipuram are also known as Mandapam due to their architectural style. They were cut from large rocks with front pillared portico and one or multiple empty sanctums behind. The walls are decorated with bas-relief works based on Hindu mythology. These temples were left in various degrees of completeness, some are complete and few are in different stages of work.
Some prominent cave temples of Mahabalipuram are Krishna Mandapam, Varaha Mandapam, Mahishasuramardini cave temple, Trimurti cave temple, Tiger cave temple and Panchapandava cave temple. Panchapandava cave temple is the largest of all but it is incomplete. Krishna Mandapam is decorated with sculptures on stories from Krishna's childhood. Mahishasuramardini cave temple has the most beautifully carved out frescoes of Goddess Durga. Trimurti cave temple consists of three cells, each dedicated to the three trinity Gods of the Hindu religion – Brahma, Vishnu, and Shiva.
How to reach Mahabalipuram
There are plenty of buses available from Chennai which take one and a half hours to reach Mahabalipuram. The nearest airport to Mahabalipuram is Chennai.
To me, Mahabalipuram cave temples are an insight into the glorious era of Pallava Kingdom when art, literature and architecture flourished to a new height for nearly five centuries and gave birth to a unique Dravidian architecture that was followed later in other parts of ancient India.

Explored by Subhadeep Mondal from My Travel Frames
---
Mandagapattu Temple | Tamil Nadu
---
Mandagapattu is a small village located close to Chennai in Tamil Nadu. It is very special because it is the first-ever cave temple in Tamil Nadu.
History and architecture of Mandagapattu
Built by Mahendra Varma Pallavan in the 7th century CE, all this cave temple has, are 2 sculptures and 1 inscription. The inscription is in the Sanskrit language, and in Grantham script. It mentions that the temple is for Lord Brahma, Lord Vishnu and Lord Shiva. However, there are no sculptures of Gods present here currently. There are only 2 sculptures of Dwarapalas (doorkeepers).
How to reach Mandagapattu
This is located 18km from Villupuram Railway station. Being a small village public transport here is not dependable. The best choice would be to hire a taxi from Villupuram.
I consider this a major milestone in Indian architecture. Mahendra Varma was a pioneer who began creating rock-cut caves and in course of time, he laid the cornerstone for Mahabalipuram, which was then taken over & completed by his son Narasimha Varma which is today a UNESCO World Heritage Site!

Explored by Bhushavali from My Travelogue
---
Pillayarpatti Temple | Tamil Nadu
---
Located in the picturesque village of Pillayarpatti, in the south-Indian state of Tamil Nadu is the cave-temple of Pillayarpatti Karpaga Vinayagar.
History and architecture of Pillayarpatti
Built in the early 4th century CE, by the Pandya rulers, this rock-cut temple (kovil in Tamizh language) is dedicated to the Hindu gods, Lord Shiva and Lord Ganesha. The latter is also known as 'Pillayar' and 'Vinayagar' in the Tamizh language.
The Vinayagar deity here is a unique 6 feet bas-relief, carved out of an excavated cave, and known as Karpaga Vinayagar — someone who fulfills the wishes of his devotees. Thus, the village came to be known as Pillayarpatti and the deity as Karpaga Vinayagar.
The 1600-year-old rock-cut temple of Karpaga Vinayagar at Pillayarpatti has ancient inscriptions inside the caves, giving details of the sculptors and the dynasties responsible for its expansion over the centuries.
Architectural elements like the pillars, the unique frescoes, the construction of a gopuram(temple spire), and the temple water tank, also give away the contribution of each of the rulers with their uniqueness.
How to reach Pillayarpatti
The nearest airport is 70km away at Madurai. The state-run buses are well maintained and give an opportunity to interact with local people. Also, taxis could be hired from Madurai airport to visit the Pillayarpatti temple as well as the surrounding palatial homes of Karaikudi.
Apart from this cave temple's historical significance and antiquity, what impresses me about the temple complex is the serene atmosphere in which it is set and how well it is maintained under the aegis of the Nagarathar Chettiar community. These aspects definitely make the Pillayarpatti temple worth a visit.

Explored by Meenakshi from Polkajunction
---
Elephanta Cave Temples | Maharashtra
---
Elephanta Caves, also known as the 'City of Caves', are ancient Hindu and Buddhist cave temples located on an island 10km off the coast of Mumbai.
History and architecture of Elephanta Caves
It is believed that Elephanta Caves date back to the 5th and 8th centuries and comprise five Hindu caves dedicated to Lord Shiva, and two Buddhist caves carved from the rocky basalt hillside. There are stupas on the island which date back even further to the 2nd century. The Grand Cave is the most impressive with the 'Sadashiv' as the focal point elaborately depicting Lord Shiva's three personalities. The Creator, The Preserver and The Destroyer.
Natively known as Gharapuri, the island was renamed by Portuguese invaders after a giant stone sculpture of an elephant, which was removed from the island and is now on display at Bhau Daji Lad Museum in Mumbai
How to reach Elephanta Caves
Take the ferry from The Gateway of India in Mumbai. The journey takes 1 hour and leaves every 30 minutes from 9 am-2 pm every day except Monday
Being my first introduction to Cave Temples of India, this was a special experience for me. I felt it was unique as Elephanta Caves are set on their own island.

Explored by Vanessa from Wanders Miles
---
Karla Caves | Maharashtra
---
One of the oldest Buddhist cave temples in India, Karla Caves is located in Lonavala, Maharashtra.
History and architecture of Karla Caves
These rock-cut caves are home to the largest prayer hall (Chaityagrihas) in India and are primarily famous for the Ekvira temple that is located inside the caves. There are several rock-cut columns with intricate carvings and inscriptions inside these prayer halls along with fine sculptures of males, females, and animals.

It is said that it took a long time to build this exquisite cave and the temple. The construction started in the 2nd century BC and ultimately was completed in the 10th century, with brake between the 2nd century AD and the 5th century AD. The entire caves have been built using a single design except for three excavations and the construction was funded by people, from all professions.

Here, you will find a huge 15-meter pillar and a temple that is dedicated to Goddess Ekvira. Apart from that, these caves also house a Buddhist monastery that has been assumed to have been built around 2nd century BC. The cave consists of 16 excavations out of which 8 are Chaityagrihas, the largest being 37.87 m long, 13.87 m wide, and 14.02 high.
How to reach Karla Caves
You can reach Pune or Mumbai in Maharashtra and then take a state transport bus or taxi to reach Lonavala. From Lonavala, you can take a taxi to Karla caves and climb the 150 steps to reach this cave temple.
Personally, I loved how huge and detailed this cave was and really found its artwork fascinating.

Explored by Rachita Saxena from MeanderWander
---
Pandavleni Caves | Maharashtra
---
Pandavleni caves feature as one of the best Nashik Tourist places but surprisingly they are not very popular with the locals. They are a group of 24 caves that have sculptures and carvings outside the cave and inscriptions on the inside of the cave.
The Caves are built on Trirashmi hills which is 8km from Nashik city and an easy drive to the foothills. Visitors can reach the top after climbing 250 steps.
History and architecture of Pandavleni Caves
The caves served as a place of worship for Buddhist monks in the yesteryears. Pandavleni Caves also known as Nashik Caves are said to be the oldest caves in the state of Maharashtra. These caves were excavated by Jain saints over 2,000 years ago between the 1st and 3rd centuries. The walls bear a number of inscriptions of great historical significance belonging to the reign of Satavahanas and Kshaharatas and also represent a brilliant phase in the rock-cut architecture of the 2nd century AD.
The caves are starkly plain in contrast to the heavily ornamented exterior, however, the beauty of these caves lies in their dignified façade, effectively composed and carved. Among the monasteries, caves no. 3, 8, 10, and 23 are huge in size, planning, and splendours and have won acclaim on account of their architectural grandeur and sculptural embellishment.
How to reach Pandavleni Caves
Nashik is connected to Pune and Mumbai via highway and train. Flights to Nashik are operated via all domestic airports in India. In order to reach Pandavleni caves from Nashik, take the Pune-Nashik highway and one can reach within 20 minutes.
The rustic charm of the age-old caves transformed me to an unknown era forgotten by the locals. I loved the sculptures and the overall vibe of the place after climbing those steps!

Explored by Ketki from Explore With EcoKats
---
Aurangabad Caves | Maharashtra
Aurangabad city is named after one of the Mughal emperors Aurangazeb and is a popular tourist destination for those visiting the city for its sights. One of the more spectacular sights is the Aurangabad cave temple complex, which is located just 9km North-West of Aurangabad.
History and architecture of Aurangabad Caves
Aurangabad cave temples, carved out of rock faces of Sihyachal hills at an altitude of 250m, are mostly dedicated to Buddhism. Scientists believe these 12 basalt rock-cut caves to be between 1300 and 1700 years old.
The carvings show a mix of various sects of Buddhism like Hinayana, Mahayana, and Vajrayana. Some of the caves include Hindu deities too. Some of the caves scooped out of the rock face are quite big and have neat and intricate designs, much like the more famous Ajanta caves located just 100 KM away and Ellora caves about 30km from here.
What is amazing is that many parts of the hill is not suitable for excavating and carving because of loose rocks. Still, the builders of those times figured out where to make these cave temples. Another reason to visit this ASI-protected temple complex is, Bibi ka maqbara called Taj of the Deccan is just 2km from here.
How to reach Aurangabad Caves
Aurangabad caves is 9km from the city. Best way is to hire a taxi or a car to go there.
---
Ajanta Caves | Maharashtra
---
The Ajanta Caves are a huge complex of thirty rock carved caves set in a horseshoe shaped gorge located 100 km north east of Aurangabad, Maharashtra.
History and architecture of Ajanta Caves
The caves are a mix of Chaityas (prayer halls) and Viharas (monasteries) and the artefacts found here link the early caves to the Satavahana dynasty and the later caves to the Vakataka period of rule.
The first caves are from the 2nd and 3rd centuries BC and are simply carved with little interior decoration. The focus of the artistry is on recounting the life of Buddha and praying before plain Stupas.
Temples constructed during the 5th and 6th centuries AD are more elaborate and show how the progression of the Buddhist religion to worshipping statues of Buddha, celebrating Bodhisattvas (beings on the road to divinity) and telling allegorical stories.
The condition of the many warmly colourful wall paintings which depict Buddha's life is amazing when you consider how old they are. The vast number of detailed statues are similarly well preserved.
As Hinduism became more popular in India the Buddhist caves were abandoned and forgotten. They were hidden for eons in the forest and discovered by a British man, John Smith, during a tiger hunting party in 1819.
How to reach Ajanta Caves
If travelling India by train, then Jalgaon is the nearest railway station, hire a taxi to travel 96km to Ajanta Caves. Most people arrive from Aurangabad, it's 103km by car or there are local buses from Aurangabad Central Bus station.
Walking to Ajanta Caves from the back and seeing the whole complex from the viewpoint just highlights the sheer enormity of this UNESCO World Heritage site.

Explored by Vanessa from Wanders Miles
---
Ellora Caves | Maharashtra
---
Located 30km from Aurangabad, Ellora Caves is a 2 km site excavated from the Charanandri hills houses over 100 incredible monasteries and temples dedicated to Hinduism, Jainism and Buddhism, however, only 34 are open to the public.
History and architecture of Ellora Caves
Ellora (also known as Elura) dates back to the Rashtrakuta dynasty in 600 to 1000 CE. Many kings and merchants donated large sums of money for the construction of the cave temples which were supposed to offer salvation and religious excellence.
Out of the 34 caves you can visit, there are 12 Buddhist (caves 1–12), 17 Hindu (caves 13–29) and 5 Jain (caves 30–34) caves. The most prolific monument at Ellora, dating from the 8th century, is Kailasa temple (cave 16), taking its name from Mount Kailasha in the Himalayas, where the Hindus believe Shiva lives. Standing 32 metres high, Kailasa temple is the largest rock-cut monument in the world.
How to reach Ellora Caves
Aurangabad is 30 km (19 miles) away from the village of Ellora and can be reached by taxi or public buses from Central Bus Station.
Ellora is the champion of rock-cut cave temples as it is the largest monolithic excavation in the world. If you remember this as you wander round, this makes the architecture even more mind-blowing.

Explored by Vanessa from Wanders Miles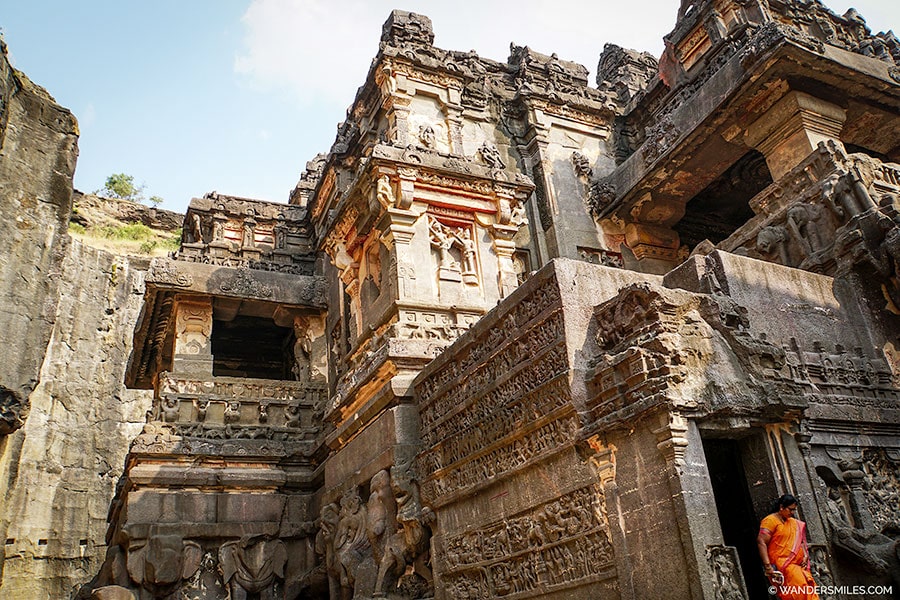 ---
Khandagiri & Udayagiri Caves | Odisha
---
During the historic times, Jainism flourished in Odisha along with Buddhism and Hinduism. There are quite a few Jain monuments in Odisha and the most important of them are the twin caves temple complexes of Khandagiri and Udayagiri.
History and architecture of Khandagiri and Udayagiri
Though they are religious monuments, Khandagiri and Udayagiri Caves in Odisha are typical picnic destinations from Bhubaneswar making it a pretty crowded place most of the time. These were excavated in 1st C BCE – 1st C CE. Udayagiri has 18 caves while Khandagiri has 15 caves, with the highway NH5 running between them. Some of these caves have 2 floors, some have inscriptions and some have detailed relief sculptures.
How to reach Khandagiri and Udayagiri
Khandagiri and Udayagiri Caves are located 9km from Bhubaneswar railway station and can be easily reached by hiring a taxi.
As a history-buff, I was filled with awe with this entire space. The very fact that it was excavated 2000 years ago and filled with such fascinating architecture, detailed sculptures of stories of those times with fables, people, animals, birds, foliage etc and more importantly the inscriptions of the young King Kharavela's conquests & public services.

Explored by Bhushavali from My Travelogue
---
Udayagiri Caves | Madhya Pradesh
---
The Udayagiri Caves is situated in Madhya Pradesh, India, 58 km away from the capital of the state, Bhopal.
History and architecture of Udayagiri Caves
This is amongst the 20 temples and monasteries which were all built by carving rocky hills during the reign of King Chandragupta II of the Gupta dynasty. The period of excavation is known from the inscriptions made on the walls of the caves.
One of these 20 temples is a Jain temple; the rest 19 are Hindu temples. Udaygiri caves are in the Vidisha district of Madhya Pradesh, in the villages named Sonpura and Udaygiri.
The best part of the Udaygiri caves is that each cave represents a part of Hindu mythology. It is known that the most researched is cave 5, which depicts the story of how Lord Vishnu saved Goddess Earth from the wrath of the cosmic ocean. The depictions of all the Hindu Gods and Goddesses are made in the traditional attire of sarees and dhotis.
The best part of the Udaygiri caves apart from the mythological carvings and inscription is the 360-degree view of the valleys and green forests engulfing the caves, from the top of the hills.
How to reach Udayagiri Caves
The site of Udaygiri caves is well connected by highway from Bhopal, which has both an airport and a major railway station. So, it will take 1 hour and 30 minutes to reach the place by car from Bhopal.
We liked the iconographies of Hindu Gods carved on the rocks of Udaygiri Caves. These beautiful rock carvings appealed us to explore more about the Indian mythology.

Explored by Nikki Ortan from Attractions of America
---
Hidimba Devi Temple | Himachal Pradesh
---
Unknown to many, Manali, the famous hill station in the Indian state of Himachal Pradesh, has an ancient cave temple dedicated to a demoness called Hidimba, wife of Bhima, a figure from the Indian epic Mahabharata.
History and architecture of Hidimba Devi Temple
Built around a cave in 1553 AD by Maharaja Bahadur Singh, the Hidimba Devi temple has a strange story attached to it, taking us back to the days of Mahabharata.
Born into a demon family, Hidimba had vowed to marry the one who would defeat her brother Hidimb who was a powerful demon in the Kamyaka forest. She fell in love with Bhima – one of the Pandavas brothers and helped Pandavas in defeating Hidimb. It is believed in the later phase of her life, Hidimba meditated and attained supernatural powers which she used to protect the forest and the villagers staying nearby.
Today, Hidimba Devi is worshiped as a deity and her temple is visited by many. However, it's not just the story of the demoness turned deity that fascinated me, but also the profound beauty of the temple which left me mesmerized when I visited it. The temple is surrounded by a cedar forest called Dhungiri Van Vihar which increases the beauty of the temple my many folds. I have been to many shrines across the country, but this Pagoda-style architecture of an ancient Hindu temple was something unique and new.
How to reach Hidimba Devi Temple
The Hidimba Devi temple is only 2.5 km away from the Manali city centre and can be easily reached by bus or car. While you are at it, visit the nearby markets and buy Himachal shawls as souvenirs.
I have been to many shrines across India, but this Pagoda-style architecture of an ancient Hindu temple was something unique and new.

Explored by Anwesha Guha from Going Places with Anwesha
---
Vaishno Devi Caves | Jammu and Kashmir
---
Situated at a height of 5,200 ft, the Vaishno Devi Cave Temple is visited by millions of devotees every year.
History and architecture of Vaishno Devi
Finding mention in the Epic Mahabharat, the cave temple is said to have been discovered around 700 years back by Pandit Shridhar, when Mata Vaishnavi herself guided him to the holy cave in the Trikuta Mountains. The Vaishno Devi temple is famous for its 3 natural pindis or stone structures depicting Maha Kali, Maha Saraswati, and Maha Lakshmi. Interestingly, the temple does not have any idols or statues.
Do not miss out on the Baba Bhairon Temple situated around 1.5 km uphill as it is believed that the pilgrimage is only complete if you visit both temples.
How to reach Vaishno Devi
The 13 km trek to Vaishno Devi Temple starts from Katra. There are palanquin and pony services if the 13 km trek seems too arduous. You can even take a helicopter from Katra to Sanjichhat Helipad which is around 2.5 km from the main shrine.
The nearest Airport to Katra is Jammu around 45 km away. It is definitely advisable to visit the shrine between March to October as the weather is really pleasant.
I loved Vaishno Devi because of its rich cultural heritage, the historical importance but most importantly the trek which makes you part of the whole experience spiritually,

Explored by Karan from Wicked Poet
---
PIN FOR LATER – BEST CAVE TEMPLES IN INDIA