Varanasi in India for Holi Festival is not for the faint-hearted but it is an experience I will remember for years to come. We saw it from the back streets, the boat, neighbouring village and the Aghori Monk's perspective; it was absolutely bonkers! Let's check out the madness of Holi in Varanasi.
---
Disclosure: This post contains affiliate links, which means I may receive a small commission if you click a link and purchase something that I've recommended. It comes at no cost to you. Thank you for your support.
---
WHAT YOU NEED TO KNOW ABOUT THE HOLI IN VARANASI
---
What is Holi?
The Holi Festival date is celebrated on different days each year at the end of winter, on the day after the full moon in March. The night before Holi, on Holika Dahan massive bonfires are set alight to help burn away evil spirits.
Holi (pronunciation: /ˈhoʊliː/; Sanskrit: होली Holī) is a Hindu spring festival celebrated in India and Nepal, also known as the "festival of colours" or the "festival of love". It takes place over two days and is a celebration of fertility, colour, and love, as well as the triumph of good versus evil.
The four main powder colours are used to represent different things. Red reflects love and fertility, blue is the colour of Krishna, yellow is the colour of turmeric representing inner purity and pride and green symbolises spring and new beginnings.
---
HOW TO PREPARE FOR HOLI IN VARANASI
If you've not experienced Holi on Indian soil, it's hard to know what to expect. Holi in Varanasi was my first time and did not realise the preparation involved, my second Holi in Pushkar I was ready for it! Here are a few handy hints to get ready for your first experience of the Festival of Colours.
Remember to buy your colours
Nobody can head into Holi Festival without their own stash of colours to throw around (or at people). Things can get very messy on the day so the street stalls all around the city are doing a roaring trade running up to the big day so be prepared!
Stock up on food
Literally, everyone gets involved in the Holi Festival whether it is in the midst of it all or watching from the rooftops so be warned, the shops and restaurants will be shut until around 5 pm. You are able to head back out later after a shower to dinner.
Protect against discolouration
It's hard to avoid some sort of staining in the aftermath but a little extra protective layer can't hurt. We covered ourselves in baby oil and don't forget behind the ears and up the nose, leave no stone unturned.
Cover your cameras
You don't want to miss out on some once-in-a-lifetime shots so make sure you take the extra steps to protect your camera or your smartphone. This will involve lots of plastic with tape as you will also get fired at with water pistols.
---
WHAT TO WEAR TO HOLI FESTIVAL
If you've not experienced Holi on Indian soil, it's hard to know what to expect so here are a few handy hints to get ready for the madness.
---
Wear a white outfit
White is perfect to display your colours well. Either get an outfit that you are happy to dump straight in the bin afterwards or buy a local white kurta to go for the authentic look. Ladies, wear an extra layer underneath in case you get soaked with water to avoid the wet T-shirt look!
---
Wear a hat or scarf
This is not for style, it's about protecting your hair especially if you have highlights. I bought a wig to cover my hair but this got commandeered by a local, I had to resort to a scarf which only covered the top of my head. I came home with blue hair at the bottom, I was told it was cool but the hairdresser had to bleach it out.
---
Sunglasses are a must
Pick up some cheap sunnies on one of the stalls the day before to prepare for Holi in Varanasi. Colours come flying from all angles so this will help protect your eyes. I took mine off for a brief moment and my eyeballs got a blasting.
---
GET INVOLVED IN THE HOLI MADNESS
So we were ready and armed with wigs and powder to throw. Our guides arrived with silver faces looking slightly robotic and scary but we were safe with these guys! We were ambushed from the rooftops, from down the side streets and within our own group… so much fun! We found a party by a temple which was totally mental (that's where my wig went AWOL). We danced around with the locals till it got a little crazy then made our way to the ghats where our boat was waiting.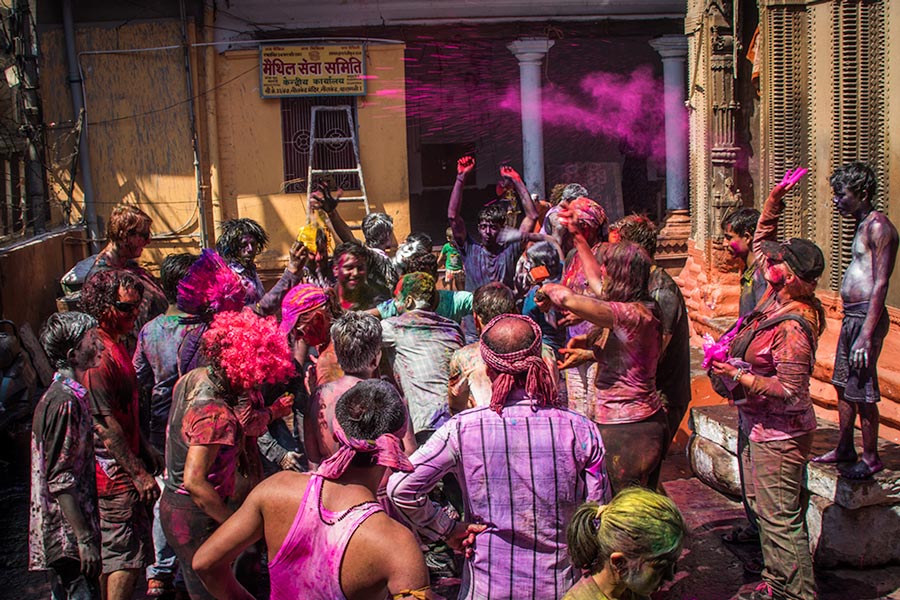 The boat took us over to what we thought was the quiet side of the Ganga, how wrong could we be? The villagers were just as crazy about celebrating Holi! We were invited to party in the garden of a local house and got covered again in more colour by the revellers, we left there and dived into another garden party, ladies only this time, everyone was in such high spirits, I can't even explain how amazing this was!
---
DARK ENCOUNTER WITH AN AGHORI MONK
The final chapter of our day got slightly surreal, we had the chance to meet an Aghori Monk, normally reclusive so very hard to make a meeting with and some say to stay away altogether.
Aghori derives from the Sanskrit word "Aghor" which means the absence of darkness and implies a natural state of consciousness where the mind is free of fear and repulsion. They are devoted to Shiva manifested as Bhairava, a powerful Hindu god of death and destruction often ominously referred to as "The Destroyer".
Aghoris are feared across India but the most respected clan of the Sadhus, the exiled Aghori monks of Varanasi feast on human flesh and reside near cremation sites in search of spiritual enlightenment. So you can understand when we walked into the tent on a remote side of the Ganga where we found human skulls, we felt a little like sh*t just got real!
The Aghori Baba (guru) that came over to see us by boat had a student with him that spoke English so he talked us through his thoughts and beliefs. The Aghoris can recognise negative energy in your faces and protect you from evil by chanting mantras. The Baba found it hard to recognise any pain in our faces due to the colour of Holi Festival but some of our group came forward to take part in the ritual of removing evil spirits… like I say pretty freakish stuff!
---
WHERE TO STAY IN VARANASI
The main point to stress is to book early if you want to visit Holi Festival in Varanasi, not only to guarantee you a bed but at a better price.
BUDGET – HosteLaVie is a popular choice as it is situated near Dasaswamedh Ghat and Sri Sankata Mochan Hanuman Temple. The hostel has a chilled vibe with a large rooftop, garden and terrace to meet others.
MID-RANGE – Amritara Suryauday Haveli is perfect if you wish to view the Holi madness from the roof terrace overlooking the Shivala Ghat.
LUXURY – BrijRama Palace is a lovely Heritage Hotel built in the 18th Century and is considered as one of the oldest structures in Varanasi. You can even watch the Aarti ceremony at Dashashwamedh Ghat from the roof terrace.
REMEMBER TRAVEL INSURANCE! Always make travel insurance a priority for any adventure! World Nomads is my go-to guys, I've learnt this from experience. You can buy and claim online even when you've left home. I love that they give a little back too and support community development projects in various countries.
TRIP ORGANISED by Trekkup and extra credit for the wonderful photos!
---
PLEASE PIN FOR LATER!