The magnificent and spiritual Ellora Caves in Maharashtra are a monolithic collection of ornate caverns that have been carved into the towering volcanic basalt cliffs of the Charanandri Hills. Let's explore their enthralling history and how to visit Ellora Caves.
---
Disclosure: This post contains affiliate links, which means I may receive a small commission if you click a link and purchase something that I've recommended. It comes at no cost to you. Thank you for your support.
---
History of Ellora Caves
Travellers visiting Maharashtra State, a stunning region of India, should make every effort to experience the wonder of these fascinating and beautiful examples of art, culture, religion and engineering. Located only 30km from Aurangabad, there are 34 caves to explore across a 2 km site at Ellora Caves.
Dating from between 600 and 1000 CE the caves are now a UNESCO world heritage site and they tell the story of the harmony between religious faiths during these times. Ellora's rock-cut cave complex was the home and place of worship for Hindu, Buddhist, and Jain monks.
Excavated during the Rashtrakuta and Yadavas dynasties, the caves were an important site of devotional pilgrimage and a welcome resting stop for weary merchants travelling along the South Asian trade route.
---
Monolithic architecture of Ellora Caves
The Ellora caves are an incredible example of how people of multiple faiths can live, worship and peacefully co-exist. Remarkably well preserved, in some places the original paint and plaster are visible, Ellora is full of jaw-dropping and thought-provoking ancient treasures.
---
Hindu Monuments
Archaeologists believe that some of Ellora's Hindu caves are the most ancient examples on the site with construction beginning around 550 CE. There was also the second phase of Hindu monuments built between 730 and 950 CE.
The imposing Kailasa Temple is the most popular sight at Ellora and it is the biggest individual monolithic structure in the world. Hewn out of a single piece of rock the architecture is classic Dravidian (a style native to southern India and Sri Lanka) and is dedicated to the life of Lord Shiva.
The craftsmen and artists who created this temple will have needed to move 200,000 tonnes of rock to begin creating the intricate details and bold depictions of deities, idols and animals such as elephants.
Towering over awe-struck pilgrims this two-storey cave is an imaginative depiction of Shiva's home, Mount Kailash. It's a truly wonderful place where every inch of carved rock reveals another vivid moment in the story of this powerful Hindu God.
---
Buddhist Monuments
The southernmost caves are Buddhist. There are domestic quarters such as sleeping cells and kitchens for monks and shrines to Buddha and Bodhisattvas (important individuals on the path to Buddhahood).
Cave 10, Vishvakarma Cave is also known as the Carpenter's Cave, a name given to celebrate the amazing way the rock has been expertly worked to make it look like curved wooden beams in the ceiling.
A splendid Stupa (shrine) to Buddha and his reincarnations dominates the top floor of Cave 12. It is simply mind-boggling to imagine that thousands of years ago, Indian Buddhists gathered in peaceful prayer exactly where you're standing.
Tourists in the Buddhist part of Ellora Caves often report feeling calm, a serenity that would thrill the original architects as the stone edifices and beautifully carved friezes were designed with the transcendent state of blissful Nirvana in mind.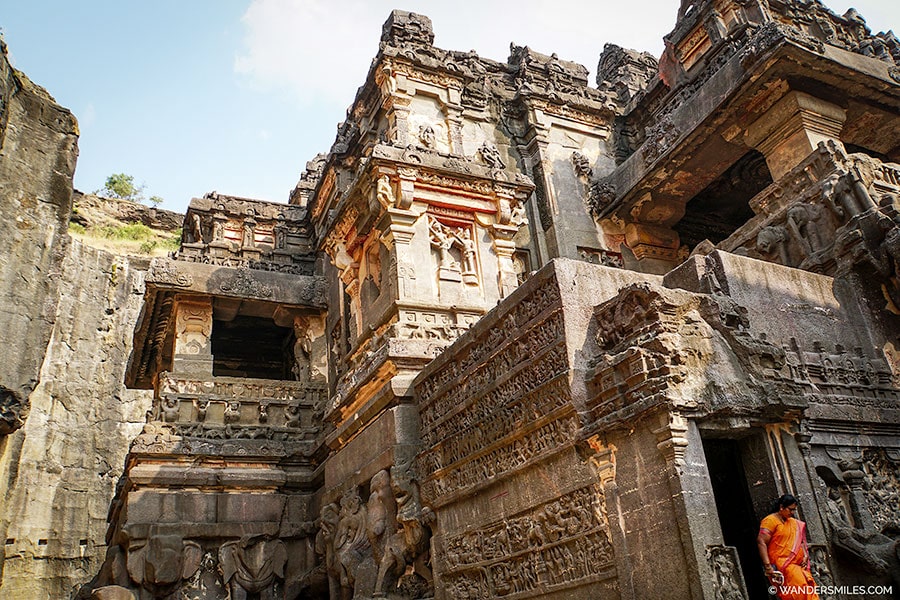 ---
Jain Monuments
Five of the Ellora Caves are dedicated to the Jain faith, a religion with 'self-help' and non-violence at its core. Situated in the north of the area, these caves are smaller and newer than the rest having been built in the 9th and 10th centuries by the Digambara sect.
The Jainist religious philosophies are explained throughout the caves with intricate artworks, bold statues, and gorgeous, detailed carvings. Self-discipline and avoidance of indulgence may be a key part of the Jain lifestyle, but their caves are still exquisite!
Cave 30, the Chota Kailasha is a smaller version of the Hindu cave and is decorated with two huge wall reliefs of the god Indra dancing, each wild flail of his arms is pictured.
The Indra Sabha, Cave 32, has a ceiling adorned with a symbolic lotus flower and honours Indra Sabha, the most important deity of the Jain faith.
Evidence of active worship has also been found in this cave, which brings to life a realisation that these places we gaze in awe at, were once places where our ancestors went about their everyday lives.
VISIT ELLORA CAVES | TRAVEL ESSENTIALS
---
How to get to Ellora Caves
Ellora Caves are in the state of Maharashtra in western India. The village of Ellora is close by and the city of Aurangabad is 30 km (19 miles) away.
Many tourists also explore the Ajanta Caves when they are in this area. The mere 80 km (50 miles) distance between the sites would allow for a fantastic two-day trip.
FLIGHTS – There are regular flights to Aurangabad Airport from Mumbai, Delhi, and Hyderabad.
PRIVATE TAXIS – The journey from Aurangabad to Ellora Caves will take an hour each way and cost around INR 1000.
PUBLIC BUSES – A good option as they leave every 30 minutes from the Central Bus Station. However, some routes will only stop at Ellora Village so be ready for a short 2km walk to the caves. There are shuttle buses on hand to transport tourists around the site available for INR 22.
---
How much do Ellora Caves cost?
If you haven't booked a tour, the entry fee to visit Ellora Caves is INR 40 for locals and INR 600 for foreigners. Children under 15 are free.
Ellora Caves Tourist Information Centre sells tickets and an audio-visual guide in various languages. Do have rupees handy if this is your plan as the card machine is unreliable at best!
---
Opening times of Ellora Caves
Officially, the Ellora Caves' hours of opening are from sunrise to sunset but generally, this translates to mean 8 am until 5.30 pm. You can visit every day other than Tuesdays when the site is closed.
There is plenty to enjoy in these spectacular caverns. If you are keen to discover as much as possible there is quite a bit of walking to do, so arrive early and bring plenty of drinks and snacks.
---
Best time to visit Ellora Caves
Weekends are very busy so try and visit on a weekday.
We recommend a journey to Ellora Caves between November and March. This is when the weather is most favourable to an all-day outdoor exploration.
The Ellora Festival of Classical Dance and Music is an annual event in the third week of March. It's an awesome feast for the ears and eyes and well worth planning your visit around.
---
Other facilities at Ellora Caves
Ellora Caves is a great day out as there is a car park, shuttle buses (with no AC so be prepared to cook!) places to eat and drink, souvenir shops, and auditoriums where informational talks are held.
Useful links for your Ellora Caves trip
Ready to get planning your trip to visit Ellora Caves? Here are some useful links to finding great places to stay, finding tours, and insurance. These are companies I have used and can recommend with confidence.
🚌 ACCOMMODATION
🚌 TRANSPORT
🚌 TOURS + INSURANCE
---
PIN FOR LATER – VISIT ELLORA CAVES