EPIC & THRILLING ZIPLINES IN EUROPE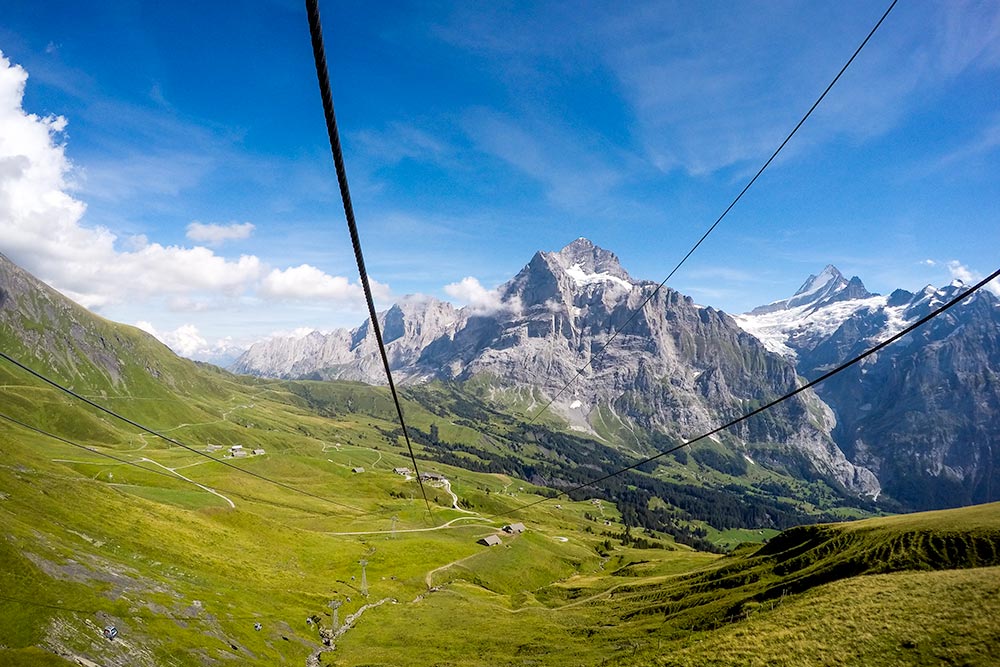 Europe is a continent with magnificent mountains and tranquil lakes making this the perfect setting for epic ziplines. Whether you are travelling to Italy, Slovenia, or the UK, you will find some of the most thrilling ziplines in Europe on this list.
---
EPIC & THRILLING ZIPLINES IN EUROPE
---
VOLO'DELL ANGELO ZIPLINE | CASTELMEZZANO, ITALY
Castelmezzano is a small mountain village in southern Italy. It's titled as one of the most beautiful places in the whole of Italy and every visitor can admire its beauty with colorful buildings and the scenery of dolomite mountains. However, its main attraction is the high-speed zip line Volo'dell Angelo which is one of the fastest ones in Europe.
The Volo'dell Angelo takes adrenaline lovers from the village Castelmezzano to the neighboring village Pietrapertosa and back. Top speed reaches up to 120 km/h (70 mph) and "pilots" can admire dolomite mountains and charming villages above 400 meters. There are two zip lines (Castelmezzano to Pietrapertosa and back), which are both around 1.4 km long.
HOW TO REACH VOLO'DELL ANGELO ZIPLINE
The zip line starting point is next to Castelmezzano and visitors can reach there after a small walk which takes about 15 minutes from the village center. The village itself is a bit off track with not so many public transportation options. On a high season, local bus company SITA SUD operates between Potenza and Matera.
TRIP PLANNING TO CASTELMEZZANO | ITALY
As it looks like a super-fast zip line when actually it's not so frightening at all. It's a great experience to whiz over the valley, seek the beautiful nature, and spend some time in Italy's hidden gems. // Erki from Genem Travels
---
Disclosure: This post contains affiliate links, which means I may receive a small commission if you click a link and purchase something that I've recommended. It comes at no cost to you. Thank you for your support.
---
ROCCA MASSIMA ZIPLINE | ITALY
There are several amazing ziplines across Europe and Rocca Massima is one of the most famous ziplines in Italy!

Located fairly close to Rome, this is the perfect outing for an adventurer looking to trade in historical sights for a thrilling afternoon. The zipline also claims to be the fastest zip line… in the world!

The company that runs this zipline is called Flying in the Sky and it is a 2.2-kilometer zip line that is over 310 meters high off of the ground at its highest point and it is supported by 2 pylons that run over 2,225 meters long. Not only is this the world's fastest zipline, but it is also the longest!

The average speed of the flight exceeds 110 km/h and will hit up to 160 km/h at its fastest.

When you fly on the 'Il Volo del Falco Pellegrino' with Flying in the Sky, you will be forward-facing like you are truly flying through the air. You also will have a chance to chill out after the flight and enjoy some snacks.
HOW TO REACH ROCCA MASSIMA ZIPLINE
The best way to reach the zipline is via public transportation (a mix of trains and taxis) or by rental car. You can pre-arrange transportation with Flying in the Sky if you don't have a way to get down there from Rome.
TRIP PLANNING TO ROCCA MASSIMA | ITALY
I really loved this zip line because I often forget how much Italy has to offer outside of its delicious food, historic sights, and friendly people. This showed me an adventurous side to the country and one I'd love to do again! // Aram Vardanyan from Megan & Aram
---
FANTASTICABLE ZIPLINE | MORZINE, FRANCE
There's no experience quite like flying high in the French Alps and zipping across the Swiss border to Châtel. The Fantasticable zipline launches in the mountains near Morzine France. Once you take the chairlifts up to the top of the mountain, you are attached to the zipline Superman stye, that's laying belly down and headfirst, with one or two people. You soar a total of two traverses, hundreds of feet above the gorgeous green mountain landscape, at nearly 60 mph.
1st Line – Length: 1 200 m (4000 feet), Start elevation: 1930 m (6332 feet), Arrival elevation: 1820 m (5971 feet), Max height: 140 m (460 feet)
There is a short walk (100 feet) to the launching point for the 2nd zipline
2nd Line – Length: 1 323 m (4340 feet), Start: 1828 m (6000 feet), Arrival: 1712 m (5616 feet), Max height: 240 m (790 feet)
HOW TO REACH FANTASTICABLE ZIPLINE | MORZINE
From Morzine, you go on the road which passes Lake Montriond and follow signs to Les Lindarets. Then continue to the hamlet of Plaine-Dranse.
TRIP PLANNING TO MORZINE | FRANCE
We loved it for the height and speed, but also flying Superman style between 2 countries without a passport // Heidi & Alan from Wagoners Abroad
---
FIRST FLEIDER | GRINDELWALD, SWITZERLAND
First Fleiger in Switzerland is among the most impressive ziplines in the world. Situated in the scenic village of Grindelwald, this zipline is surrounded by the nearby peaks of the Swiss Alps.
Officially dubbed the Grindelwald Ziprider but known locally as "First Fleiger" it spans 755 metres long. Strapped into the zipline, customers can expect speeds of up to 84 kph while reaching a peak height of 50 metres above the ground. This adrenaline-filled activity is the perfect way to experience the stunning Swiss scenery.
HOW TO REACH FIRST FLEIDER ZIPLINE | SWITZERLAND
Grindelwald is located in the heart of the Bernese Alps, approximately 3.5 hours by train from Zurich. Take a train to Interlaken-Ost before transferring to the BOB (Bernese Oberland Bahn) train all the way to Grindelwald station.
TRIP PLANNING TO GRINDELWALD | SWITZERLAND
Grindelwald is known for its impressive mountain peaks and quaint charm with its alpine pasture fields, grazing cows and zipping your way across these landscapes is an exhilarating way to appreciate this incredible place. // Luke & Roxy from Wild About BC
---
PAZINSKA JAMA ZIPLINE | PAZIN, CROATIA
Get a real insider tip for an adrenalin kick in Croatia and visit the stunning Zip Line Pazinska Jama located in Istria. It starts below the Lovac Hotel in Pazin and leads over 2 sections with a speed of around 50 km/h twice over an impressive, deep gorge.
The impressive scenery and the dizzying heights you enjoy on your ride are really amazing and for sure an unforgettable experience. The view of Pazin Castle is also brilliant and will surely amaze you.
HOW TO REACH PAZINSKA JAMA ZIPLINE | CROATIA
The zipline is located not far from the city of Pula, so there are regular excursions there. However, the best way to reach this attraction on your own is by car or taxi, as public transport is not well developed.
TRIP PLANNING TO PAZINSKA JAMA ZIPLINE | CROATIA
I loved the Zip Line Pazinska Jama because of the beautiful surroundings and the fantastic views. But also the thrill of crossing the deep gorge twice was unique! // Martina & Jürgen from Places of Juma
---
OMIS ZIPLINE | CROATIA
The breathtaking zipline is the highlight of the Croatian Riviera in the village of Omis, located between the popular tourist resorts of Split and Makarska. For adrenaline junkies, the 2,100-meter-long flight on the steel cable over the gorge of the Cetina River is extremely fascinating.
There are eight stages that go over the valleys of the river and provide breathtaking views of the beautiful surroundings. Of these, the longest section is 700 meters long and is located at an altitude of 150 meters above the ground. If you're looking for even more breathtaking and fascinating activities in Croatia, you may consider checking out this Croatia Packing List. It also includes many helpful tips to save you time and money.
HOW TO REACH THE OMIŠ ZIPLINE | CROATIA
The starting point of the wonderful Zipline experience is the office of Zipline Croatia directly in the center of Omis. In the beginning, each participant receives a training session and their equipment at the training site, which is about 3km away. After a short walk, the group reaches directly their first rope in the middle of the great landscape. This viewpoint alone is worth the visit! The complete tour is accompanied by two experienced guides and you should plan for about 3 hours for the zipline adventure.
TRIP PLANNING TO OMIŠ ZIPLINE | CROATIA
The zipline was the best experience during my Croatia vacation and is recommended for everyone, even if you have a little fear of heights – just turn off your head and do it! // Tristan from Traxplorio
---
ZIPLINE DOLINKA | SLOVENIA
The Julian Alps in Slovenia is great for thrill-seekers. Zipline Dolinka over Sava Dolinka river is the longest zipline in Europe. It runs over 4km in total and consists of 7 steel cables that are between 350m and 740m long. You get to fly through the protected natural monument of Brje at varying speeds of 40-60km/h. The overall experience lasts for nearly 2.5hours.
HOW TO REACH ZIPLINE DOLINKA
The starting point of the Zipline is at the Sava River Valley which is about 10 minutes' drive from Bled town centre. You can either book with an independent tour operator or directly and meet them at 'Grajska cesta 16', in the old village centre, Bled.
TRIP PLANNING TO ZIPLINE DOLINKA | SLOVENIA
The experience is exhilarating and the views, breathtaking. Short forest trails between the ziplines take you through pristine nature, which is refreshing. Stops in between offer great views of the Alps in Stol, Babji zob, all the way to Triglav. A great dose of greens and blues. // Zulekha from Chasing Postcardz
---
TARA CANYON ZIPLINE | MONTENEGRO
In the northern part of Montenegro, one will find a zip wire that stretches over Tara Canyon. At 1333m deep, Tara Canyon is the deepest one in Europe and second in the world. The ride is equipped with special harnesses that make for a super comfortable 1050m ride at a speed that can reach up to 120km/h across the gorge. This also makes it one of the fastest ziplines in the world. The treetops, meadows, scenic mountain view, and mighty turquoise river from below create an amazing backdrop. This extreme zipline is for sure one of the most thrilling Montenegrin attractions and a must-see for any adrenaline junkie.
HOW TO REACH TARA CANYON ZIPLINE
The zipline is located right next to the impressive Djurdjevica Bridge, in one of the wildest parts of the Tara Canyon. In order to get there, one can take the bus or drive 23km from Zablkaj (Durmitor National Park) towards Pljevlja. The bus goes several times a day and there's also a parking area next to the bridge. One can also try canoe, rafting, or a jeep safari tour in the area.
TRIP PLANNING TO TARA CANYON, MONTENEGRO
Getting of the platform is the hardest part. Afterwards, you just have to enjoy the scenery and the adrenaline rush. I'd do it again. // Raluca from Travel With A Spin
---
MIGRA FEHRA ZIPLINE | MALTA
A couple hours spent zip lining is one of the best things to do on the island of Malta. The landscape is a mix of rocky coastline that rises tens of meters from the water. Located in Migra Fehra, a steel wire is stretched between two cliffs over a distance of 150 meters.
A quick trip of under 20 seconds gets you soaring above the water to appreciate the vastness of the Mediterranean that surrounds you. Imagine standing on the periphery of a steep cliff more than 75 metres above sea level, with any trepidation of heights and you're bound to feel the rush. However, there's nothing to fear because safety is taken seriously.
For €15 you get an adventure above the Mediterranean Sea. If you're in the mood to try abseiling, rock climbing, and hiking this takes place in the same location.
HOW TO REACH MIGRA FEHRA ZIPLINE
It is possible to reach Migra l-Ferha by taxi. Alternatively, bus #109 will get you here from Valetta in under an hour with the closest stop being Bajdar.
TRIP PLANNING TO MIGRA FEHRA ZIPLINE | MALTA
The freedom of that 20 seconds with nothing but the endless blue of the ocean that surrounds is unmatched. // RaI from A Rai Of Light
---
EDEN PROJECT ZIPLINE | CORNWALL, ENGLAND
The zipline over The Eden Project's biodome's in Cornwall is England's longest and fastest zip wire, covering 660 metres and travelling at speeds of up to 60mph. At its highest point, it's 100 metres high as you fly face down Superman-style. It costs £38 or you can buy a combination ticket and do a variety of adrenaline-inducing activities also available on the site.
HOW TO REACH EDEN PROJECT | CORNWALL
The Eden Project in Cornwall is located just a few miles from St Austell railway station, which is on the mainline from London Paddington. You don't have to pay entry into the Eden Project to go on the zipline or any of the other activities offered by Hangloose Adventure, although we highly recommend you visit there too.
TRIP PLANNING TO EDEN PROJECT | CORNWALL
If I could go back to any of the ziplines I've tried around the world this one would win hands down. I particularly loved that you are lying face down (rather than sitting). It really feels like you are flying over the domes and treetops. I'd love to go back one day and do it again. // Kathryn from Travel With Kat
---
VELOCITY 2 ZIPLINE | WALES
Located in North Wales, Zip World Velocity 2 is known as the fastest zipline in the world, making it an essential bucket list item! It's 1,555 metres long and can go over 100 mph, which is way more than any other ziplines.
Tickets can easily be bought online on the official website of Zip World. Make sure to book well in advance as they can sell out weeks in advance (especially weekends).
Although the zipline itself is fantastic, it's important to note that the location is the true highlight. Nestled in the heart of Snowdonia, one of the three national parks in Wales, Penrhyn Slate Quarry is home to a beautiful blue lake and boasts fantastic views of the coast. The zipline starts at the top of the mountain and goes above the lake.
HOW TO REACH VELOCITY 2 ZIPLINE | WALES
The best way to get there is by car. Public transport is very limited in the area and driving will save you loads of time (and hassle). There is a large and free car park at the entrance. Alternatively, you can take a train to Betws-y-Coed (the main town in Snowdonia) and book a transfer from the visitor centre.
TRIP PLANNING TO NORTH WALES
The experience truly is magical. Not only is the speed making it a thrilling experience but the beauty of the landscapes is incredible. On top of it, there is something quite magical about flying above a lake like this. // Pauline from BeeLoved City
---
RELATED ARTICLES
---
PLEASE PIN IT FOR LATER!