Limerick City and the surrounding area are full of cultural, historical and unique things to do. With an enchanting history of Vikings and Normans to the Georgian era, there is an abundance of fascinating heritage to discover in Limerick. From King Johns Castle to kayaking on the River Shannon to live music in Dolans, there are many must-visit attractions to appeal to all travellers.
The city was chosen to be the first-ever Irish City of Culture in 2014 which led to significant investment and regeneration in Limerick to draw in the crowds and develop a more sustainable environment.
Make the most of your visit to the Munster province with these top things to do in Limerick City.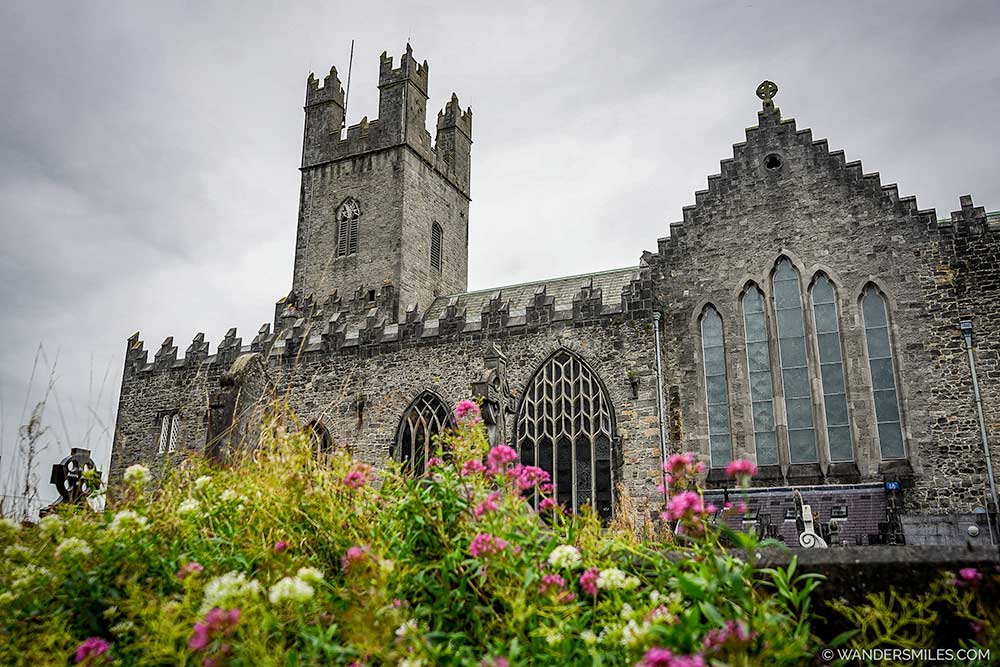 Disclosure: This post contains affiliate links, which means I may receive a small commission if you click a link and purchase something that I've recommended. It comes at no cost to you. Thank you for your support.
---
Cultural Things To Do in Limerick City
---
Visit King John's Castle
King John's Castle is one of Limerick's most-visited attractions. This magnificent castle is located on King's Island in Limerick on the banks of the River Shannon.
After the King of Munster "Donall the Great" died in 1194, the area was seized. The castle was constructed between 1200-1210 to protect the entrance to Limerick City from the nearby bridge which gave easy access to attacks by the most-feared Irish clans and Norman Lords.
King John's Castle in Limerick isn't a huge complex, it consists of a pentagonal fortress, with the main section, three round corner towers, a bastion, a two-storey gatehouse and a courtyard. Major excavations have uncovered the fascinating Viking houses, siege mines, and battlement walkways.
The immersive visitor centre with projections and touch screens educates on the history of the castle and the trading of Limerick with the rest of the world. If you visit in the summer, you can test your skills with medieval courtyard games. The adventurous souls can even abseil down the castle's gatehouse turret.
>> Read Reviews of King John's Castle | Open 7 days a week. Check King John's website for opening times
---
Visit Hunt Museum
The Hunt Museum, established in 1978, is renowned in Limerick, Ireland. It houses Ireland's private art collections, historical artifacts, and paintings from famous painters and artists like Pablo Picasso, Pierre Auguste Renoir, Jack B Yeats, and other famous designers. Some artifacts are private collections of the famous art collectors John and Gertrude Hunt.
Hunt Museum is a must-see museum in the heart of Limerick, whether you are a history enthusiast, an art lover, or just looking for a fascinating place to explore. There are also fun things to explore inside the museum. You can tour the historic building and explore the approximately 2000 works of art collections. One of the highlights of this museum is the special exhibitions in which they showcase some amazing pieces that you will surely enjoy while visiting the museum.
You can also visit the beautiful museum garden on the River Shannon, where you can see some fascinating wooden and metal sculptures. The museum also provides art and craft classes and camps where you can participate.
And do not forget to sip coffee in Hunt Museum Café, the riverside café, while admiring the beautiful view of Shannon River from the café terrace. They are serving homemade dishes too from locally produced products.
Hunt Museum is worth visiting and must be included in your Limerick day trip itinerary. // Recommended by Imee from Ireland Travel Guides
>> Read Reviews of the Hunt Museum | Get your skip-the-line ticket for Hunt Museum | Open Tues – Sat 10 am to 5 pm, Sun 11 am to 5 pm, closed on Mondays.
---
Visit St Mary's Cathedral
St. Mary's Cathedral in Limerick, dedicated to the Blessed Virgin Mary, was commissioned by the last King of Munster, Domnal Mhor O'Brien in 1168 AD. This striking medieval structure overlooks the River Shannon and is the oldest building still used for its intended purpose of religious worship.
The cathedral was built on the site of a one-time Viking Parliament (thingmote), and then the Royal Palace of the Kings of Thomond. It is believed that the surviving Romanesque west door was constructed of stones from the Royal Palace of Ulster seized in battle by the victorious O' Briens.
There are memorials to the O'Briens throughout St Mary's Cathedral plus many incredible religious treasures. Look out for the Pre-Reformation altar stone, the carved misercordide, the vibrant stained glass, and a hagioscope ('leper's squint' window).
The graveyard always tells a thousand tales with vaults for the Barrington and Sexton families, the Protestant Orphan Grave, and The Exchange Wall, the original location for Limerick Corporation meetings. The graves date from the 12th century and are still active graveyard today.
>> Read Reviews of St Mary's Cathedral | Opening 7 days a week, check St Mary's Cathedral website as times vary each day. The entrance fee is €5 for adults + €3.50 for students – book online in advance.
---
Discover heritage in the People's Museum
The People's Museum of Limerick is located at No. 2 Pery Square. It was part of a development by the Pery Square Tontine Company built in 1835 and was transformed into the People's Museum by Limerick Civic Trust in 2019 to promote the city's culture and heritage.
This Georgian townhouse made from red brick and limestone is home to a varied and fascinating collection of vintage relics of days gone by. As well as the permanent exhibition, the People's Museum of Limerick hosts temporary exhibitions and one-off events.
There is a small fee to enter the People's Museum and options to take walking tours which go towards the upkeep and various other heritage and environmental projects within the city. The guides and volunteers are passionate about sharing their knowledge about Limerick too!
>> Read Reviews of the People's Museum of Limerick
---
Visit Adare Village + Heritage Centre
Adare village, only a 20-minute drive from Limerick, is touted as Ireland's prettiest village. This 13th-century settlement, with charming thatched houses and rich history, is a great stopover from Limerick. The medieval settlement of Adare, located strategically along the River Maigue, was once a thriving market town with three monasteries. The traditional thatched houses now hold boutique shops, comfortable cafes, and fine dining establishments.
While in Adare be sure to visit the Adare Heritage Centre which explores the city's ancient past. Learn about the arrival of the Normans to the area and the medieval abbeys that once dotted the landscape. Next door to the Adare Heritage Centre, make sure to pop into the Trinitarian Abbey for a prime example of 13th-century monastic architecture.
Another top reason to visit Adare is Desmond Castle. The castle was built in the 1200s and remained an important fortress for the Earls of Kildare through the 16th century. You can sign up for castle tours online or at the Adare Heritage Centre, where shuttles depart from June through September.
With so many things to see and do, Adare is a must-visit when in Limerick! // Recommended by Tamar from World by Weekend
>> Read Reviews of Adare Heritage Centre | To find out more, book a guided tour of Adare or check the Adare Heritage Centre website
---
Fun Things To Do in Limerick City
---
Eat Tacos at Wickham Way
Near the centre of Limerick City is Wickham Way, a small collection of pop-up restaurants and shops. Somewhat reminiscent of the Marina or Bear Markets in nearby Cork City, Wickham Way is a local favourite that's worth a visit while you're visiting Limerick City. Tucked into an unassuming spot at the junction of Thomas Street and Wickham Street, Wickham Way is a bright and colourful space full of unique food and plenty of shopping.
Within Wickham Way is the Republic of Grill, arguably the best Mexican food available in Ireland. The menu features a variety of tacos, including pork and fried plantain, alongside their homemade hot sauces. Speaking of their sauce, it's made with fire-roasted tomatoes, imported chilis, and corn tortillas – it's delicious, and it provides just the right amount of heat.
Mexican food is one of the things that some expats miss the most after moving to Ireland, so the Republic of Grill inside Wickham Way is a hit for people from the United States. While you're at Wickham Way, be sure to also visit the flower shop and other stalls to pick up a few gifts or sweet treats for later. // Recommended by Amber from Amber Everywhere
>> Markets on Sat + Sun. Foodcourt Thurs-Sun. Check Wickham Way Instagram for more info.
---
Go Kayaking on River Shannon
If you fancy a Limerick City tour with a difference, why not try touring River Shannon on a kayak?
After a safety briefing, kayakers can paddle along from the Hunt Museum, past the medieval King John's Castle, the Treaty Stone, Thomond, and Sarsfield Bridges. Your guide will bring the tour to life with storytelling and sharing historical facts about different landmarks and wildlife. And, all the whilst getting an upper body workout, it's a win-win.
Kayaking on River Shannon is a great way to avoid crowds, especially in peak times. As always, this activity is weather and tide-dependent.
---
Listen to TradIrish music at Dolans
Since 1994, Dolans Pub has become an award-winning music venue on Dock Road in Limerick. Their vision to feature live bands, local singers and trad sessions every night of the week came true, and so much more.
With a pub, a restaurant and three music venues which has hosted bands such as Franz Ferdinand, Snow Patrol, Kasabian and Bob Geldof, we can safely say Dolans is one of Ireland's leading music venues.
Dolans Pub still retains the warm Irish hospitality, and good craic with the traditional nightly music sessions that will get your feet tapping and hands clapping – an unbeatable experience!
>> Read Reviews on Dolans Pub | Check Dolans website for music listings and opening times
---
Free Things To Do in Limerick City
---
Visit St Johns Cathedral
It is hard not to approach St John's Cathedral and not feel in awe.
This beautiful Gothic Revival-style structure, built in 1856, has a massive spire that rises up toward the sky and is one of the tallest in Ireland.
The cathedral might seem minimal on the outside at first glance. After all, just one statue adorns it above the entranceway. But it actually has incredible detail on the tower.
Stepping inside, you will immediately be amazed by the spectacular interior. The high ceiling and curved passageways make the space feel immense. The main altar and reredos (the structure that stands behind the altar) draw your eye with their grandeur and intricately carved designs.
Stand in one corner of the cathedral and look around, taking in all its beauty. Then spend some time wandering around, making sure to see the organ dating back to 1864 and the beautiful stained-glass windows. The peaceful atmosphere and sense of history are an oasis to the busy city outside.
St John's Cathedral is truly a magnificent sight to behold, and visiting this place of worship is a must-do while in Limerick. // Recommended by Jenny from Traveling In Focus
>> Read Reviews on St John's Cathedral | Check Limerick Cathedral website for live stream and mass times
---
Stroll in People's Park
Located in In Newtown Pery area of Limerick, People's Park is a popular yet peaceful green space to step away from the hustle and bustle of the city.
Originally, the park was part of the Pery Square development in 1835, created to appeal to the more affluent figures in society, and the design was to mimic Mountjoy Square in Dublin. The Great Famine crushed the budget, the plans were modified and only one terrace of flat-fronted mansions made it to completion.
The park was finally opened to the public in 1877 in honour of a local businessman called Richard Russell. For many years previous to this date, the People's Park was accessible only to the keyholders.
The People's Park's main feature is the free-standing limestone pillar topped with a statue proud figure of Thomas Spring Rice 1791-1866), a popular liberal Anglo-Irish politician and landowner, born in Limerick. It was erected in 1829 by the Barrington family
The majestic trees planted in the 19th century as well as many birches, cherry blossoms, and crabapple trees make this a wonderful place to visit in all seasons. Wander around to discover the 19th-century bandstand, an ornate drinking fountain, and two gazebos.
>> Read Reviews of People's Park
---
Visit Limerick City Gallery of Art
Limerick City Gallery of Art is located in Pery Square on the western edge of People's Park. The 1906 building with Romanesque-inspired architecture is known as the Carnegie building. Formerly Carnegie Library, the building officially became LCGA in 1936 and is now one of the leading contemporary galleries in the Mid-Western Region of Ireland.
So, what can you expect to see at LCGA?
The permanent collection includes 18th to 20th-century Irish artworks of painting, sculpture, drawing, photography, and new media. The temporary exhibitions display the works of both national and international contemporary artists. The Gallery also holds the impressive National Collection of Contemporary Drawings.
The gallery houses the Michael O'Connor Poster Collection which was generously donated in the late 1980s. The eclectic mix of 2,800 posters is from many European countries and American posters from the 1970s and 1980s – a real variety of styles, content, and vibrant colours.
>> Read Reviews of Limerick City Gallery of Art | Open Mon-Sat (10 am – 5 pm, Sunday noon – 5 pm), closed Bank Holidays. Check LCGA website for more info
---
Buy local at the Milk Market
Visiting the Milk Market is a fantastic way to support locals in Limerick, and is one of the oldest markets in Ireland. Their mission is to champion the environmental concept of 'green' in the city, and they do it with great success.
This food-lovers haven sells a wide range of quality locally produced cheeses, meats, organic produce, and flowers from farms in the region. Visit the artisan craft stalls with jewellery, homemade soap, and vintage clothing to find something truly unique.
It's not all about food and crafts though! The Milk Market creates a community buzz with special event days on Friday, Saturday, and Sunday including live music making shopping at the Milk Market an experience to be remembered.
Though it's an open-air market, it's largely covered and protected from the elements of unpredictable Irish weather.
>> Read Reviews of the Milk Market | Open 7 days a week. Check the Milk Market website for details on stalls and events
---
Find street art in Limerick
The urban art scene has exploded in Limerick in recent years as world-famous street artists have re-imagined and transformed the city's derelict sites. The Limerick art scene celebrates creativity and culture as the artists illustrate the social, political, and environmental factors that society is facing.
Where can you find the street in Limerick?
Draw Out partnered with urban artists such as Ominous Omin, Smug, and Dermot McConaghy to bring the city alive. A self-guided walking trail was created for visitors to explore the eclectic and vibrant murals around Limerick.
---
FAQs for your trip to Limerick City
---
How to reach Limerick
Flying to Limerick
Located a 20-minute drive from Limerick, Shannon International Airport has flights to and from North America and several European destinations daily.
Ferry to Ireland from the UK
For UK visitors, taking the ferry is a more sustainable option. Irish Ferries sail to Dublin or Rosslare, and travellers can take a car with unlimited luggage for an unforgettable Ireland road trip. Prices start at £119 each way for a car and driver, with Club Class Lounge access charged an additional fee.
If you sail to Dublin from Holyhead, the drive is 2.5 hours to Limerick. If you sail to Rosslare from Pembrokeshire, the drive is approximately 3 hours.
Getting from Dublin to Limerick by train
The Dublin to Limerick train takes around 2 hours, with return tickets starting at €51.
---
Where is the best place to stay in Limerick City?
MID-RANGE HOTEL – The 3-star Old Quarter Townhouse Hotel is located in the pedestrian shopping area, close to pubs, restaurants, cafes, and local attractions. It is home to The Old Quarter bar, which serves food daily and offers live music every weekend. This may not be the perfect option for light sleepers. Book The Old Quarter Townhouse Hotel | Read Reviews
4-STAR HOTEL – The Absolute Hotel sits on the banks of the Abbey River in Limerick's Medieval Quarter. Chic accommodation has a cocktail bar and restaurant called Harry's on the River, with a relaxed atmosphere. Book Absolute Hotel Limerick | Read Reviews
4-STAR SPA HOTEL – No 1 Pery Square Hotel & Spa is an elegant boutique townhouse facing Peoples' Park, and close to Limerick city centre and Peoples' Park. Spoil yourself with luxury rooms, organic spa treatments, and French-style cuisine in SASH. Book No 1 Pery Square Hotel & Spa | Read Reviews
BED & BREAKFAST – Bunratty Castle Mews is 20 minutes from Limerick in Co Clare and the perfect escape from city life. Wonderful Irish hospitality with traditional cooked breakfasts and continental options. Love sustainable practices with 100% renewable electricity, water efficiency, and a ban on single-use plastic. Book Bunratty Castle Mews B&B | Read Reviews
---
Is Limerick safe?
Since the boom years of the Celtic Tiger era, the city took a big downturn, and the gang-related activity earned its' reputation as 'Stab City'. Like many cities, Limerick still has an issue with drugs, but the crime index is low and considered safe for travelling. As with any city breaks, you need to take precautions with your things, and stay out of the dodgy areas.
Play safe and ensure you get the right travel insurance to suit your needs, it's way better than finding out the hard way. Check out these worthy options to help your trip go smoothly.
Get 5% off your travel insurance with HeyMondo. Benefit from 24-hour medical assistance, 365 days a year with single, multi-trip, and long-stay insurance, cover for Covid-19, and non-refundable expenses. The handy app makes this a simple process! They give a little back too by contributing to 'Doctors Without Borders'.
SafetyWing for Digital Nomads. Benefit from 24/7 assistance, comprehensive and medical cover including Covid-19. Buy insurance whilst you are travelling, with the option of global health insurance.
Remember if you are on a road trip in Ireland, you need to check your car insurance as a separate policy to ensure you are covered for international travel.
Limerick City: Useful Booking Resources
Here are some useful links for when you visit Limerick City, find tours, and where to stay. These are companies I have used and can recommend with confidence.
Accommodation in Limerick + Tours
Best accommodation deals with Booking.com
Experience Irish hospitality, stay with locals via Homestay
Tours in Limerick
Book attractions and multi-day tours with Viator
Discover tours and things to do in Limerick on Tripadvisor
Transport for Limerick
---
PIN FOR LATER – TOP THINGS TO DO IN LIMERICK CITY