Getsemani is a newly hip barrio (neighbourhood) in the fascinating Columbian city of Cartagena de Indias. It used to have a grim reputation as a hub of gun violence and crime; it is now a buzzing hotspot that combines historic buildings, a strong cultural identity, stunning street art, excellent restaurants, and wow-inducing nightlife.
Make time to explore Getsemani Cartegena – it is only a stone's throw from the bustling UNESCO site of Centro Historico. Its colourful, Spanish colonial streets are loved by adventurous tourists looking for authenticity, creativity, and a vibrant community that welcomes all. So let's discover the incredible things to do in Getsemani…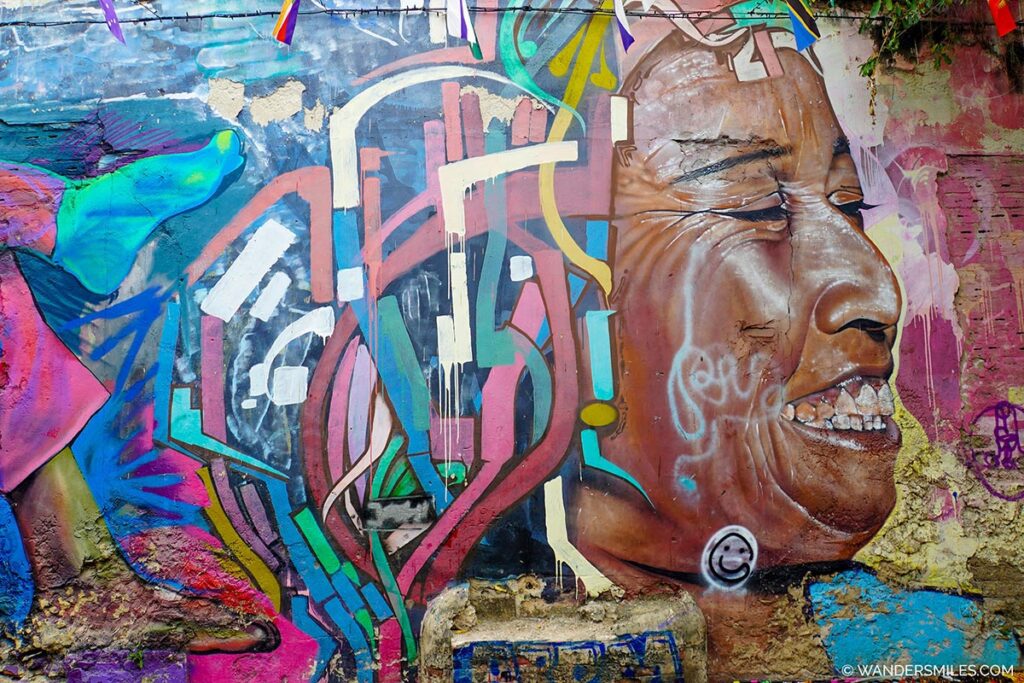 ---
Disclosure: This post contains affiliate links, which means I may receive a small commission if you click a link and purchase something that I've recommended. It comes at no cost to you. Thank you for your support.
---
History of Getsemani
Cartagena is an ancient city on the Caribbean coast of Columbia, built to protect the country from invaders from the sea. When the Spanish colonialists arrived in 1533, it became a centre of commerce.
Getsemani was the area of the bustling city where enslaved people assembled to carry out the tasks and business of their owners. Unfortunately, many died while building the fortified walls between the barrio and the Centro Historico, though historians often overlook this.
Over the years, the black slave community worked for their emancipation until the abolition of slavery in 1851. The plaza in Getsemani is where a gathering of enslaved people began their bid for freedom.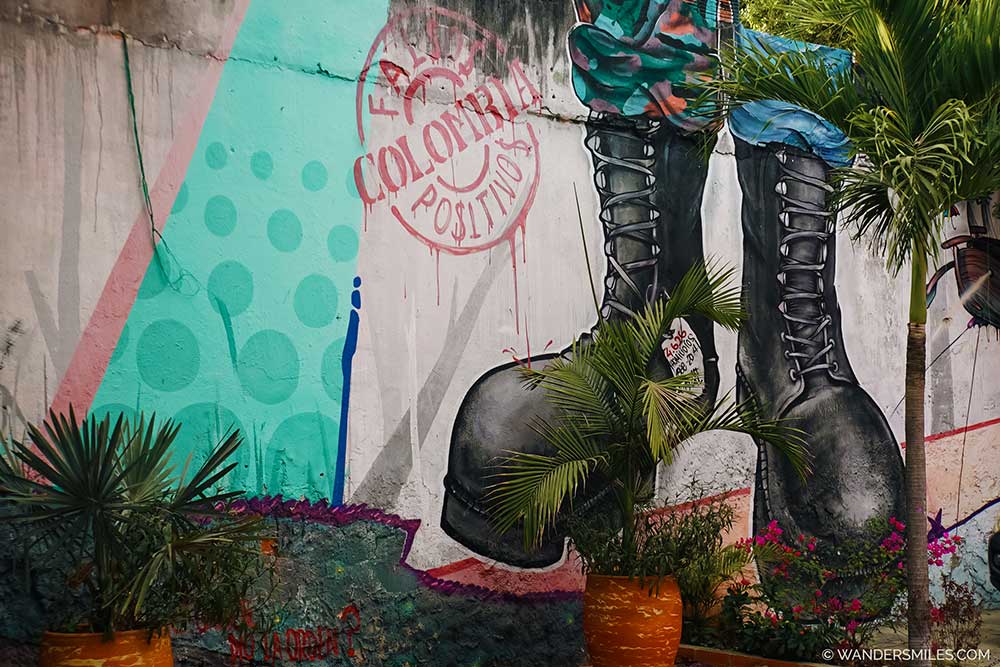 ---
Best things to do in Getsemani Cartagena
Cartagena is a fantastic city with a rich history and vibrant culture and finding exciting things to do in the Getsemani area is super easy.
---
Explore the street art scene in Getsemani
Street art is an essential form of self-expression for creatives in Latin America, and in Cartegena, the images you will see adorning the streets of Getsemani are world-class. This area of the city has a dubious past, but that notoriety is fading, and it is being replaced by a reputation for being an exciting haven for backpackers.
This transformation can, in part, be credited to international interest in the graffiti art that began on Calle Sierpe, a stretch of concrete previously used as a public urinal. In this unlikely part of the city, local artists decided to reclaim their home turf and use it to protest and initiate change with colour, imagination and artistic skill.
---
Take a street art tour in Getsemani
If you're wondering what to do in Getsemani, one of the highlights of our whistle-stop exploration day was the free Getsemani Graffiti Walking Tour. It was led by an inspirational guide called Luis, who, having been born and bred in the neighbourhood, was incredibly knowledgeable and passionate about the artists and their political messages. At a time of enormous change in his home, he is one of the community leaders who vow never to sell up and leave.
---
Invest in original art from Getsemani
It wasn't practical for us, but if you fall in love with the work of one of the artists, it might be possible to pop into their studio and invest. You'll know where there are by the jaw-dropping canvases that hang outside their doors.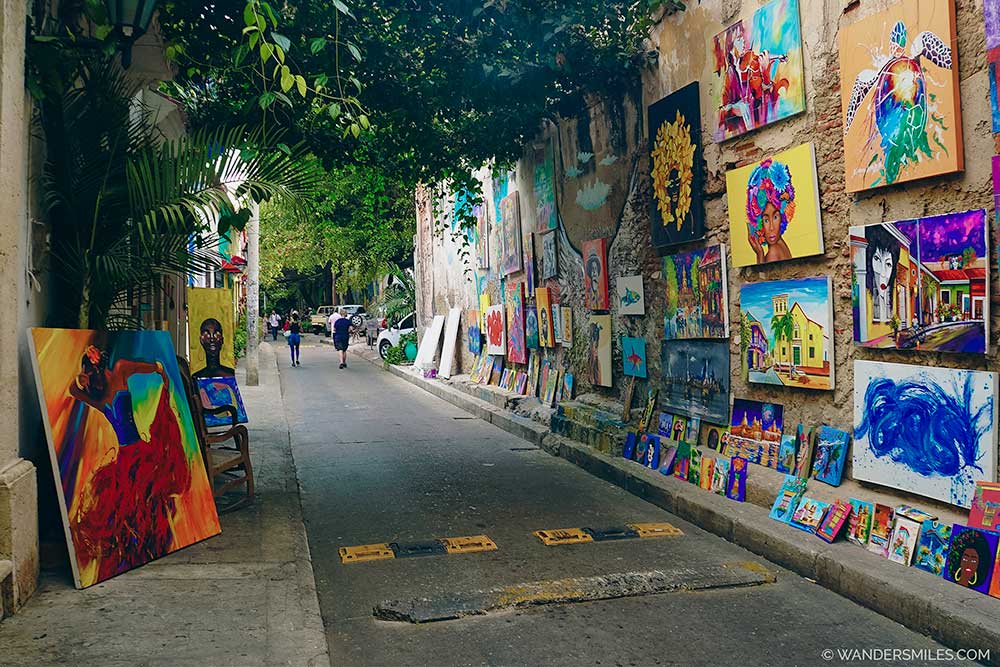 ---
Walk down Umbrella Street (Calle31)
One of the most Instagramable streets in Cartagena has got to be Calle 31. Its popularity is partly due to the umbrella-covered street but also the creative murals that adorn the walls.
What the tourists don't know is Calle 31 wasn't always considered a hidden gem of the city. In fact, it was ravished with bad goings-on, and the local residents made a pact to clean up the street. By making it bright and tourist-friendly, the drug dealers and the wrong crowd moved on.
---
Drinks at The Carpentiros Bar
The tour finished at The Carpentiros Bar, an establishment at the heart of this charming district and owned by one of the residents. Our guide showed us the incredible photographic display on the wall of every Getsemani resident and told us some stories of how the community supported some that had fallen in hard times. It was wonderful to sip on mojitos, watch the world go by, and reflect on the inspiring tour of Getsemani.
---
Feel the buzz in Plaza de la Trinidad
The Plaza de la Trinidad is the heart of Getsamani. It's a lively place full of friendly locals and intrepid travellers, chatting, drinking and dancing. During the day, you can sample the delicious street food (less than $6 for a massive meal!) and drink potent Columbian coffee while people-watching. At night, the street performers entertain, music fills the air, and the buzz intensifies. Simply hanging out in Plaza de la Trinidad is one of the best things to do in Getsemani.
---
Visit the Church of the Holy Trinity
The Church of the Holy Trinity is another highlight of a tour of Getsemani. It's a simple yet beautiful building with bright yellow walls, white trim, and green shutters, and was built as a parish church for the local people. It's now a popular meeting place.
---
See the statue of Pedro Romero
The must-see statue of Pedro Romero is located outside of the Church of the Holy Trinity and is a true testament to the steadfast attitude of the remaining community seen today.
Pedro Romero was a blacksmith who created the first independence movement in Colombia against Spanish rule. Having gained respect as a man of colour, amongst politicians and the white elite, he became the first non-white military officer in Cartagena.
In November 1811, he led a militia group known as the "Lancers of Getsemaní" outside a meeting held by Cartagena's governing council to apply pressure for a vote in favour of absolute independence. Through Romero's intervention, Cartagena became the first place in Colombia to create a fully functioning free and independent state.
Independence Day in Colombia is celebrated on 20 July which marks the day in 1810 that the residents of Bogotá began protesting in the streets against Spanish rule. However, the whole country of Colombia only gained total independence in 1819 under the command of Simon Bolivar.
---
Explore the coffee culture in Getsemani
The coffee culture in Getsemani is flourishing, and the Café del Mural is one of the best places to experience it fully. It's a characterful shop run by the charming David Arzayus, the roasting of coffee is a scientific endeavor, and it's fascinating to be a part of it.
You can book a coffee roasting masterclass in the labatorio of the Café del Mural where you can get involved in all different kinds of coffee, including Nitro Cold Brew and spicy Turkish coffee.
For coffee aficionados who just want to sample and watch the world go by, this is a perfect spot. The staff is super friendly, and the Café del Mural transforms into a lively bar at night.
For organic food, a sustainable ethos and more excellent coffee, Beiyu is a simple yet charming little café. Their breakfasts are incredible!
---
Enjoy authentic Colombian cuisine
Getsemani restaurants are some of the best in Cartegena, and Columbian cuisine, a mix of European and Afro-Caribbean, is delectable.
Street food in Getsemani
The street food in Getsemi Cartagena is fantastic, so it's definitely worth taking a 3-hour street food tour of the highlights with an expert on where is best to eat. Get ready to devour Arepa de Huevo (corn cake and eggs) and Coctel de Camarón (prawn cocktail) amongst other delicacies and learn about the history and development of Columbian cuisine.
Chilled bar in Getsemani
Demente Tapas Bar is a great place for lunch, this rustic corner bar is atmospheric, and we loved the tasty wood-fired pizzas and cheeky midday cocktails.
Bistro-style restaurant in Getsemani
La Cocino de Pepino oozes rustic authenticity both in the food and ambiance. María Josefina Yances (Pepina) created the much-loved restaurant which was taken over by her nephew when she passed away. The framed photos and newspapers hung on the wall are a walk down memory lane of her passion for Colombian and Caribbean cuisine.
---
Party time in Getsemani
Getsemani comes alive at night, and entrepreneurial residents create pop-up bars on the streets outside their family homes. I was delighted to support the locals by eating from their simple yet tasty menus, drinking their (strong!) cocktails and saying 'Hola!' to grandma, who was watching TV as I passed to go to the loo. We picked a fab spot too, a house right in the middle of the street performers and general commotion.
Getsemani is a place where you can party hard by dancing the night away at hotspots like Café Havana and Media Luna. After a busy day exploring and a big travel day ahead, the decision was made to crawl into bed after our mojitos.
If you're on your own but still want to enjoy the delights of Getsemani's nightlife, join a nightlife walking tour. A local guide will take you to the pick of the bars and clubs, and you'll enjoy a night of drinking games, treasure hunts, and learning the steps to the salsa and merengue.
If you really want to get your Latino rhythm, you learn the Champeta with a dance class on a rooftop in Getsemani.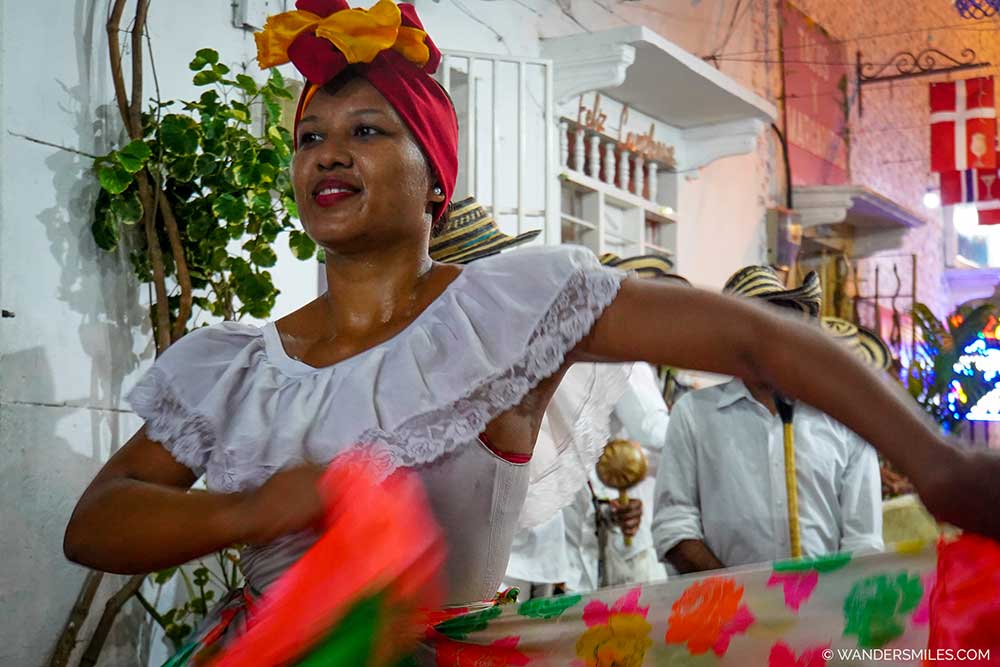 ---
How to get around Getsemani
Getsemani has public transport links with the rest of the city, and plenty of taxis are awaiting fares. If you need to get a taxi for any reason, check out the price on Uber as it does operate in Cartagena. However, the best way to get from A to B in the barrio is on foot. The streets can be narrow, and some of the side roads are pedestrianised.
Bikes are also an excellent option and are lots of fun if you keep your wits about you! The Getsemani Bike Tours looked like a safe, informative, and jolly way to discover Getsemani. One tour takes in the old colonial houses, the San Felipe Fortress, and a craft beer shop. The other is a cultural exploration of the street art of the area.
---
Handy Resources for your Cartagena Trip
---
Insurance for Colombia
Play safe and ensure you get the right travel insurance to suit your needs, it's way better than finding out the hard way. Check out these worthy options to help your trip go smoothly.
Get 5% off your travel insurance with HeyMondo. Benefit from 24-hour medical assistance, 365 days a year with single, multi-trip, and long-stay insurance, cover for Covid-19 and non-refundable expenses. The handy app makes this a simple process! They give a little back too by contributing to 'Doctors Without Borders'.
SafetyWing for Digital Nomads. Benefit from 24/7 assistance, comprehensive and medical cover including Covid-19. Buy insurance whilst you are travelling, with the option of global health insurance.
Useful links for your trip to Cartagena
Cool Getsemani Tours
Accommodation links for Cartagena
Transport links for Cartagena
Recommended Gear for Cartagena
---
PLEASE PIN IT FOR LATER – COOL THINGS TO DO IN GETSEMANI