With a motto of "Go Slow", visitors may worry that there was a shortage of fun things to do in Caye Caulker, Belize. You couldn't be more wrong, but be prepared to factor in time to kick back!
For a small island, Caye Caulker attracts a mixed crowd of young backpackers (or older like me), lively families, and wealthier travellers. There are activities on Caye Caulker to appeal to all.
The big pull factor for Caye Calker is Belize's Barrier Reef, the second largest after Australia. Whether you want to splash around in the pristine waters, chill out with a cocktail watching sunsets, or cycle around the tropical paradise, this guide will help you plan your trip and find the best things to do in Caye Caulker.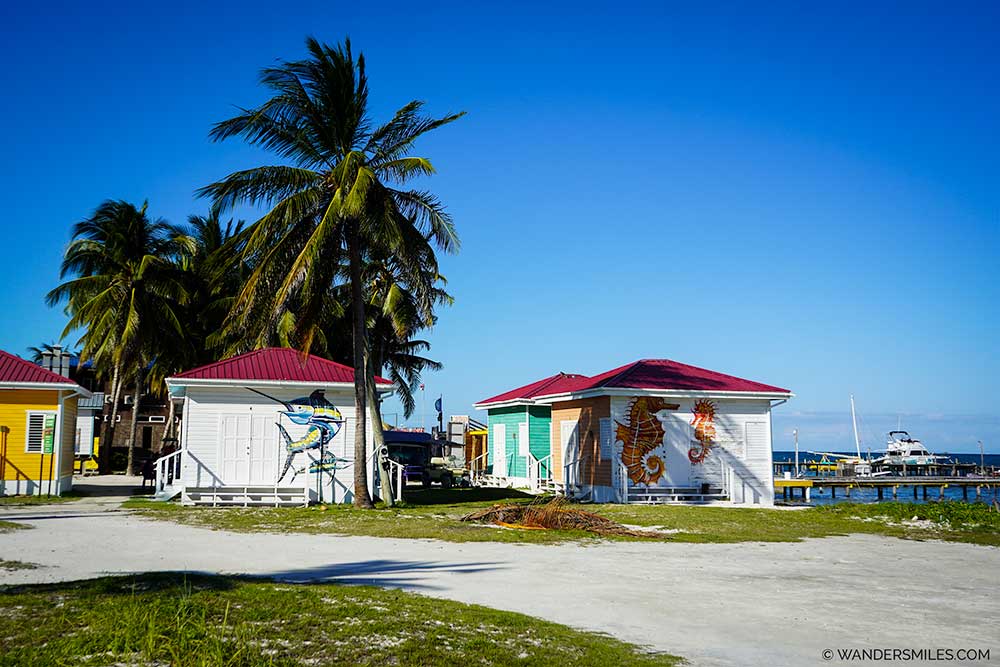 Disclosure: This post contains affiliate links, which means I may receive a small commission if you click a link and purchase something that I've recommended. It comes at no cost to you. Thank you for your support.
Best Trips from Caye Caulker
If you only have a limited number of days, it is best to book your tours as soon as you arrive as the rest of the things to do in Caye Caulker can just go with the flow.
---
Snorkelling in Shark Ray Alley
Exploring Shark Ray Alley, Hol Chan Marine Reserve and Coral Garden is a trip not to be missed and was top of my list for Caye Caulker tours.
These Caribbean marine reserves are a beautifully protected ecosystem located along the Belize Barrier Reef which was officially registered as a UNESCO World Heritage Site in 1996 and removed from the United Nations endangered places list in 2018.
In Shark Ray Alley, the mass of sharks looks frightening but they are in fact, Nurse Sharks. So no need to panic, as they are slow-moving bottom-dwellers. Fingers crossed you will be greeted by huge Green Turtles munching on seagrass, stingrays, spotted eagle rays, and more!
Going out on a sailboat is low impact for an eco-friendly experience, and the team advised the guests to not touch the marine life and not to bait the sharks (unlike some guests of other boats I saw). Read my review on Ragga Sailing Adventures on Tripadvisor.
TOP TIP: Wear reef-safe sun cream (or long sleeves) to protect the environment.
---
Diving in the Great Blue Hole
Belize's Great Blue Hole, located at Lighthouse Reef Atoll, is a massive marine sinkhole with a radius of 300m, and a depth of 122m. This natural phenomenon was formed as a limestone cave during the last glacial period when sea levels were much lower. As the ocean water began to rise, the cave flooded and collapsed, creating this giant circle of deep blue vertical caves.
Whilst the UNESCO Great Blue Hole is considered one of the most incredible dive sites in the world, it comes with its dangers. Oxygen is depleted due to its structure and depth so nitrogen narcosis is common.
So, if you fancy seeing the Great Blue Hole underwater you will need to have PADI Advanced certification or have taken a Deep Diver Speciality course. For safety reasons, it is best to check the PADI website for certified dive shops in Caye Caulker.
---
Take a sunset cruise in Caye Caulker
Caribbean flaming sunsets are simply captivating. What better way to embrace the end of a beautiful day than sailing into the dreamy night sky with the wind in your hair? A rum punch with new friends under the stars certainly makes the journey a perfect one!
Check tours with Ragga Sailing Adventures
---
Day Trip to Lamanai Ruins
Explore the Mayan culture in Belize with a day trip to Lamanai, the second largest Pre-Classic structure in the Maya world and with the longest period of occupancy lasting over 3,000 years.
Lamanai, meaning "submerged crocodile" in the Maya language, is a Mesoamerican archaeological site located on the west bank of the New River Lagoon in the Orange Walk District
To reach Lamani, you depart from Orange Walk and enjoy a 30-mile boat ride up the New River Lagoon. The ride is a wonderful experience in itself;
Spot crocodiles, search for the iguanas hiding in the trees, and see freshwater turtles dive down as boats pass by.
The fascinating flora and fauna range from beautiful black orchids to the snake cactus (devil plant).
Bird-lovers will be in their element from Ringed Kingfishers, Great Blue Heron, Jabiru Stork, and Wood Stork. See the Limpkin birds tapping snail shells, Jacanas "Jesus Christ" bird hopping daintily over Lillies, and Black-collared Hawk circling above.
Pass by a Mennonite community, which is a closed Christian religious group dating back to 16th-century Europe, and live a simple life shunning technology. Mennonites arrived in Belize in the 1950s in search of farmland, and religious freedom.
The ruins of the Lamanai complex were excavated in 1974 and uncovered the highlights of three imposing temples: the Jaguar Temple, the Mask Temple, and the High Temple.
Walking back through the jungle, the echoing volume of the howler monkey amongst the Ceiba trees will make your hair stand up. The mystical jaguar can be heard if you are lucky, but most importantly, stay on the path and watch your footing as poisonous snakes can make an appearance.
It is easy to take a day trip to Lamanai from Caye Caulker as many tour companies will collect you from the ferry port in Belize City, and then transport you to Orange Walk to begin the boat journey. Our tour was $75 per person, but I heard you can cheaper ($50) if you ask around Orange Walk, not convenient if you are staying on Caye Caulker.
---
Top things to do on Caye Caulker
---
Swing in a hammock
The 'Go Slow' vibe is best served up in a hammock. If you don't find hammocks at your accommodation, there are some by the water's edge in bars or at the end of the jetties.
---
Ride a bike around Caye Caulker
Cycling the entire length of Caye Caulker will take around 15 minutes so it's not a necessity to get around. Many accommodations have free bikes you can borrow to tour around the island, alternatively, there are a few signs for bike hire dotted around.
With no cars allowed on the island, the only moving obstacles to avoid are people and buggies. Apart from that, it's about having fun, taking it at the natively chilled pace, hopping on and off as you wish.
---
Go shopping on Caye Caulker
Head down to the Craft Market in the Palapa Garden area consisting of hurricane-proof wooden buildings with storm windows and doors, and solar lighting.
These gift shop huts sell all kinds of souvenirs from clothing, bags, home décor, and hand-painted t-shirts and artwork from local artists. There are still makeshift stalls where jewellery artisans sell their creations draped over a conch shell.
---
Get lost in the sunset
Dreamy sunsets are hard to miss on Caye Caulker. To make the most of the fiery display, make sure you are on the west side of the island.
---
Drinks at The Split
The Split is the area of the island where the land cuts in two. It is believed that the 1961 Hurricane Hattie was the cause, but locals have reported that The "Split" was originally a knee-deep small brook about 20-foot-wide and was dredged further to allow lobster fishing skiffs to pass through easily. Moving on a few decades, The Split is home to a beach, The Lazy Lizard bar, and a swimming and fishing area. You will probably hear the Lady Lizard Bar before you see it!
---
Happy Hour drinks on Caye Caulker
Most bars and restaurants offer happy hours so it's doing a recce around the island to see which vibe tickles your fancy.
Sip N Dip – Fun bar not far from the Split with a jetty into the sea where you will find a chill-out 'aqua beer garden' with hammocks, swings, and inflatables. I sunk a few tasty 241 cocktails in the happy hour.
Barrier Reef Sports Bar – This lively venue offers live bands, themed nights, and, of course, sports on the big screen. I drank in the bar as they showed a big soccer game and it was rammed. Located near the ferry as you arrive, why not stop in for a beer to start island life right?
---
Volunteer at Caye Caulker Animal Shelter
The team at the Caye Caulker animal shelter cares for abandoned or injured dogs and cats that need a new home. Contact Kenny on their Caye Caulker Shelter Facebook page if you want to pop by and walk a dog, show some love to a cat or just help with the general running.
If you don't have any time to spare in your Caye Caulker itinerary, they are always open to donations to continue their work. All animals are spayed, neutered and have had their rabies shot so, traveller heading back to the US, can adopt and fly home with a new pet!
---
Take a look at the tarpon
At the Tarpon Dock, these huge fish swim around as they know it's the feeding spot. Whilst this is not an ethical practice, tarpons are protected and there is a strict 'no fishing' policy. The dock is on private property, and the owners wanted to create a safe haven for the tarpons.
---
Visit the sea horse reserve
On the western side of Caye Caulker, the hotelier at Iguana Reef Inn has created a little seahorse sanctuary. It is easy to spot as you see lots of people bent over on the dock looking into the mass of seagrasses and coral in the hop to catch a glimpse of these whimsical teeny-tiny sea creatures.
If you don't get a lucky sighting, you can sit back on the loungers, drink cocktails and watch the pelicans and stingrays. Life is tough on the island.
---
Birdwatching on Caye Caulker
The pelicans are really hard to avoid, they are confident larger than life birds. The Brown Pelican is most common in Belize and they are present in abundance on Caye Caulker. Watch their slow, clumsy take-off from the jetties followed by a more dignified glide in the sky which gets cut short for a dive-bomb into the sea for their fish dinner which is scooped up by their huge bills.
The south end of the island is home to a dense mangrove forest and diverse birdlife. Surprisingly, there are over 100 species of resident and migratory birds on the island. On the north side of the island, sits the Caye Caulker Forest Reserve which is home to many birds as well as crocodiles, crabs, boa constrictors, iguanas and lizards. It is possible to book walking tours with Caye Caulker agencies such as Tsunami Adventures.
---
Best places to eat in Caye Caulker
For a small island, Caye Caulker has a decent selection of cafes, street food and restaurants to choose from. Here are my top picks of the best places to eat in Caye Caulker.
---
Breakfast + Free Yoga at Namaste Cafe
The best way to start another chilled day on Caye Caulker is with donation-based yoga classes followed by a healthy breakfast. Mats and blocks are provided, and there is no need to book in advance, just turn up.
The yoga class times are Monday-Friday @ 8:00 am and 9:30 am and Wednesdays @ 4:00 pm. Check the chalkboard outside or the Namaste Cafe website.
This three-storey treehouse-style haven is a cool place to take it easy. However, if you get your brekkie to go, rest assured you will go green. All the containers are biodegradable, cutlery is made from cornstarch and cups are compostable plant-based plastic. Big thumbs up from me!
---
Breakfast with a view at Ice N Beans
As soon as you set foot inside the Ice N Beans hut, you are sucked into the smell of freshly baked doughnuts and bagels. When teased with delicious samples, it is so hard to decline. Before you know it, you have ordered banana pancakes with a fruity smoothie and organic Belizean coffee, all served in compostable packaging.
Located by the beach on the west side of the island, Iced N Beans is hard to miss with a queue to order, thankfully there are plenty of tables to wait until you are called. Let's face it, there are worse places to wait!
---
Eat lobster on the beach
Nothing says holiday than a BBQ by the beach and Caye Caulker does this with bells on. Choose from lobster, snapper, pork or chicken served with corn on the cob, and Belizian rice and beans. You can find veggie options and coconut curry to really get the taste buds going.
A plastic table and chairs will be plonked right by the water's edge so you can listen to the waves amidst Caribbean music and the hearty laughs of the welcoming locals.
My issue with the beach BBQs is that food was served in styrofoam trays which I was surprised about as they market themselves as an eco-friendly island.
---
Eat at Wish Willy's
Wish Willy's was a real, no-frills experience, and definitely one of the best things to do in Caye Caulker. We were greeted like familiar friends walking into their backyard, Maurice (not Willy) pointed at the chill box for me to get my own beer and just keep count.
The menu generally consists of chicken, barracuda, lobster, or another catch of the day. Dishes are served with delicious vegetables and rice and potatoes. Simple and cooked to perfection. I loved this authentic charm so much, I had a return another night.
---
Where to stay in Caye Caulker
Sophie's Guest Rooms – Five wooden-style elevated rooms with shared bathrooms located on the west side for incredible sunset views. Although a slight noise from the Lazy Lizard, this was a great place to stay. // Reviews of Sophie's Guest Rooms
Colinda Cabanas – Located right on the beach, soak up stunning sunrises from these suites and cabanas, and enjoy the use of complementary bicycles, kayaks and snorkel gear during your stay. // Reviews of Colinda Cabanas
Sea Dreams Hotel – A family-run boutique hotel near the Split with a rooftop bar and hammocks. Amenities include free bicycles, canoes, and paddle boards. // Reviews of Sea Dreams Hotel
Jan's Hotel – Locally-owned accommodation offering a little luxury with a rooftop terrace to watch the world go by // Reviews of Jan's Hotel
---
Is Caye Caulker safe?
Caye Caulker is a pretty safe island, great for families and solo female travellers. Whilst violent crime is uncommon, petty theft still happens so be savvy with your belongings. Travel insurance is a must, as always. Check out some of my favorites;
Get 5% off your travel insurance with HeyMondo. Benefit from 24-hour medical assistance, 365 days a year with single, multi-trip, and long-stay insurance, cover for Covid-19, and non-refundable expenses. The handy app makes this a simple process! They give a little back too by contributing to 'Doctors Without Borders'.
SafetyWing for Digital Nomads. Benefit from 24/7 assistance, comprehensive and medical cover including Covid-19. Buy insurance whilst you are travelling, with the option of global health insurance.
---
FAQs | Caye Caulker Guide
---
What is the best time to visit Caye Caulker?
The best time to be in Caye Caulker is from November to April, which is during Belize's dry season and peak season. The rainy season in Belize is from June to November when you can expect rough storms at times. When I travelled in 2022, there was high rainfall in February after we left so the weather can surprise you!
---
How long should I spend on Caye Caulker?
Based on my visit to the island, I recommend 4 days minimum on Caye Caulker. If you are ready for a complete chill-out meeting with familiar faces then you'd be happy with a week on Caye Caulker.
---
How do I get around Caye Caulker?
There are no cars allowed on Caye Caulker and the island is small so you can get around on foot, bike or electric buggies.
---
How long is the ferry from Caye Caulker to Belize?
The ferry takes 45 minutes from Belize City to Caye Caulker with 8 daily sailings both ways. Check the Belize Water Taxi website for the times, and online bookings.
---
How do you pronounce Caye Caulker?
While doing my research to visit Cay Caulker, I was saying 'kay culker' in my head. This is one way to stand out as a newbie on the island.
The correct way to pronounce Caye Caulker is 'KEE CORKER' or 'KEY CORKER'.
---
What is the currency in Belize?
The currency in Belize is BZD (Belize Dollar) which is pegged against the USD (US Dollar) at BZ$2 = US$1. There is no need to exchange money to visit Belize Dollars as both currencies are widely accepted but you may receive change in BZD.
---
What is the tipping etiquette in Belize?
Tipping isn't mandatory or added to restaurant bills. As always, it's good to show your appreciation for a job well done and tips are gratefully received.
---
What language is spoken in Belize?
Belize is the only country in Central America owing to long centuries of British colonial rule. Local Belizeans will use Kriol with one another but will use English when speaking to a non-native.
Caye Caulker Guide: Booking Resources
Ready to get planning your trip and explore the best things to do in Caye Caulker? Here are some useful links to get you started!
Accommodation in Caye Caulker
Tours + Transport for Caye Caulker
Gear for Caye Caulker
---
PLEASE PIN IT FOR LATER!