Mexico holidays and celebrations are part of the experience. Travellers would be hard-pushed not to stumble across any Mexican festivals no matter which state they visit.
The vibrant Mexico fiestas are filled with colourful costumes, delicious local food, fireworks lighting up the sky, and music that feeds the soul. The important holidays in Mexico will never fail to impress, so let's find the best festivals in Mexico to make your trip one to remember.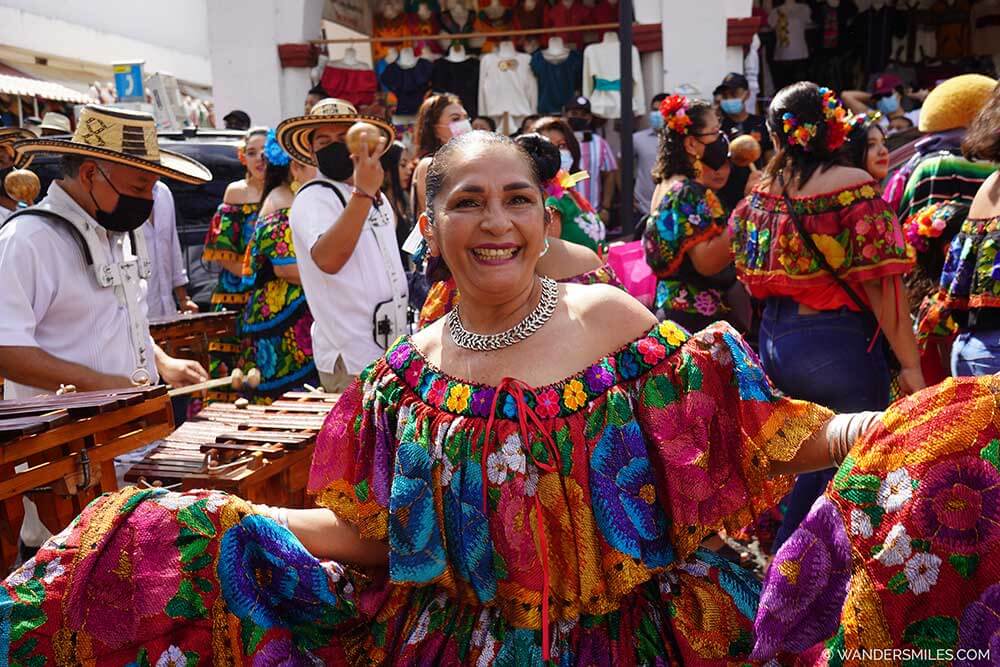 Mexican festivals you should experience
---
La Fiesta Grande de Enero
Where: Chiapa de Corzo, State of Chiapas
When: 8 January (Parachico Race) + 15-23 January (performances) 2023
The Pueblo Mágico of Chiapa de Corzo comes alive every January for La Fiesta Grande or the Fiesta de Enero de Chiapa. This traditional gathering celebrates the mestizo integration and has earned a place on the UNESCO Intangible Cultural Heritage of Humanity List.
The Parachicos descend on the town and congregate preparing their unique white bearded masks. In 1711, a wealthy Spanish lady, Doña María de Angulo came to healers in the town bringing food during the famine, so the locals danced in Caucasian masks to show their gratitude. Today, the Parachicos make offerings to three Catholic saints: Saint Anthony Abbot, Our Lord of Esquipulas, and, most importantly, Saint Sebastian.
La Fiesta Grande will have a parade of the Chuntás where men, women, and children are dressed as females to represent and honour the servants of Doña María de Angulo. One of the adorned floats in the procession features a beautiful girl representing the benefactress who is handing out sweets and coins.
The community unites and locals open their doors to all to party the night away. Immerse yourself in the Mexican cultural experience with traditional food, folkloric dances, special masses, and the simulation of naval combat with fireworks that takes place on the Grijalva River.
To make the most of the La Fiesta Grande, book your accommodation early as Chiapa de Corzo is an hour's drive from the popular magical city, San Cristobal de las Casas.
// Experienced by Vanessa from Wanders Miles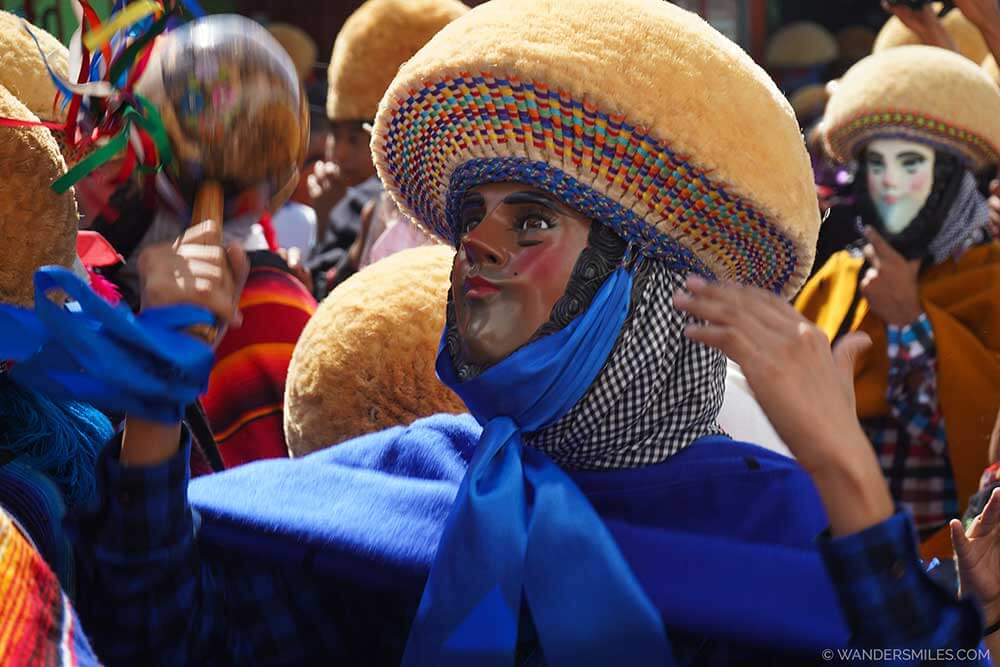 ---
Where: Carnaval is celebrated across hundreds of cities in Mexico, but Mazatlán hosts the largest Carnaval celebration in Mexico
When: 16-21 February 2023
Carnaval is a multi-day celebration right before the start of Lent, the Catholic religious period leading up to Easter. The Mexican city of Mazatlán goes all out: this fiesta is not only the largest Carnaval in Mexico but one of the largest Carnival celebrations in the world!
2023 is the year of Mazatlán's 125th Carnaval, so you know it will be a fiesta you won't want to miss! This year's theme is 'Déjà vu Sueños de un Carnaval', or 'Déjà vu dreams of Carnaval'.
Mazatlán's Carnaval celebrations feature the crowning of a king and queen and plenty of exciting festivities. There is a traditional burning of an effigy representing bad humors, a naval battle with fireworks, delicious food, street entertainment, and over-the-top parades with floats and live music.
One special feature of Mazatlán's Carnaval is monigotes, which are huge, colorful papier-mâché sculptures. Monigotes pop up around the city a couple of weeks prior to Carnaval, in historic Plaza Machado and lining the Malecón, Mazatlán's oceanfront boardwalk. You'll want to see all of these unique Mazatlán attractions!
// Experienced by Lisa of Waves and Cobblestones
---
Festival de San José
Where: San José del Cabo
When: 7 days over 19th March (2023 dates TBC)
Los Cabos is a beautiful area on the southern tip of Mexico's Baja California peninsula. Three cities make up Los Cabos and the area is known for pleasant weather, sprawling beaches, adrenaline activities and great nightlife. Cabo San Lucas is renowned for partying and for being one of the best places in the world to go humpback whale watching. Cabo Pulmo is a sleepy SCUBA diving town, popular with those who like to leave the beaten path. And San José del Cabo is their grown-up older sister, famous for her lively arts and music scene. It's here that the annual Fiesta de San José takes over the streets for a week of fun and festivities.
The Festival of San José lasts seven days and is held over March 19th each year, which marks the Day of San José (also known as Saint Joseph). The multi-day festival features live music, parades, performances, food, drink, dancing, and parties. There are several outdoor venues throughout the city and a large open-air theatre in the central plaza, with a rotating schedule of performances.
Saturday is the main day of the festival and sees a large parade through the streets of San José del Cabo. Floats adorned with decorations parade through town, accompanied by music and dancers. Each float represents an aspect of life in San José del Cabo and Baja California Sur, with themes including farming, ocean wildlife, and the area's religious and political history.
The evening features a dramatic fireworks display in front of the charming Mission San José del Cabo. A fireworks tower displays illuminated images, with each firework triggering the next like a marble run, while the sky lights up with an impressive display. The whole town square fills with people, as locals and tourists alike join together in celebration of San José.
// Experienced by Lucy + Dan from Thoroughly Travel
---
Semana Santa
Where: Celebrated across Mexico
When: 2-8 April 2023
The vibrant country of Mexico is full of exciting culture and traditions. Apart from its scenic beauty, the Mexican festivals and fiestas are a sight for the eyes. People from all over the world travel to experience these festivals and dive into the rich Mexican heritage.
Semana Santa is celebrated a week before Easter. It's associated with large religious processions near Catholic churches. Mexicans decorate their houses and lawns with flowers and religious symbols like crosses. You can witness passion plays on the streets too.
These occasions are usually celebrated with delicious food, music, and dances. During this time, people enjoy watching parades and visiting restaurants, beaches, or parks with friends and family. Tourists often flock to the Mexican colonial cities during Semana Santa.
The festival is segregated into Palm Sunday or Domingo de Ramos. Maundy Thursday or Jueves Santo, Good Friday or Viernes Santo, and Holy Saturday or Sabado de Gloria. It's a time when devotees remember the events leading to the crucifixion of the Lord Jesus.
// Experienced by Ruma from The Holiday Story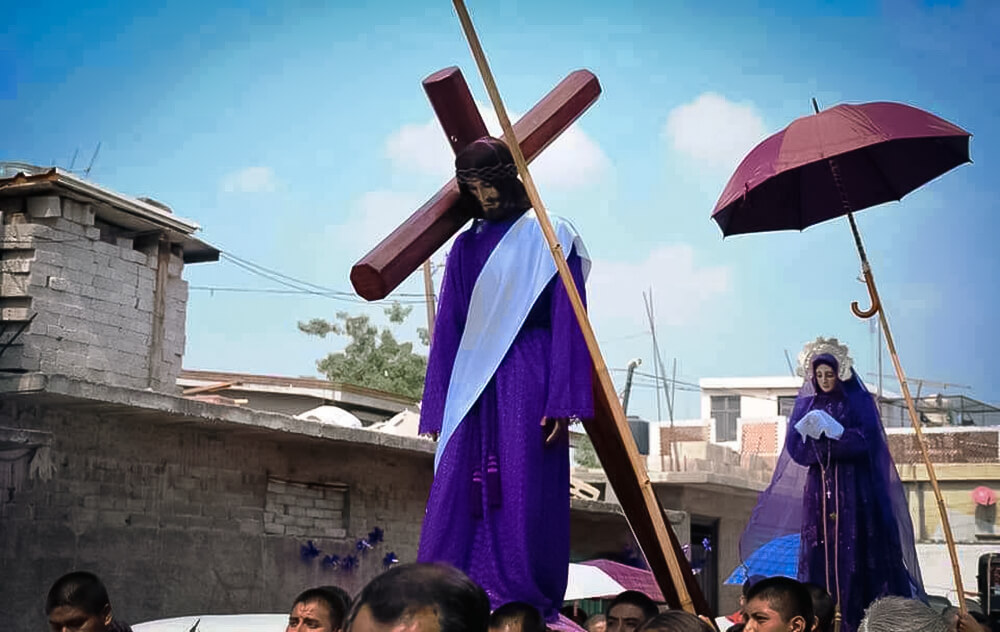 ---
Tantra Festival
Where: Tulum, Quitana Roo
When: En Espanol: 2-6 May 2023 / International: 24-28 November 2023
For those seeking something a little… different, Tantra Festival Tulum is an event focused on holistic wellness, creativity, and personal growth.
The festival brings together like-minded people from around the world to explore conscious living and sustainable practices. It's a place for music, meditation, yoga, and self-exploration.
Tantra Festival offers up an incredible array of events to explore throughout the four-day celebration. These events will include lectures from renowned spiritual teachers, interactive music performances from talented DJs and musicians, art galleries, and exhibitions.
The event also serves up traditional Mexican dishes cooked by professional chefs as well as vegan dishes inspired by various cuisines from around the world. The menus aimed to nourish the body, mind, and soul – with emphasis on healthy whole foods cooked using mindful techniques.
// Experienced by Jase from Roaming Vegans
---
Dia de Los Locos
Where: San Miguel de Allende
When: 18 June 2023
San Miguel de Allende is home to one of the most unique festivals in Mexico – Dia de Los Locos! This annual event has been celebrated for decades, and it always promises to be a day full of fun, excitement, and surprises.
The festival typically falls on the Sunday closest to June 13 each year and starts off with a church service at San Antonio Church before the parade winds its way through Centro. As it moves along, revellers dressed in all manner of bizarre costumes dance and shake to lively music. Many even toss handfuls of candy to onlookers!
Costumes range from masks of politicians and actors to cartoon characters and monsters. While adults make up some of the participants, you're just as likely to see elementary-age kids wearing "IT" clown masks or teens with werewolf faces. Anything goes at Dia de Los Locos!
The cheerful atmosphere of San Miguel de Allende is only heightened by the vibrant Dia de Los Locos parade. It's a perfect way to experience true festivities, reminiscent of Carnaval or Mardi Gras! So, if you're looking for excitement and celebration, make sure that you don't miss out on this extraordinary event.
// Experienced by Brodi of Our Offbeat Life
---
Guelaguetza Festival, Oaxaca
Where: Oaxaca City and surrounding villages
When: 17-24 July 2023
The Guelaguetza Festival is the most anticipated festival in Oaxaca. As one of the largest festivals of indigenous culture, it celebrates the diversity of the state of Oaxaca.
During the Guelaguetza Festival, residents from the eight regions of Oaxaca are invited to share their distinct culture and traditions through music, dance, food, and of course, mezcal.
Incredibly, the origins of Guelaguetza predate the arrival of the Spanish. The Zapotecs first proposed a gathering of different ethnic groups to share their traditions.
They invited groups from throughout Oaxaca to participate in the festival which coincided with the celebration of the Corn Goddess, Xilonen.
Today the Guelaguetza Festival is officially celebrated on the last two Mondays in July, which is also known as Lunes del Cerro (Mondays of the Hill). On these two days, various groups perform traditional dances in the Guelaguetza Auditorium perched on a hill overlooking the city.
But in reality, the celebrations last the entire month of July. There are parades in the street, traditional food and mezcal tastings, craft fairs, and more.
If you want to have a deeper appreciation for Oaxaca and its diverse traditions, this is a festival in Mexico you can't miss.
// Experienced by Julien from Oaxaca Travel Tips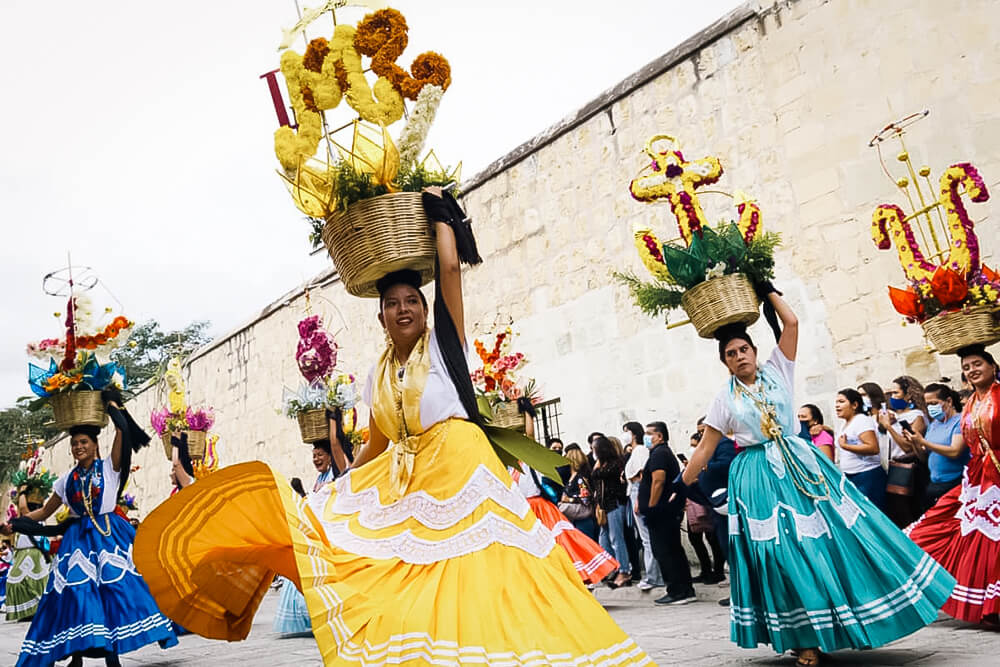 ---
Romería de la Virgen de Zapopan
Where: Guadalajara Metropolitan Region
When: 12 October 2023 // Día de la Raza or Columbus Day
The Romería de la Virgen de Zapopan is a large procession of catholic people who accompany an image of the Virgin of Zapopan back to the Basilica of Zapopan. The Virgin spends five months touring churches in the Archdiocese of Guadalajara and the last leg involves an 8 km walk from the Guadalajara Cathedral to the Basilica de Zapopan. Nearly two million people will take part in the procession including native dance troupes, cowboys on horseback, and church leaders.
This beautiful tradition dates back to 1734 when the parishioners pleaded with the ecclesiastical authorities to take the image of the virgin to the surrounding villages to protect them from a series of natural disasters that had plagued the region. The tradition has continued for almost 300 years and in 2018 the pilgrimage of the Virgin of Zapopan was recognized by UNESCO as an Intangible Cultural Heritage of Humanity.
Guadalajara is a modern city with deeply rooted traditions. The Romería de la Virgen de Zapopan is one of the best examples of a religious event that has stood the test of time.
// Experienced by Paul from Playas y Plazas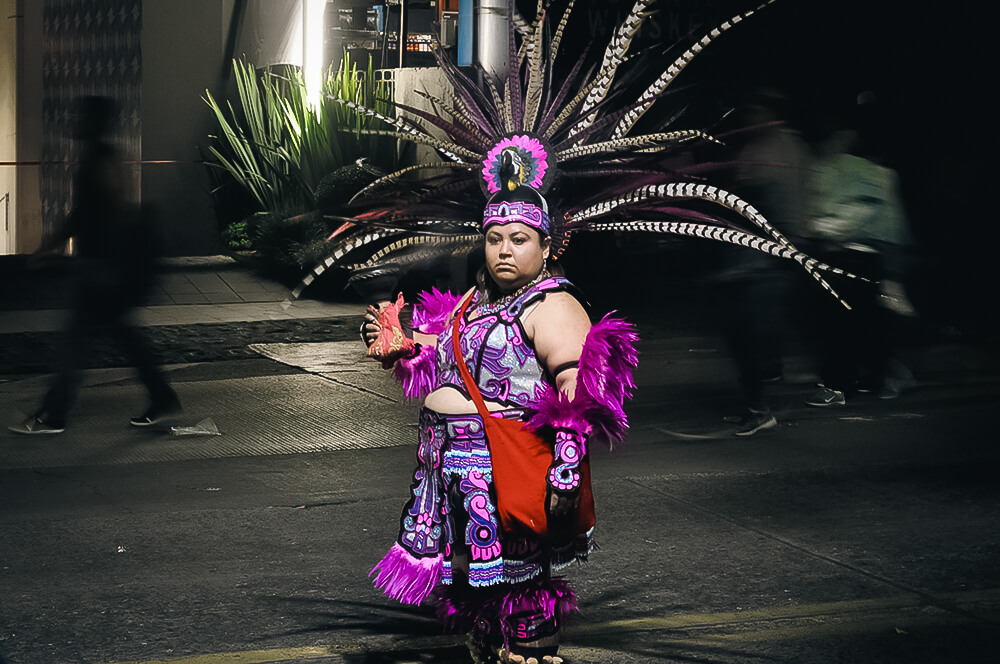 ---
Festival Internacional Cervantino
Where: Guanajuato City
When: 11-29 October 2023
Guanajuato City is one of the most beautiful colonial cities in Mexico, and one of its cultural hubs for performing arts. There are so many amazing things to do in Guanajuato City, but if you visit in early- to mid-October, you're in for a real treat.
Each year, Guanajuato City plays host to the Festival Internacional Cervantino (International Cervantino Festival in English). This three-week-long affair is known as the largest performing arts festival in the world. The Cervantino features live music, theatre productions, and more.
Guanajuato City has several art schools and universities, including the beautiful Universidad de Guanajuato in downtown. Known for its creative vibe, this city has long been a haven for artists — including famed Mexican painter, Diego Rivera, who lived here.
The Cervantino began many years ago as a small festival with local students and artists performing short plays by Miguel de Cervantes, author of Don Quixote. It was named in honour of Cervantes.
Festival Cervantino has since become the largest Latin American arts fest and draws attendees from all over the world to Guanajuato City. It is not only a colourful colonial city full of history and charm but also a UNESCO World Heritage Site.
// Experienced by Shelley from Travel Mexico Solo
---
Feria del Alfeñique
Where: Toluca
When: Mid-October to the beginning of November
The capital of the state of Mexico, Toluca, hosts the traditional annual Mexican festival known as Feria del Alfeñique, in honour of the local specialty "Alfeñique", a classic Mexican sweet made from sugarcane. The festival allows candy makers to showcase their talents by selling candies moulded into colourful sugar skulls, which some visitors enjoy. Feria del Alfeñique is also dedicated to celebrating the Dia Muertos (Day of the Dead), during this event the altars are decorated with colourful sugar skulls and chocolates dedicated to the dead.
The event is also an opportunity for community members to gather together and celebrate their cultural traditions. There are additional activities and events in addition to the alfeñique, such as live music, dance performances, and craft fairs. The Feria del Alfeñique is a vibrant and joyous occasion that draws tourists from all around the area.
So, if you're looking for something fun to do in Toluca, look no further than the Feria del Alfeñique. This annual festival is a great way to celebrate Mexican culture and heritage while enjoying a delicious variety of Mexican foods and drinks.
// Experienced by Imee from Journey To Mexico
---
Día de los Muertos
Where: Across Mexico
When: 31 October – 2 November 2023
One of Mexico's biggest festivals, the Day of the Dead (Día de los Muertos) is celebrated throughout the country and is on the UNESCO list of Intangible Cultural Heritage. The festival merges pre-Hispanic culture and the Christian calendar, combining some traditions from Aztec death festivals with Catholic All Saints' Day. While you can experience the festival anywhere in Mexico, the Day of the Dead celebrations in Oaxaca are particularly special.
Oaxaca comes to life during the festival, with so many events and traditions that it's worth picking up a schedule of events from the tourist booth outside the main cathedral. Decorations are hung from businesses and homes, sand tapestries are created by local artists, and there are many parades around the city. The zocalo (main square) is the centre of the celebration, with parades in the evenings with giant puppets, called mojigangas, and firework displays.
If you want a fantastic party, head to Etla, a 40-minute drive from the city centre, which is famous for its Day of the Dead dance. People dress up, there's music and a night parade that goes on until sunrise – expect a good party with dancing and lots of mezcal.
// Experienced by Roxanne from Faraway Worlds
---
Janal Pixán
Where: Mérida, Mexico
When: 31 Oct – 2 Nov (but the main celebration will be on a weekend, dates generally released by early October)
You've probably heard of the Mexican festival of Día de Muertos and may even know about this "Day of the Dead" where Mexicans celebrate their ancestors but you may not have heard of Janal Pixán, the Maya version of this festival. Janal Pixán means "feeding of the souls" and yes, this really is a festival to feed the souls of the ancestors in order to honour and remember them.
Janal Pixán has a more somber and subdued feel to it than Día de Muertos celebrations in places such as Oaxaca but it's really hauntingly beautiful to experience and there is plenty of joy to be found.
The two main entry points for visitors in Mérida are the altars that are erected on the Plaza Grande and the Paseo de las Animas, (the walk of the souls), which actually is not for visitors but they are welcome to watch and follow along. This begins in the main cemetery and once the procession has left, spectators can follow on the walk from the cemetery through the old city, enjoying music, altars, food and stalls.
At this time of year, everyone goes mad for mucbipollo, or "pib" as it's locally known. This is a kind of tamal that is filled with meat and spices before being wrapped in banana leaves and cooked underground. So popular is this dish that people start talking about it and longing for it well before Janal Pixán! There's generally a pib festival held on Plaza San Sebastián so be sure to head down if you're in town.
// Experienced by Cassie from Mexico Cassie
---
Las Posadas
Where: Celebrated across Mexico
When: 16-24 December 2023
Las Posadas is an annual Christmas festival commemorating the birth of Jesus for Christians. It's a nine-day celebration that includes a nativity procession that represents Mary and Joseph's journey to find an inn. Mexicans, primarily children, re-enact this journey by walking through the streets of town holding lit candles, going door to door singing carols, and reciting scriptures.
For travelers visiting Mexico for Christmas, taking part in a Las Posadas procession is not to be missed! Like many other festivals, it's often filled with music. And at the final stop, hosts serve refreshments, like ponche navideno, a holiday drink of spiced fruit cider, and tamales. Children also have opportunities to break open candy-filled piñatas.
During the day, many cities host street performances and dancers to keep the festivities going. Some of the best cities in Mexico to experience include Mexico City, Guanajuato, and Oaxaca.
// Experienced by Astrid from Mexico Family Travel
---
Las Calendas de Oaxaca
Where: Celebrated in Oaxaca City (from Santo Domingo Square)
When: Various times of the year depending on the celebration
Las Calendas in Oaxaca (known as Oaxacan Calendas in English) is a festival that has European origins and is celebrated in the streets of Oaxaca. Many of the locals from Oaxaca break their daily routine to celebrate their religion and leave all their worries behind for the night.
A key component of this celebration, which is like an all-singing and dancing parade, is to bring the local community together and through the use of colourful costumes and giant paper mâché puppets, everybody meets to have fun. Usually, Santo Domingo Square is the focal point in the evening from where all the activities take place.
Although many travellers to Mexico wonder if it is safe to travel to Oaxaca and its towns, there is no need to fear because as anyone who has attended these festivals will tell you, the Oaxaqueñans are some of the most welcoming people in Mexico and this festival is a testament to that.
// Experienced by Daniel from Layer Culture
---
Calendar of Mexican festivals
Mexico is awash with festivals and fiestas whether it's religious, cultural, or gastronomy. Glance through this list of Mexican festivals to start planning your trip.
---
Mexican Festivals in January
New Year's Day – 1 Jan
Día de Reyes (Kings Day) – 6 Jan
Mérida Fest

– 5-29 Jan – Mérida, Yucatan

Fiesta Grande Enero – Chiapa de Corzo
Fiesta de San Antonio de Abad (Feast Day of Saint Anthony)
Fiesta de Santa Prisca (Feast Day of Santa Prisca) – 18 Jan – Taxco, Guerrero
Feria Estatal de León (Leon State Fair) – 20 Jan – Leon, Guanajuato state
---
Mexican festivals in February
Día de la Candelaría – 2 Feb
Día de la Constitución – 5 Feb – National public holiday
Día del Amor y la Amistad (Valentine's Day) – 14 Feb
Día de la Bandera – 24 Feb
Carnaval celebrations
Festival 100 Vinos Mexicanos

(Festival of 100 Mexican Wines) – End of Feb – Ezequiel Montes, Querétaro

San Pancho Festival de Musica

– End of Feb – San Francisco (San Pancho), Nayarit
---
Mexican festivals in March
Spring Equinox

– 20-21 March – Biggest events take place at Mesoamerican temples

Cumbre Tajín Festival

– Papantla, Veracruz

Noche de Brujas

(Night of the Witches) – Catemaco

Natalicio de Juarez

(Benito Juarez's Birthday) – 21 March – National public holiday

Vive Latino (

Ibero-American Festival of Musical Culture) – 18-19 March – Ciudad de México
---
Mexican festivals in April
Semana Santa (Holy Week) – 2-8 April 2023- Maunday Thursday + Good Friday are national public holidays
---
Mexican festivals in May
Día del Trabajo (Labour Day) – 1 May – National public holiday
Día de la Santa Cruz (Day of the Holy Cross) – 3 May
Cinco de Mayo (Battle of Puebla) – 5 May – Common local holiday
Sacred Mayan Journey (Travesia Sagrada Maya) – Last Friday + Saturday in May – from Xcaret Park to Cozumel
Restaurant Week – Puerto Vallarta
---
Mexican festivals in June
Día de la Marina (Navy Day) – 1 June – National public holiday
Dí­a de los Locos (Day of the Crazy People) – Sunday following June 13 (feast day of San Antonio Padua) – San Miguel de Allende
Feria de San Pedro Tlaquepaque – 17 June – State of Jalisco
Fiesta de San Juan Bautista (Feast Day of Saint John the Baptist) – 24 June – Celebrated in places where Saint John is the patron saint
---
Mexican festivals in July
Lunes del Cerro (Guelaguetza Festival) – Last two Mondays of July – Oaxaca
Guanaguato Film Festival – 21-30 July
Jornadas Villistas – One week festival over 20 July – Hidalgo del Parral, Chihuahua
Whale Shark Festival – Islas Mujeres, Yucatan Peninsula
---
Mexican festivals in August
Feria de Huamantla – Middle of August – Juarez Main Square
Las Morismas de Bracho (The Moors of Bracho) – Zacatecas
Chamber Music Festival in San Miguel de Allende
Mariachi y La Charrería (International Mariachi and Charrería Festival) – August/September – Guadalajara
---
Mexican festivals in September
Día de la Independencia (Independence Day) – 16 Sept
Reto al Tepozteco – Tepoztécatl, State of Morelos
Festival Internacional Santa Lucia – 24 Sept – 5 Nov 2023 – Monterrey
---
Mexican festivals in October
---
Mexican festivals in November
Día de Muertos (Day of the Dead) – 2 Nov
Festival de las Calaveras (Festival of the Skulls) – Aguascalientes
Festival Internacional del Globo (International Hot Air Balloon Festival) – Leon, Guanajuato
Festival del Camarón (San Felipe Shrimp Festival) – San Felipe, Baja California
---
Mexican festivals in December
Día de la Virgen de Guadalupe (The feast day of Our Lady of Guadalupe) – 12 December – Hill of Tepeyac near Mexico City
Feria de la Posada y Piñata (Posada and Piñata Fair) –

Acolman de Nezahualcoyotl (near Mexico City)

Posadas – 16-24 December
Noche de los Rábanos (Night of the Radishes) – 23 December – Oaxaca City
Navidad (Christmas)- 24 December
Fiesta de Fin de Año (New Years Eve) – 31 December
---
FAQs | Mexican Festivals
---
How many Mexican festivals are there?
There are well over 5,000 celebrations and festivals in Mexico that will give you an insight into how rich and vibrant the Mexican culture is.
---
What are the biggest celebrations in Mexico?
The biggest celebration in Mexico is the Dia de la Independence (Independence Day), Día de Los Muertos (Day of the Dead), and the Christmas period including Los Posadas, Semana Santa (Easter), and Dia de la Raza.
---
What is Mexico's most important holiday?
September 16, Dia de la Independence, or Anniversario de la Independence, is a day of national pride and a statutory holiday in Mexico. The country commemorates Mexico's independence from Spain with music, parades, and fiestas.
---
Which Mexican festivals have UNESCO world cultural heritage?
Mexico has Heritage Sites in abundance but it also has 5 celebrations and traditions in the UNESCO's Representative List of Intangible Cultural Heritage including the Day of the Dead, Parachicos of Fiesta Grande in Chiapa de Corzo, The pilgrimage of Zapopan, the ritual ceremony of the Voladores, and Peña de Bernal.
---
Which Mexican traditions have UNESCO world cultural heritage?
Some Mexican traditions are on the UNESCO's Representative List of Intangible Cultural Heritage such as the song of the P'urhépechas (Pirekua), Mariachi, charrería, artisanal talavera of Puebla and Tiaxcala, and Mexican cuisine in Michoacán and across Mexico
---
PIN FOR LATER – BEST MEXICAN FESTIVALS