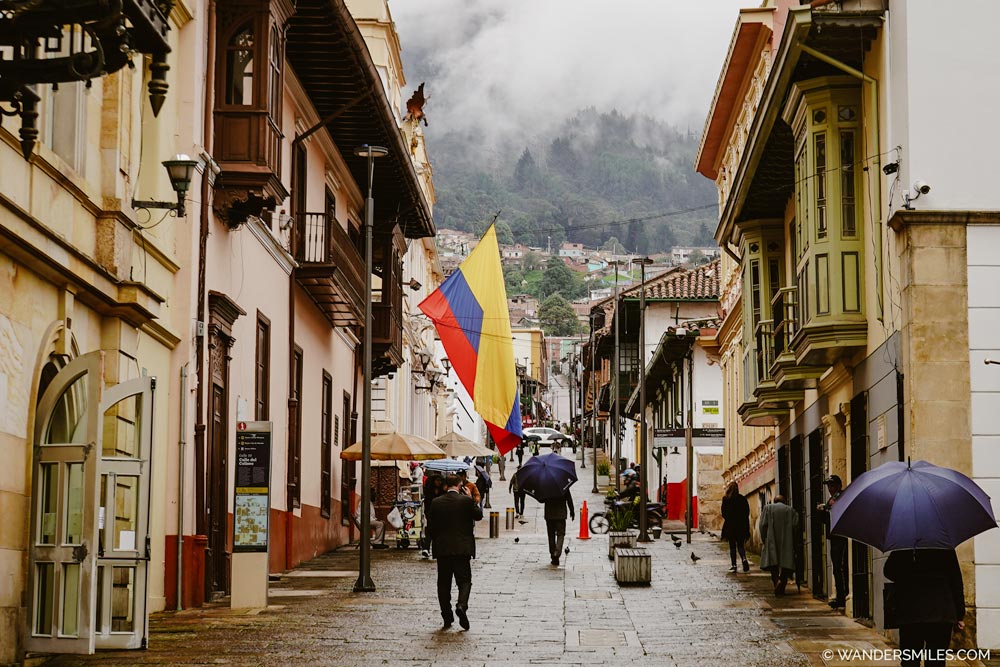 Bogotá is the capital city and the political, cultural, and economic heart of Columbia. It's a lively city with colourful streets and a real buzz.
With a short layover on the way to the Amazonas, I only had one day in Bogota to explore. I would have loved more time as this whistle-stop visit only allowed us to see a small amount of what this underrated city offers. So, to help time-poor travellers like me, I've put together my highlights of the many exciting things to do in Bogota and marked them on a map to make life easy!
---
Disclosure: This post contains affiliate links, which means I may receive a small commission if you click a link and purchase something that I've recommended. It comes at no cost to you. Thank you for your support.
---
Where is Bogota?
Bogota is located in central Columbia; it sits in a valley in the northeastern foothills of the mighty Andes mountain range. It is the third-highest city in South America, at 2640 metres above sea level. It's a densely populated urban sprawl bordered by beautiful natural surroundings.
---
Weather in Bogota
Bogota has moderate weather all year round, with temperatures similar to the UK, 18 degrees in summer and 8 degrees in winter. There are two rainy seasons, April to May and October to November. It rained when we visited, but having come from the blistering heat of the La Guajira desert, it was a blessed relief and didn't spoil my day.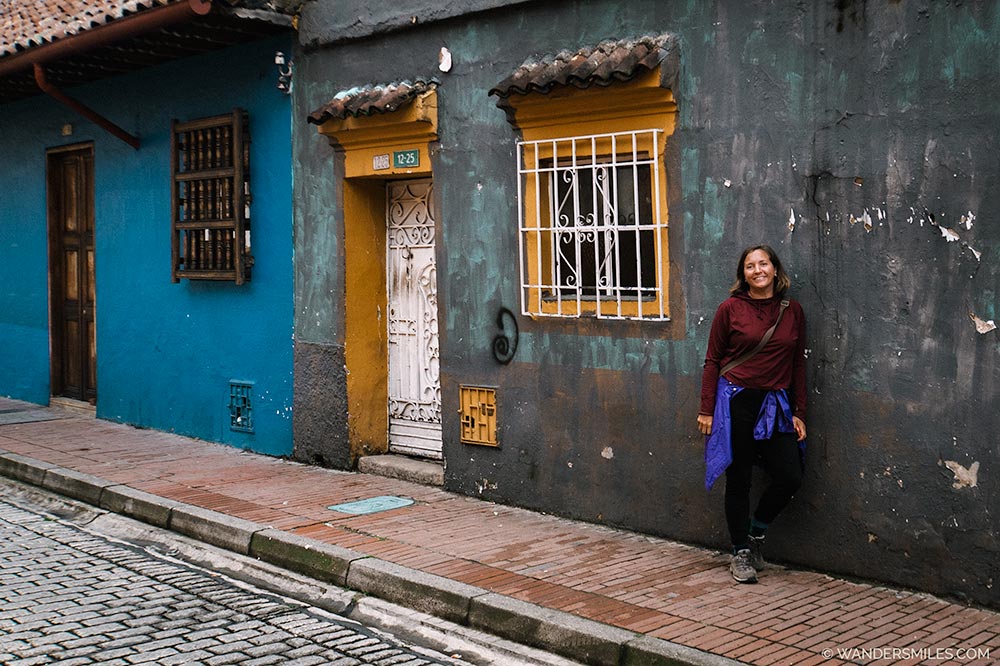 ---
Is Bogota safe?
Bogotá is a place that has long been associated with drugs, gangs, and violence, so many travellers were reluctant to risk visiting. Happily, it's much safer now, and while you should still be cautious as petty theft is pretty common, it's an incredible city in which to spend 24 hours and longer.
---
Where to stay in Bogota
Before you decide what to do in Bogota, you need to find accommodation. I recommend La Candeleria (the Old Town) as a central location with affordable accommodation.
South Chapinero, Zona Rosa and Bogota International Centre are also good options. They are more upmarket and feel safer. While these areas are a little further away from the tourist attractions, there are plenty of welcoming restaurants and bars nearby.
I stayed at Masaya Bogota in the La Candelaria neighbourhood and loved it! The staff aimed to please, the decor in the colonial house was cool with chillout areas, the flavoursome breakfast set me up for the day, and the location was perfect.
---
How to Spend One Day in Bogota
---
Map: Highlights of Bogota
---
Explore the Street Art in Bogota
The graffiti in Bogota is so much more than the random artist tags often seen in the U.K. Supremely talented local and international artists have created stunning street art in this vibrant city. Businesses commission eye-catching art to advertise their services and products. At the same time, the grafiteros use their imagination and skill to discuss politics and society or simply to bring colour and joy to the streets of their city.
You can explore the street art of Bogota independently; it's everywhere, so it's hard to miss! Murals adorned the walls as we walked to the Musse del Oro and later explored the winding streets of La Candelaria, Bogota's Old Town.
If you want to understand more about the artists and the powerful stories they are telling, The Original Bogota Graffiti Tour comes highly recommended to learn about the history, culture, and struggles of Columbia and the personal stories of artists such as DjLu and Pez. This fantastic free tour has been running since 2011 and is hugely important in the street art scene.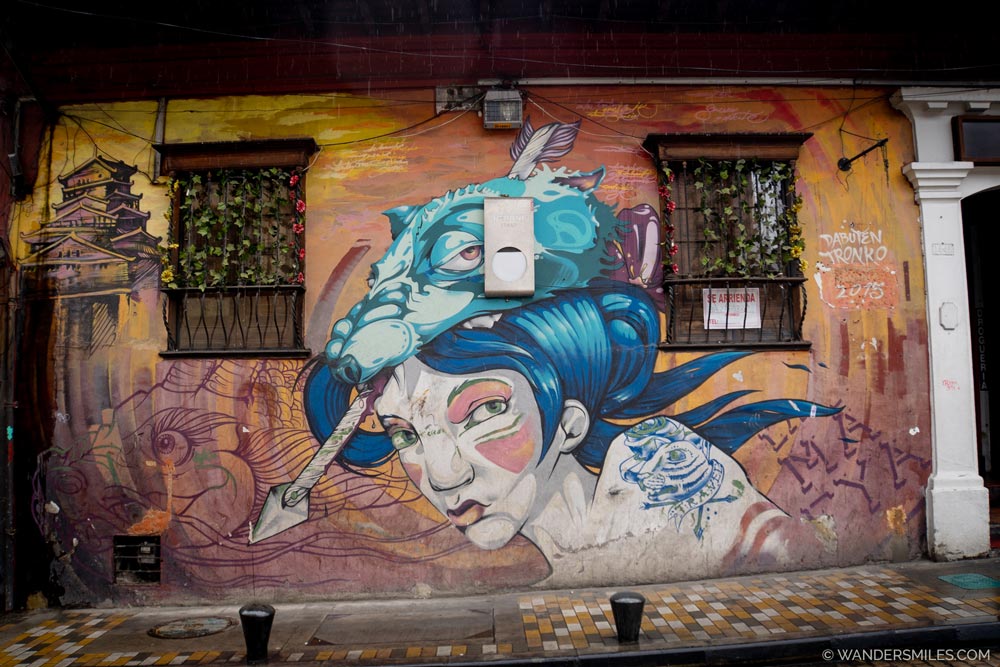 ---
Visit Musee del Oro
The Musee del Oro (Museum of Gold) was absolutely fascinating and should not be missed! It's the most extensive collection of gold artefacts in the world. The jaw-dropping exhibitions display nearly 35,000 pieces belonging to the indigenous people of the Old World, including the Quimbaya, Tolima, Muisca, and Calima.
The Golden Shell was early into the exhibition and is a vision of beauty. It dates back to the Yotoco Period, (200 BC to 1300 AD), and was found in the Cauca Valley (Calima Region, Colombia) where a goldsmith had pressed seven thin sheets of gold onto a sea snail. The careful folds and the joints made with small clips can still be seen. The natural shell has deteriorated, but the gold still retains its shape.
Another highlight of this absorbing museum tour was the Poporo Quimbaya. It's a religious relic made from a mix of gold and copper that would have been used in 300 AD to carry the lime needed in the ritual chewing of coca leaves. It's now a national symbol and is featured on Columbian banknotes.
I loved learning about and seeing a part of the legend of El Dorado, the Balsa Muisca, a miniature of the mythical chief Hombre Dorado (Golden Man), standing proudly on his raft at his initiation ceremony.
There is a whole room dedicated to Shaman figurines used as offerings or masks. Shamans are an important figure in pre-Columbian cultures and have the ability to transform into other beings such as birds and jaguars to take on their qualities by entering into a hallucinatory trance.
The stories the Musee del Oro museum tells its visitors are wonderful, and we recommend it as one of the must-see things to do in Bogota. If you can, spend lots of time exploring all the rooms and remember it is closed on Mondays. Check the Musee del Oro website for opening times.
---
See Iglesia Veracruz
This 16th-century Catholic church has an unremarkable exterior, leading to many tourists passing it by and missing out on the rich history and beautiful artefacts.
It was the home of the Brotherhood of the True Cross, so named because they believed they owned a piece of wood from the cross Christ died upon. Their mission was to support and give a Christian burial to prisoners sentenced to death.
The Brothers' work led to their church being where the national heroes of the dramatic bid for independence in 1816 were buried after their execution.
The decor inside the church is simple with touches of beauty. There's a golden Spanish/Moorish style altar, a depiction of Christ on the cross in ivory, ebony, and silver, and the striking image of Señor de la Buena Esperanza (Lord of Good Hope) has been visited by devotees since colonial times.
---
Coffee time at Arte Y Pasion Café
Exploring Bogota in one day was rewarding but tiring. So, Arte Y Pasion Cafe was the ideal place to rest and indulge in a cup of delicious coffee sourced from independent growers all over Columbia.
It's a magical place with friendly staff who are passionate about the art of serving excellent quality, single-origin coffee. You can choose which image you want doodled on top of your coffee. I tested them with a peacock, and it was perfect.
---
Be amazed in Iglesia de San Francisco
Built between 1557 and 1621, the Iglesia de San Francisco is Bogota's oldest church and is often busy with worshippers. Being so near the Musee del Oro, it was easy to incorporate a visit into our one day in Bogota.
It is recommended to not judge this church by its uninspiring bland brick exterior; the ornate decor inside is gorgeous. It is baroque style, with the 17th-century gilded altar reaching from floor to ceiling, an extravagant blue and gold annexe roof, and oil paintings in sumptuous frames covering the walls.
Some may find it unsettling, but I loved this fantastic place's dark, almost gloomy atmosphere. It makes it feel like you're walking through the doors into the 16th century and adds to the feeling of peace and serenity that exists even when it's full of people.
---
Stroll around Plaza Bolivar
Plaza Bolivar has been the centre of religious and cultural life in Bogata for hundreds of years. In the 16th century, when the Spanish colonists arrived, it was a temporary open-air cathedral. It has also been a livestock market and circus; it is lit by colourful fairy lights every Christmas.
It was raining hard as I walked across the square, though that didn't make the glorious municipal buildings on the perimeter any less impressive. The plaza has an enjoyable buzz of a place where locals meet up, tourists take photos of the bronze statue of Simon Bolivar at the centre of the plaza, and live music events take place throughout the week.
---
Visit Teatro Colón Bogotá
The Teatro Colón, also known as Teatro de Cristóbal Colón, was designed by Pietro Cantini, an Italian architect, between 1885 and 1895. When it was built, going to the theatre was more about the social and political connections that could be made there than the fashionable Italian operas they staged.
The theatre's interior is the height of luxury, from the rose-pink foyer and extravagant ceiling lamp to the spectacular mural depicting characters from popular operas which decorate The Curtain of Boca and the painting of the Greek muses adorns the roof.
There are guided tours available to visit all aspects of Teatro Colón which would explain why the security guards did not permit entry to see the ornate decor for ourselves. In hindsight, I very much wished I'd booked ahead to see a performance here.
---
Visit Iglesia de Nuestra Señora del Carmen
The Iglesia de Nuestra Senora del Carmen (The National Shrine of Our Lady of Carmen) is a striking red and white striped cathedral whose ornate gothic spires dominate the skyline of La Candelaria.
It's a fantastic building designed in Florentine Gothic style with Byzantine and Moorish touches by Italian architect Giovanni Buscaglione in 1926. His travels inspired his habit of mixing architectural styles, and his creation stands out beautifully in this mainly colonial part of Bogota.
Opening hours are pretty limited to mornings so you may need to plan your itinerary accordingly to avoid the disappointment of it being closed if you are as keen as me to take a look around.
---
Pop into Iglesia de la Candelaria
On the way to visit the Museo Botero, I popped into this small but impressive Catholic church. Built in 1686, it's one of Bogota's oldest places of worship and acts as the local church for La Candeleria. The warm yellow walls, Spanish colonial styling, and mountainous background make for memorable photographs.
The interior is lovely, with white walls and ceilings elaborately decorated with gold leaf and carved frescoes. The altar, crafted from richly coloured, glossy wood, is stunning, and it's easy to see why this wonderful place was made a National Monument in 1975.
---
Visit Museo Botero
After the solemnity of the Iglesia de la Candeleria, we stepped into the entirely different world of the Museo Botero. Established in 2000 in honour of the renowned Colombian sculptor and figurative artist Fernando Botero, this popular museum and art gallery is home to voluptuous dancers, a curvy Mona Lisa and nudes of all shapes.
Botero also donated some of his private collection to the Museum, so we were lucky enough to see beautiful pieces of art from Salvador Dali, Monet, and Marc Chagall. If you're an art enthusiast, this is an important place to fit into your Bogota itinerary.
The Museo Botero can be very busy, it's considered one of the most important public collections of art in South America, and we were amazed to find that entrance is free. However, be aware that the gallery is closed on Tuesdays. Check the latest opening times for Museo Botero.
---
Get the cable car to Monserrate
Monserrate Hill is the rugged peak that dominates the skyline of Bogota. It's covered in lush green trees and is topped by two huge crosses and a religious sanctuary's white walls and towers.
You will see many tired people climbing the hill and steps leading to the sanctuary. Some were believers tackling the challenge as an act of devotion and penitence; others were hikers and hard-core runners.
In my limited time schedule, taking the 4-minute cable car ride to the top of Cerro de Monserrate was the right way to go. It's a short taxi ride to the ticket office at the bottom of the cable car.
The pods of the cable cars have large windows on all sides, so this would be a tricky way to travel if you're scared of heights, but the jaw-dropping sights are worth the nerves. On one side, the forested hillside drifts serenely; on the other, there are panoramic views of the vast city below.
The sanctuary is beautiful, with extensive gardens and fountains, and it would be an incredible place to gaze up at the stars or watch a sunset. It's a peaceful place too, the ideal spot to soak in the gorgeous views and recover from a frenetic day in the metropolis.
>> OPENING TIMES: Mon-Sat 6.30am-11.30pm / Sunday 5.30am-6.30pm / Holidays 6.30am-6.30pm (Box Office closes 1 hour before) >> COST: 23,500 COP for a round trip
---
Dine at Gato Gris
Gato Gris was a gorgeous cafe recommended to us by a lovely local we met on a trip, and we were thrilled we listened to their advice. Sitting on the pretty roof terrace, watching the world go by with a cold beer, was the best end to a busy day of sightseeing.
The menu is extensive, and you can choose from dishes from around the world, including tasty pasta, steaks, and tapas. The staff was super-friendly, the vibe was relaxed, and an amazing night ended with live music from a talented local singer.
Visit the nearby Plaza Chorro de Quevedo where you can spot some vibrant street art and catch the street performers that draw the crowds.
If you have any more energy after a day on your feet, why not try another tour:
Craft Beer Tour + Tasting: A great way to learn about the history of beer in Bogotá, and meet the locals!
Small group night tour by bus: Discover the lively streets of Bogota, try local snacks, see the sunset from Monserrate, and play a game of Tejo, a traditional Colombian game.
Useful links for your Bogota trip
Ready to get planning your trip to explore the things to do in Bogota in one day? Here are some useful links to get you started!
TOUR LINKS
ACCOMMODATION LINKS
TRANSPORT LINKS
RECOMMENDED GEAR