Beijing is one of the greatest ancient capital cities of the world. It is an eclectic mix of traditional and modern, and it houses many prolific monuments, temples and attractions such as the Great Wall of China, Forbidden City, Tian'anmen Square, Summer Palace and Temple of Heaven. In an ideal world, you should take a week to explored Beijing fully but you can still see the highlights with this Beijing 3-day itinerary.
---
Disclosure: This post contains affiliate links, which means I may receive a small commission if you click a link and purchase something that I've recommended. It comes at no cost to you. Thank you for your support.
---
---
DAY 1 | BEIJING 3-DAY ITINERARY | WILD WALL OF CHINA
Who can't resist making the Great Wall of China the first stop when you get to Beijing? The longer Chinese name "Ten-Thousand Mile Long Wall" (萬里長城) but actually this UNESCO World Heritage site is 13,170.70 miles long. Now how do you decide which part to visit if you just have one day to spare?
The Great Wall of China is known for being a tourist hot spot but if the crowds don't float your boat then go for the Wild Wall, for me this was a no-brainer. There are many options and tours but the Jiankou to Mutianyu was the perfect trek. The journey was 2 hours from Beijing, the trek was around 4 hours with a fun toboggan ride at the end.
---
DAY 2 | BEIJING 3-DAY ITINERARY | EXPLORE THE CITY OF BEIJING
---
DISCOVER THE TEMPLE OF HEAVEN
The Temple of Heaven (天坛 Tiāntán) is one of Beijing's most iconic temples and the most important for Ming and Qing emperors who came annually to worship the heavens and pray for good harvests. It was built in the early 15th century during the reign of Yonge and was originally called the Temple of Heaven and Earth. This is shown in the architecture as temples are circular (heaven) with square bases (earth).
The Temple of Heaven earned UNESCO World Heritage status in 1998 and covers 273 hectares, surprisingly, it is 3 times the size of the Forbidden City. Whilst it sounds huge, most are gardens which you can wander around passing by the locals partaking in various activities such as singing, dancing, practicing tai chi, or playing chess. The main sights are the Round Altar, Echo Wall, the Imperial Vault of Heaven, and the Hall of Prayer for Good Harvest. They're all pretty much in a straight line, one after the other, so it's easy to get around.
Getting to the Temple of Heaven
The nearest subway station to the Temple of Heaven is Tiantan East Station on Line 5, exit from A1 or A2 and the East Gate entrance where you can buy tickets will be right there.
Opening hours and cost of Temple of Heaven
The park gates are open from 6 am to 10 pm but the sights are open from 8am and close between 5 pm and 6pm depending on the time of year.
Between April-October, the ticket to the park is 15 CNY or 35 CNY to see all the sights. From November-March, this costs 10 CNY / 30 CNY. The audio guide 40 CNY.
---
TRY THE STREET FOOD AT QIANMEN
Qianmen Street runs south from Tiananmen Square and whilst it's' steeped in history, it is now a pedestrian area lined with shops and places to eat. It's a great pitstop to explore and get some sustenance before you head to Tiananmen Square and the Forbidden Palace.
Jianbing is a traditional Chinese street food similar to crepes and Peking Duck to go! Did you know Fortune Cookies are not a traditional Chinese custom?
---
WANDER AROUND TIANANMEN SQUARE
Located at the centre of Beijing City is the infamous Tiananmen Square (天安門) meaning "Square of the Gate of Heavenly Peace" where you can see the Tiananmen Tower, Monument to the People's Heroes, Great Hall of the People, and Chairman Mao Zedong Memorial Hall.
There is a national flag-raising ceremony by the Guard of Honor of the Chinese People's Liberation Army every morning at sunrise. It is free to watch the ceremony and lasts around 30 minutes. Click here for the timetable.
---
DISCOVER THE MYSTICAL FORBIDDEN CITY
The Forbidden City, located in the heart of Beijing, is the former imperial complex where 24 emperors from two dynasties lived for nearly 500 years and one could enter or leave the palace without the emperor's permission. Also known at the Palace Museum, it has over 980 buildings. It was designed and built in a way that typifies traditional Chinese palatial architecture, simply stunning!
Check out the opulence in the Palace of Tranquil Longevity, the private paradise of the Qianlong Emperor built for his retirement. Not a bad gaff to grow old in eh?
At the exit to the Forbidden City, you can head up to Jingshan Park, a great place to view the sunset and the surrounding city. The earth that was dug out to build the moat around the Forbidden City is what makes up the big mound you climb up.
---
NIBBLE ON STRANGE SNACKS AT WANGFUJING NIGHT MARKET
Who loves to try out the local street food? If the answer is YES, then check out Wangfujing Night Market in Beijing or "Donghuamen Night Food Street"(东华门美食坊夜市) which is the correct name! It's just a couple of streets lined with interesting eateries and an electric atmosphere.
Discover the large selection of exotic finds with Chinese food from different regions and you'll find stalls frying up skewered scorpions, beetles, starfish and who knows what else. This is a tourist gimmick, the people of Beijing don't eat such snacks. I wussed out and went to a restaurant for the Beijing Hot Pot I'd heard so much about.
---
GET SPICY WITH BEIJING HOT POT
The Chinese are known for their sharing dishes and the infamous Beijing Hot Pot is the best thing you can eat to warm yourself up on a cold day. I was travelling solo so I got to eat the whole dish by myself!
Your clear soup arrives in a copper chimney and you can choose from normal or spicy or get half and half. I went for the latter, I'm not sure why as I don't really do spicy. BOOM.. this blew my brains, the tears streamed down my face and steam came out my ears practically so I stuck with the mild side. You mix your meat in your chosen sauce (tahini for me) and pop it into the steaming pot along with your green leaves and other vegetables. The taste is delicious if your mouth wasn't too numb!
LITTLE TIP – Don't leave it too late to go and find a restaurant. I got turned away from a few at 9 pm before I found one that opened later behind Wangfujing Night Market.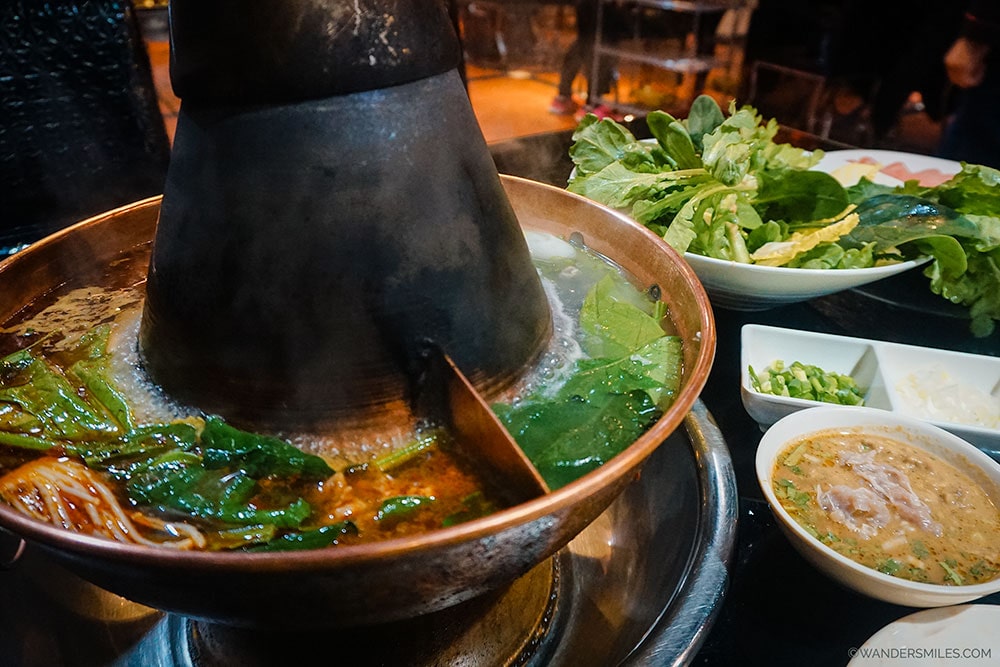 ---
DAY 3 | BEIJING 3 DAY ITINERARY | SUMMER PALACE & LAMA TEMPLE
---
WANDER AROUND THE SUMMER PALACE
The Summer Palace 頤和園 is said to be the best-preserved imperial garden in the world, and the largest of its kind still in existence in China. It's around 10km (about 1 hour on subway) and I'd give yourself at least half a day there, I mean it's 290 hectares in size… it's a big one! Here are a few of my highlights.
If you enter by the South Gate, you'll walk across the bridge overlooking Suzhou Street (苏州街). It was built by Emperor Qianlong for the members of his court to imagine themselves being in the canal town of Suzhou.
Next, you will find The Sea of Wisdom (智慧海), the highest building in the palace, whose glazed green and yellow façade adorned with innumerable repeating buddhas makes it rather unique. Inside, it's home to buddha statues big and small, who perch imposingly in the dimly lit hall.
Then The Tower of Buddhist Incense (佛香阁), the centrepiece of the park. The elaborately decorated three-tiered structure is an as magnificent close-up as it has been from afar.
The Long Corridor in the Summer Palace stretches for almost half a mile and is embellished with a staggering 14,000 intricate paintings depicting scenes from Chinese history and myths.
---
FEEL SPIRITUAL AT LAMA TEMPLE
Lama Temple (Yonghe Temple) is the largest and best-preserved lamasery in Beijing and definitely one temple you should see in the city. This temple is an active place of worship hence you'll see many Buddhist practitioners light and raise the burning incense sticks above the head and bow to the statues of Buddha. Then they place their sticks vertically on burners from which smoke wafts, Worshipers do so in the hope to talk to the Buddha who will appear in the smoke. There is a real sense of calm and tranquility in this temple no matter what religion you are.
Being the most renowned Buddhist temple outside of Tibet, this temple was changed to a lamasery in the year 1744 after having been a place of residence for Emperor Yong Zheng.
In the Pavilion of Ten Thousand Happiness, flip your head back to the 26m tall statue of the Maitreya Buddha which is carved from a single piece of White Sandalwood – no wonder it was included in the Guinness Book of Records!
Getting to Lama Temple
Head on the metro to Yonghe Temple station, leave via exit C. Walk south for about 400m, the temple is on the right side. It's open from 9am-5pm but they started closing the 5 halls from around 4.30pm so don't arrive too late!
How much does Lama Temple cost?
It's only 25 CNY (less than $4) to enter. It is an additional cost to buy the incense sticks.
---
GET ROLLING THE PEKING DUCK
If you're looking for mouth-watering Peking Duck within a stone's throw from Lama Temple, this place is a real hidden gem down the dark hutongs. The restaurant looks rather unassuming from the outside with the chefs in the window preparing the traditional dish for the many guests.
How to get to Hua's Restaurant
From Lama Temple, it's less than a 10-minute walk. Click for Google Maps or TripAdvisor for reviews.
How much was the Peking Duck?
The total bill came to 190 CNY ($45) which included 2 beers (26 CNY each) and Peking Duck (138 CNY)
---
BEIJING 3-DAY ITINERARY | TRAVEL ESSENTIALS
Visa for China
The 72-hour and 144-hour visa-free transit policies in China allow passengers from 53 countries to transit and stay in 18 China cities without a visa. Beijing is 144-hour visa-free but does check your eligibility for the Chinese transit visas before travelling and ensures you have 6 months validity on your passport from entering China.
Download a VPN
Many apps such as Facebook, Instagram, and YouTube are blocked in China, they have their own versions so download a VPN before you arrive, I used ExpressVPN which worked well.
Download Google Translate
It is surprising how many people in Beijing so not speak English (even in the airport) so be prepared and download Google Translate before you go to help you out in tricky situations.
Medication in China
There are no mandatory vaccinations in China. There are 2 types of pharmacies, Traditional Chinese Medicine (plant-based) and the normal pharmacy. If you are under medication, ensure you pack them, you are not guaranteed to find the same medication in the pharmacies in China.
Get some travel insurance
Always make travel insurance a priority for any adventure! World Nomads is my go-to guys, I've learnt this from experience. In Nepal, I needed to go to hospital after being lifted from Everest Base Camp trekking, World Nomads dealt with the hospital in Kathmandu, this would be worth its weight in gold in a country like China. You can buy and claim online even when you've left home.
Airport shuttle to Beijing
It was 25 Yuan from Beijing Airport on the shuttle train to Dongzhimen. A man approached me there saying he was a taxi driver, I'd read the scams online with the fake taxis so I kindly declined but he then sent me in the opposite direction to my hotel. Wish I'd just figured out about the subway at that point!
Get to know the subway in Beijing
It probably feels like a bit of a facing but it's super easy, signs are written in English. If you've taken the London Tube before, you can figure out the Beijing subway. There's a station every few blocks, it's very cheaper (average 5 Yuan) and it really will give you more freedom around the city. Get a subway map from your hotel to carry round with you.
Where to stay in Beijing
I can recommend both places I stayed. The first was Beijing Double Happiness Courtyard Hotel which is a traditional Chinese-style hotel and the second was Peking Station Hostel, a stylish and cosy place to hang out, both are perfectly located among the best attractions in Beijing. With so much accommodation to choose from, I'm sure you'll have fun picking your place to stay in Beijing!
RELATED ARTICLE: BEST PLACES TO STAY IN BEIJING FROM HOSTEL TO LUXURY HOTEL
---
LIKE THE BEIJING 3-DAY ITINERARY? PIN FOR LATER!